Interview: Sending 'Bundles of Joy' to Philippines Typhoon Survivors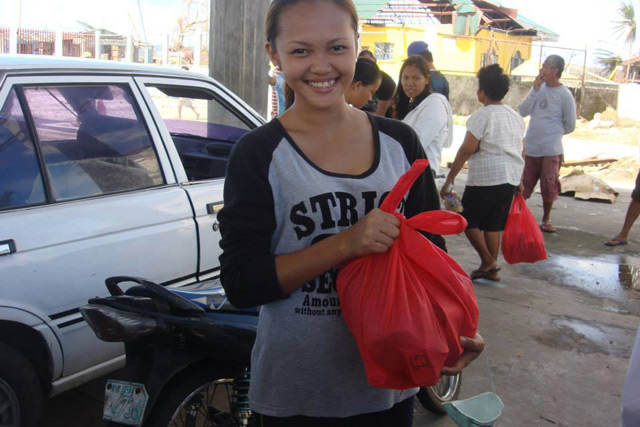 A woman smiles after receiving a bag of relief items from Bundles of Joy in Tugbong, a barrio situated in the municipality of Kananga, Leyte, Philippines.
Not long after Typhoon Haiyan (also known as Yolanda) struck the Philippines, Asia Society Asia 21 Young Leader Anya Lim sprung into action. From her home base in Cebu, Lim, who has worked with UNICEF and World Vision, and some friends set up a grassroots relief operation to send bags of emergency supplies to far flung communites affected by the typhoon. They called their effort Bundles of Joy and Letters of Hope (learn more on their website and Facebook page). Initially, Lim and her team intended to send out 500 "bundles," but volunteers from abroad started helping her campaign for more funds. "Now we hope to serve more communities," Lim said.
Asia Blog caught up with Lim via email.
Tell us how you came up with the Bundles of Joy idea.
We called it Bundles of Joy as this was supposed to be an appeal only among those who I went to the same high school with. We have a Christmas program we called "Alay Kapatid" (give to a brother/sister) where we pack goodies called Bundles of Joy (BOJ) that we give to a partner urban community as Christmas gifts. Coming from fundraising for World Vision, we would always encourage sponsors to write to their sponsored children. I appreciate traditional handwritten letters and I believe in the power of words so I thought it would be uplifting for survivors to read a heartfelt letter of hope and know that a real person prepared this bundle and cares for them. 
How is each bundle designed to help?
Each Bundle of Joy has the following items. Due to heavy rains and days of not being able to eat, a lot of the residents have been experiencing stomach pains and fever. That is why it was important for us to include medicines. As this is an immediate disaster response, the goods in the bundles are just enough to support a family for at least a week as they work on rebuilding their homes.
1 kilo of rice
2 liters of water
2 pads paracetamol
1 pad mefanamic acid
3 canned goods
3 packs of noodles or 200 grams of crackers
1 big candle
1 box of matches
1 piece of clothing or a blanket
1 letter of hope
How many bundles have you delivered already, and what was your experience?
To date, our team and our distribution channels have packed and deployed 1,200 Bundles of Joy and Letters of Hope to 12 sitios (small villages) in different affected municipalities. It was devastating to see the destruction in northern Cebu of roofs peeled off like rolling paper, shanties wiped out, electrical posts bent down with wires forming like webs. Old trees were uprooted. Neither the rich nor the poor were spared from the wrath of Haiyan. It was depressing to see every public school, chapel, and church destroyed. It was very gloomy and it almost felt like I was in a different country seeing the pale skies and bare trees.
Families and children were standing by the highway with signs asking for help, food, water and shelter. Far flung communities are reported to not have been reached by relief operations. During our feeding program, it was evident that they are starving. One of the mothers shared, "We'll try and scrimp on whatever goods we get from the help right now. We share one can of sardines among all of us to make sure we have food once the relief stops or when it starts raining again." They share how they all want to start working already but would also need to prioritize the needs of the children to be able to eat. They share how they have been using the scrap wood around to build temporary homes for themselves.
What challenges are people still facing? What challenges are aid workers facing?
The challenge now is how to get up on one's feet and start rebuilding their houses. For aid workers, the biggest challenge is the coordination with local government in affected areas, roads not passable, security of relief goods getting to people who need them the most.
How can people contribute to relief efforts right now?
The need now is for us to move forward into efforts of restoring the spirit through psycho-social therapy by establishing creative or child-friendly spaces. Relief efforts are also now geared toward the rebuilding stage and the reconstruction of schools, provision of boats, etc., so residents can regain their livelihoods and feel a bit of normalcy.
As all of the volunteers on the ground have day jobs and cannot do relief operations at a full time capacity, I am no longer comfortable receiving more donations from abroad. We would just like to ensure that the funds we have available will be used sustainably.
Here are some grassroots organisation BOJ supports:
Adopt a Small Island Initiative
Help Malapascua
Bangon Visayas
Roof for Relief
Ramon Aboitiz Foundation Inc. (RAFI)
What gives you hope in this time of crisis?
What inspires me the most is the immediate spark among the private sector to take initiative, help and lead relief operations in affected areas. Everyone was quick to mobilize amongst their networks and maximise the resources they have. It was a powerful movement among Filipinos from different parts of the world. With the recent issues of government corruption, the private sector took matters into their own capacity and are making things happen. What's more inspiring is that these are Filipinos from all walks of life.
The words of encouragement and support we have been receiving from all over the world is proof of great compassion for humanity. We are still ONE and in times like this, we break barriers and we remember that we are all brothers and sisters.
Filipino strength and resilience has also been inspiring. There have been amazing stories of survival, of residents in affected areas finding ways to be able to rebuild their boats or of this man who has a signage business and only had left over paint and just kept painting words of hope on the walls and in debris. It takes a lot of strength to look at the brighter side of things after such loss. That is truly moving.