Interview: NFL's Digital Guru Has a Game Plan for Fantasy Football, Asian Markets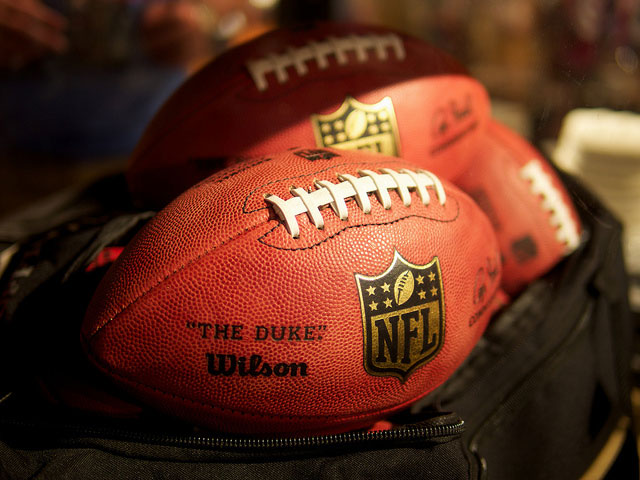 NFL footballs in New Orleans, LA, photographed on Feb. 2, 2013. (Au Kirk/Flickr)
Vishal Shah is Vice President of Digital Media Business Development at the National Football League, where he is responsible for the strategy and execution of NFL's digital media growth initiatives, including those related to NFL properties as well as partnerships. Before his time with the NFL, Vishal was a venture capitalist at GGV Capital, where he devoted his time to mobile and digital media investment opportunities in the United States and China.
Shah was a speaker at Asia Society's 2013 Diversity Leadership Forum, where he appeared on a "Young Leaders Roundtable" centered on the way 21st-century economic upheavals have affected the rising generation of entrepreneurs. (Video of that session is available here.)
As the 2013 season was getting underway, Shah took a time-out to share with Asia Society some of the strategies that are helping the NFL move into both East Asia and the digital realm.
Visal Shah
Prior to joining the NFL, you worked in Silicon Valley as a venture capitalist. Are there any lessons you learned from your previous job that can be applied to your role at the NFL?
Working at a venture capital [VC] firm, there are a couple of themes that particularly resonate, and are applicable to any role. The first (and at times the most humbling) is, the team one joins/builds is a key toward success, and hiring should be a very diligent process. There are many organizations where the biggest asset walks in and out of the door every day. Knowing that, strong leadership coupled with a focus on culture often leads to success. In the VC world, where you see companies scale and headcount shift over time, the success of portfolio companies often depends on the quality of leadership (assuming everyone seeks investments in strong trends, market sizes, etc.). The team remains crucial to the efficacy and enjoyment within an organization.
Another lesson — evidenced by the frequency of company pivots, testing products, various business models, etc. — is patience and hard work. There are very few instances where I have seen strategies work as planned on the first go-round. Typically, great change comes in excruciating small increments, and teams must be prepared for the professional and emotional long haul. Even in the start-up community, the average age of a successful exited company is high-single-digit years. The "patience" virtue is a cliché for a reason, and helps avoid making incremental short term-decisions, with correspondingly limited incremental upside.
What do you think has been the NFL's most successful digital media initiative? And why do you think it was so successful? Conversely, what's something the NFL tried in the online space that didn't perform as well as expected?
Although all credit goes to the team present at the time, the most successful digital media initiative was taking NFL.com itself in-house (as opposed to licensing and outsourcing its operation to a third party). As media rights holders, it is more straightforward to be strictly in the licensing business, but the NFL team realized the strategic importance of having a direct-to-consumer relationship, in addition to channeling that audience via partners. This has laid the groundwork for successfully scaling our fantasy football business, club site, and mobile businesses. Nobody has a crystal ball, but to have the assets ready to deploy when trends emerge will be crucial for our digital business years to come.
As for some of the efforts that have not performed to expectations, it's a matter of perspective. The NFL makes decisions that balance allowing fans to enjoy our product and the game, while maximizing the long-term value of content rights through a variety of levers such as exclusivity, platforms, etc. There are tradeoffs with each distribution decision, but overall we continue to be very fan-focused — consumption, engagement, retention and a vested emotional interest in our digital products remain the priority.
It seems the NFL has really embraced fantasy football. How much of the online conversation is fantasy-related these days? And what does that mean for "real" football?
It's difficult to quantify how much conversation is fantasy football-related, but certainly the game mechanic has a very large audience participation — and these are some of the most avid, vocal fans. We have embraced fantasy football because it really puts the game into fans' hands, and gives them an outlet to feel competitively involved like our teams and players.
From a more categorical perspective, the statistic I find interesting is: 1% of all programming on TV is sports-related domestically, but 40% of all conversation on social media platforms is sports-related. This is particularly meaningful as the League taps into emerging social and second-screen opportunities.
I describe the fantasy football market as a "co-opetition" — the NFL operates its own product, which has performed very well and continues to gain market share since its launch four years ago, but we support the game mechanic in general. The bigger all fantasy participants grow, the greater the downstream effect of driving TV tune-in, player/game awareness, conversation, etc. As for real football, fantasy football allows for players and teams to get exposure to fans that might not be available to them.
Has the NFL caught on in any Asian markets — and if yes, how? Have social or digital media helped the NFL expand in Asia? And which Asian markets have proven the toughest to crack?
The NFL has some longstanding relationships in Asia, most notably in Japan where TV partnerships and history date back 20 years. The success in Japan has been driven largely by very strong TV partners supporting the NFL, a local office/staff that worked extensively on promoting the sport, prior trips by NFL clubs to the market as part of the "America's Bowl" and most recently the introduction of flag football into youth curriculums.
Other markets in Asia have been challenged as time zone is a large factor, as is the need to educate prospective fans on the sport. China falls into this category, though the NFL has made strides in treating this as a development opportunity over the last decade. Operating again with a local office, the NFL has reached over 20 media partners in China across TV and digital distribution and growth has been very strong in the last several years, albeit off a small base. Digital has helped in both Japan and China extensively, as well as broader Asia. In particular, localized websites (Japan and China) and NFL Game Pass (online subscription product offering all games plus extensive non-game content) continue to see very positive growth. In Asia, the growth in mobile and smartphone usage has led to a strong opportunity to offer products that allow fans to access NFL "on the go," which has helped to alleviate some of the time challenges. Going forward, the NFL continues to look toward digital-owned and -operated assets, as well as digital external partners, to continue to develop this landscape.
What's next for the NFL in the digital space? Any scoops for Asia Society?
What's next is very much correlated to how the fan is consuming media. Mobile certainly has opened up a new paradigm shift in accessibility, consumption behavior, and personalization. I think the world of "all things connected" creates a tremendous opportunity with the ability to reach fans (and monetize), so long as the content is uniquely optimized for each emerging platform. I'm particularly excited about both the media applications and health and safety enhancements that wearables will bring (both elite athlete products/software and those meant for the mass market).