Interview: Michael Chang on Teenage Stardom, Jeremy Lin and Tennis in China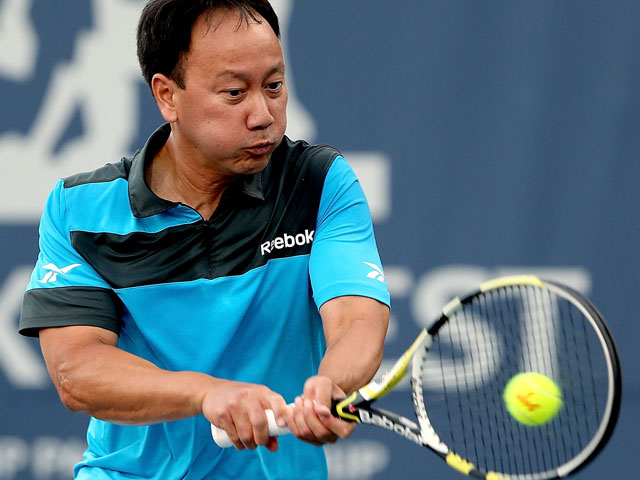 Michael Chang returns a shot to Pete Sampras while playing an exhibition match at Stanford University on July 11, 2012. (Matthew Stockman/Getty Images)
To mark Asian Pacific American Heritage Month, we'll be running Q&As with noteworthy Asian Americans throughout May. Read them all here.
Michael Chang shocked the tennis world when, at age 17, he won the 1989 French Open, becoming the youngest male player ever to win a Grand Slam event. Chang went on to have an excellent career, winning 34 singles titles, more than $19 million in prize money and achieving a world No. 2 ranking in 1996. Chang, who was born in Hoboken, New Jersey, played for the U.S. team in David Cup competition and competed in the 1992 Summer Olympics. He retired from tennis in 2003 and today is active in The Chang Family Foundation, a religious organization which, according to its website, focuses on sports and Asian outreach. Asia Society spoke with Chang via email.
As a teenager, how did pressure to represent the Asian American community affect you?
I did begin to feel a fair amount of pressure, especially when I competed in Asia. It wasn't always easy. The crowds and attention were tremendous at times and it was hard to not want to do well when I was there. That being said, I did extremely well in Asia and because of the support I received, it was very difficult to play against me with the crowd always cheering so loudly for me. I do think all top players will feel this kind of pressure, though, and it just goes with the territory and you learn to embrace it and enjoy it.
What advice would the 41-year-old Michael Chang give to the 17-year-old Michael Chang (or any other young Asian American athlete on the brink of stardom) about handling success and being a role model?
I think that everything needs to be taken in stride. Sometimes success can be a burden but when you look at it properly, it can also be an incredible platform to influence, touch and inspire lives! I did take some time to share with others when I was on tour but I wish I had taken advantage of it more. It's not an easy balance to find with such a demanding tour schedule but it would have been nice to have done it a little more.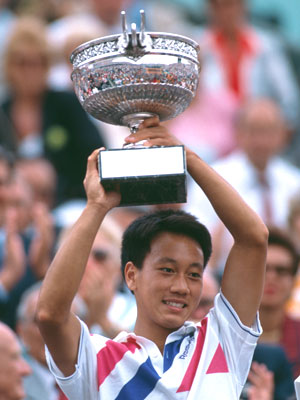 Winning the French Open in 1989. (Getty Images)
You were one of the first Asian American male stars in pro sports, but 25 years later the media and others still make a big deal over Jeremy Lin. Has perception of Asians in American sports and in society changed over the last generation?
I think the perception had changed some but the media will still give a lot of attention to Asian Americans doing well in professional sports as it still is a rarity for the most part. After all, how many Asian Americans have done really well in professional sports over the past 10 years? And Jeremy's success is unique because he is the first Asian American to break thru in the NBA, so the attention is well deserved. Hopefully in the coming years, it will be more commonplace and I actually believe it's starting already in junior tennis here in the U.S.
You are best remembered for your 1989 match in the French Open final against Stefan Edberg, but what is your most memorable match?
I'm not sure if that match was more memorable or my round of 16 with Ivan Lendl. My guess would be the match with Ivan, since he was the current world No. 1 and I had to come back from two sets down and was severely cramping in the fifth set. I'll be honest, though, and will tell you that I felt like I had a lot of divine intervention in that match and tournament! I shouldn't have won but somehow the Lord brought me through each and every difficult match and situation. I will remember those two weeks for the rest of my life!
What do you think about the rise of tennis in China? When do you think we will see a Chinese man make it to the top 10?
I think the interest in tennis in China is so exciting and no doubt Li Na's recent success has had a wonderful impact over there. I hope it only continues! As far as another Chinese man in the top 10, I can't say I see any particular players right now but obviously, when and if that happens, it will really be something special and I believe tennis will go to another level very quickly in China!
What are your thoughts on the state of American tennis today, and the lack of American men in the top 10? Is there someone up and coming that we should watch?
Tennis has been tough for American men the past few years and although we have some good young talent, I don't see any particular players being able to challenge Djokovic, Nadal, Federer or Murray right now. I'm hoping that will change, but those four players are playing at a level way above everyone else right now. And that just makes it even more difficult for the young Americans. Hopefully in time, though ...
Preeti Bhuyan and Michael Zhou contributed to this report.