Interview: How Mobile Technology is Empowering the Philippines' Poor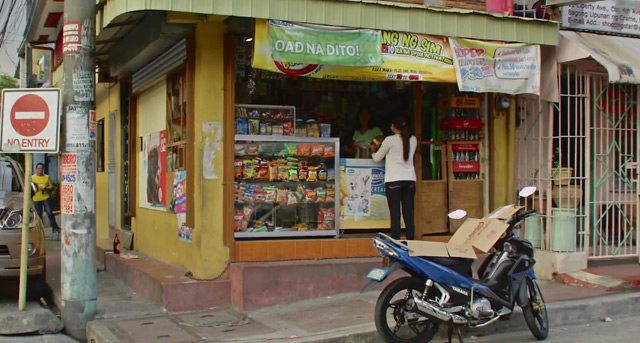 Outside a sari-sari convenience store in the Philippines.
Ibrahim "Ibba" Bernardo founded Sari Software Solutions with a broader mandate than selling a new mobile phone application. The CEO of the Philippines-based company hopes his technology will empower the largest, underserved socio-economic sectors of society. One of the central platforms of his business is to help small family-run stores, known as sari-sari stores in the Philippines, to help them track sales and inventory to run more efficient and successful businesses.
Bernardo will get a chance to share his ideas with other young leaders in Asia this week at Asia Society's Asia 21 Summit in Zhenjiang, China. He spoke with Asia Blog below about the impetus for his company and his vision for spreading Sari's applications through Asia.
In the video on your website (embedded below) you note that people don't create technologies for "lowest socio-economic sectors of society." What made you think you should start a company that does?
I'm very lucky — my parents gave me opportunities that allowed me to pursue my passions. I'm your stereotypical geek. In my youth and up until about five years ago, I was following my dream of working on video games and setting up a small chain of stores that sold gadgets and accessories. But then, I started doing these outreach projects in my spare time. With the Manila Jaycees, we launched Buhay Ko (My Life) and in the span of 100 days we taught scholars who were third-generation scavengers from Smokey Mountain, an eight-storey tall garbage dump in Metro Manila, how to blog and gave them cameras to document their lives. Then I started teaching at the maximum security section of the New Bilibid Prison, a national penitentiary where some of the most dangerous convicted felons in the Philippines are detained. I observed that the key to rehabilitation is for them to think of their lives beyond the prison walls, so we presented a really simple concept and framework for the government to implement E-dalaw (electronic visit) through communication centers where inmates could connect with their families.
Then, I did something that totally changed my life: the Ride for Light project of the Solar Energy Foundation. I rode around the Philippines on my motorcycle for 6,600 kilometres and 19 days. I visited remote off-grid communities and gave them solar energy systems. At that point I was beyond redemption, my business partners realized that they could live without me and I realized that I had a new passion: bringing technology to people who don't have access to it. But aside from technology, these projects had another thing in common, they were one time, big time projects. I wanted to do this every day of my life and being an entrepreneur, I wanted to bring technology to the base of the pyramid but I wanted to do so sustainably. I was lucky to find a partner in Tao Corporation (tao means human in Filipino) and I pitched the idea for Sari to them. They liked it, and here we are.
Sari-sari stores, which are small shops often run by women in the Philippines, inspired the name for your company and is "at the heart" of your business. Can you explain how your technology is geared toward these small stores throughout the Philippines?
Sari-sari stores are great, they're the hub of the community, people go there for their daily needs, to take breaks, to catch up on gossip and news. These stores even give micro-loans in the form of products like sardines and noodles to tide their customers over till their next paycheck. The challenge is most of these store owners don't really have any formal business training or even basic financial literacy. Some use a pen and paper to track sales and inventory, but this is tedious and takes hours out of their day. So, many skip this process altogether.
We thought we could solve this with a suite of very advanced but easy-to-use applications that not only allow them to track sales and inventory, but teach them the basics of business. Once these stores get used to the application, we can now gamify the selling process and guide them on how to improve their business. This is only the beginning. At scale, we will have a platform that can do so much more than help the sari-sari stores; it can help the community.
The international community has heard a lot about "micro-loans" and their advantages and pitfalls to helping people get out of poverty. How does your Sari phone technology compare to micro-loans and how is it different?
Sari's goal isn't to generate income directly from the micro-entrepreneurs. We want them to invest in the product so that they have skin in the game. What we're doing is partnering with big companies like telcos and FMCG (fast moving consumer goods) distributors so that they shoulder majority of the cost. We can do this because we can give them a platform from which they can communicate to these micro-entrepreneurs.
Have you made any progress in bringing your technology to other countries in Asia, that surely have small store networks similar to sari-saris?
We've already localized the application in Bahasa and are working on a Burmese version. Immediately after the conference we will be exploring a deployment in Myanmar and doing research in Cambodia. We want to learn how different or similar these stores are in emerging markets around the region and the world. By next year you will definitely see Sari applications in stores outside of the Philippines.
What does being named an Asia Society Asia 21 leader mean for you?
In all honesty, I don't know. It's such an incredible, unexpected honor. I've just been trying to make the world, especially the base of the pyramid a little geekier by creating tools the only way I know how. And hopefully these tools/apps make their lives just a little bit better. If I was a doctor, I could heal, if I was a lawyer I could fight legal injustice, so I guess being named an Asia 21 leader is validation for geeks that we have skills that can help too.
---
Watch a video about Bernardo's Sari Software Solutions: