Interview: How Mapping Can Help Cities Become More Resilient to Natural Disasters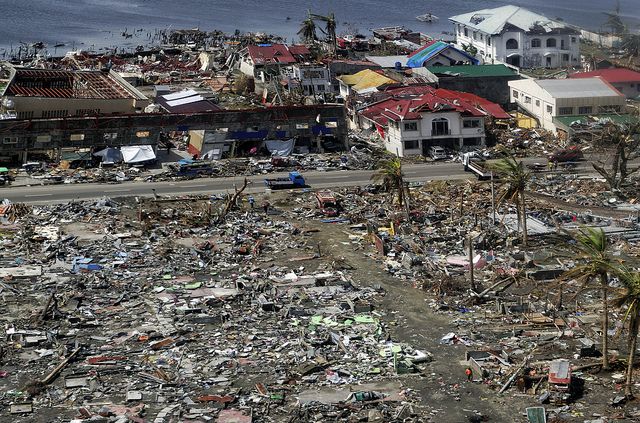 Tacloban city was the worst hit by Super Typhoon Haiyan, which devastated the central Philippines on November 8, 2013. (Marcel Crozet/ILO)
People may argue about climate change, but few can ignore the fact that extreme weather events have become increasingly prevalent in recent years. From hurricanes Isaac and Sandy — which wreaked havoc on the United States' east coast — to the devastating Typhoon Haiyan in the Philippines, it's clear that urban hubs across the globe need to address the challenge of ensuring they are resilient to future natural disasters.
Tonight in San Francisco, the Pacific Cities Sustainability Initiative, a collaboration between Asia Society and the Urban Land Institute, plays host to Cities at Risk, an event intended to evaluate the efficiency of past resiliency efforts while keeping an eye on future natural disasters. Tonight also marks the official release of a new PCSI report entitled Creating Resilient and Livable Cities, which you can download here.
In anticipation of tonight's event, Asia Blog spoke to 2013 Google USAID ICCM Fellow Celina Agaton, who specializes in cross-sector community engagement and creating policies for cities as they recover from natural disasters. At PCSI's forum in Manila earlier this year, Agaton participated in a panel discussion on the role of housing and community networks in creating resilient cities.
Can you tell us how mapping and communications technology has been harnessed to facilitate disaster recovery and reconstruction in the Philippines after the destruction caused by Typhoon Haiyan?
Communication tools are at the core of every disaster response in order to quickly assess damage and verify reports of community needs. The absence of a public cross sector disaster response communications platform combined with damaged or limited cell phone and internet coverage in many areas forced citizens turn to social networks. Facebook, Twitter, Google Docs, and text messaging were used to share and organize information and logistics on missing persons, damaged infrastructure, risk areas and aid needs and deliveries.
Mapping platforms such as Google Crisis Map, OpenStreetMap, and Map Action, among many others provided maps to local and international aid agencies often collaborating with local and national government units and their respective mapping divisions to update information on damage and aid. Portable radio stations and phone hotlines were launched in areas with limited connectivity. Drones are currently being used to provide quicker access to mapping damaged areas, and we're currently working on establishing a drone network and drone nodes to improve information sharing and to better prepare and provide for ongoing mapping needs.
Even white space technology, which is the use of available television station channels to broadcast widespread broadband internet, was repurposed to provide communications after the typhoon. This was being piloted for the purposes of fisheries registrations in remote communities.
The challenge going forward is to provide a more comprehensive and integrated platform that is widely shared and updated by stakeholders and more importantly the public, to provide better transparency and accountability over the course of the recovery. We're currently working on a beta version of this platform with the cooperation of local and international aid groups and hope to share this with the public soon.
A year before Typhoon Haiyan ravaged the Philippines, Hurricane Sandy inflicted a similar (though less deadly) wound on sections of the East Coast. Were there any lessons learned or technological solutions brought to light from Sandy that informed steps taken to recover after Typhoon Haiyan?
Recommendations after Hurricane Sandy included the creation of more resilient energy systems to ensure that cellular towers, data centers and other communications infrastructure can function during a disaster. We're currently experiencing power shortages in the central business district and across the city, so the country could benefit from alternative sources of stored power, batteries and other innovations on power and connectivity backups.
Similar to the recommendations from Sandy, the Philippine government is reviewing plans for a national early warning system working through popular communications channels such as phone, SMS, email and radio. Staff training, emergency preparedness and evacuation centers and emergency drills are being discussed. Alternate supply chains and warehousing agreements are being arranged with the private sector. A year after Sandy, only 10 percent of those affected considered themselves fully recovered, so likewise in the Philippines, recovery will be a long term process.
As noted by the Inquirer — a leading newspaper in the Philippines — the country lags behind much of Southeast Asia in terms of internet penetration: roughly a third of the nation has internet access. What type of challenges does this pose to recovery and resiliency efforts, and how has mobile technology changed things?
Access to information and communication are ongoing challenges in areas where basic infrastructure is lacking on an everyday basis. The presence of internet access and smart phones would help provide better transparency and accountability in recovery and resiliency efforts. In the mapping field, the lack of reliable, broadband internet delays the delivery and processing of mapping imagery from hours to days.
The Philippines, however is the largest user of text messaging in the world and the presence of active, self-organized networks open up alternative communications channels to more quickly mobilize aid and information sharing across the country. We're working to provide more smart phones with local partners to be able to receive and share data from their communities. The business case for internet access has to be further stressed in areas where livelihoods have been displaced by the typhoon, and other rural areas where internet access is detrimental to tourism and economic development. This takes us back to 2011 when the United Nations declared internet access a human right. With the role of the internet in saving lives during disaster preparedness and response, it is critical that we improve internet in the country. Hopefully with the abundance of international aid coupled with the boom in economic growth, we can address this issue soon.
Finally, I'd like you to make a prediction: What's one technological advancement you envision having a revolutionary effect on urban resiliency efforts in the next 10 or 20 years?
Community resiliency mapping. Cities should see mapping as a core component of their civic infrastructure. Environmental and geological hazards such as flood and earthquake risk, the mapping of public infrastructure, construction schedules, economic development plans and demographic data come to life when these are visualized on a map. High risk areas as well as business opportunities become apparent when mapping reveals patterns and hot spots across geographic locations. Clusters of traffic reports could mean opportunities for small business and also a challenge to city officials to improve traffic and safety conditions. Adding in the crucial layer of citizen reporting on to maps helps fast track innovations to community issues when they are made public and citizens, business, NGOs and officials alike are able to communicate and collaborate to address then needs of their unique communities. Community resiliency mapping allows for better sharing of resources, ideas and best practices and allows each sector to contribute in the best ways they know how, while allowing for others to fill in the gaps with their own unique experiences and expertise. The folks from SeeClickFix have developed a great example on how cross sector mapping and engagement can help communities while saving government money.