Interview: CNBC's Melissa Lee on Reporting from China and Taking It 'One Show at a Time'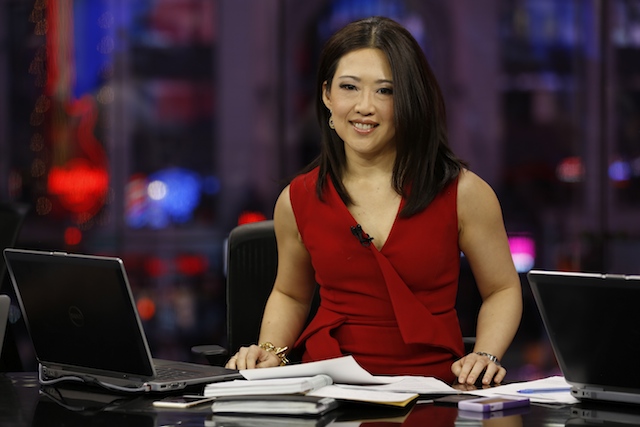 Anchor Melissa Lee on the set of CNBC's Fast Money. (CNBC)

Every May for Asian Pacific American Heritage Month, Asia Blog interviews noteworthy Asian Americans from a diverse set of backgrounds. View the complete Q&A archive
As a kid in Long Island, Melissa Lee grew up idolizing WABC anchor Kaity Tong. When she wrote Tong a letter, the presenter invited her to visit the set. Decades later, Lee herself has become an Emmy-nominated journalist and the host of three CNBC shows.
Asia Blog caught with Lee via email for a conversation about growing up in Great Neck, NY, how an early career in consulting prepared her for journalism, and her experiences reporting from China as a Chinese American.
What was it like growing up in Great Neck, Long Island in the 1980s?
Great Neck specifically was a great place to grow up. It was your typical suburb with amazing schools and proximity to all of what New York City has to offer. It was also a very homogenous place. There were not many Asians, let alone minorities, in Great Neck at the time and the emphasis was on just trying to fit in. I went to Chinese school on the weekends, but my parents really wanted my sister, brother, and me to assimilate, which was common at the time. The downside of this: my Chinese is virtually non-existent. The upside: I feel like I can adapt to many different environments and relate to all sorts of people.
How did your first job at a consulting firm in Boston prepare you to work in financial journalism?
Being a consultant gave me a front row seat to many different kinds of businesses and the difficult choices executives have to make. I worked on cases in industries including credit cards, banks, and magazine publishing. I learned how to put together PowerPoint presentations and build financial models on very little sleep. And more importantly, I got to see what "real life" is like in a business that is firing people, deciding whether or not to increase prices for services, and figuring out a marketing strategy for a new product. These are the experiences I draw on when reporting news today.
By our count, you host three CNBC shows: Power Lunch, Fast Money, and Options Action. How do you manage the workflow?
One show at a time! As a TV journalist, you're constantly in prep mode — reading everything from newspapers to research reports to blogs. You don't know if anything you're reading that day will actually be useful on air that day. But it's like building a bank of knowledge to draw on in the future.
The one thing I have learned too about workflow is that no matter how overwhelmed you feel, always be in the moment. When I'm on at 2 p.m. ET for Power Lunch, I can't be preoccupied with what's going to happen on my 5 p.m. ET show Fast Money. My focus and energy has to be 100 percent on the task at hand.
In 2008, you traveled to China to work on the documentary Made in China: The People's Republic of Profit. What was it like to report from China?
I loved it. The focus of that documentary was on U.S. businesses trying to gain a foothold in China. There were so many strategies, from bringing whole U.S. store formats to China, to customizing menus and foods to Chinese tastes. I had traveled to China before, in 2007, to do a series of stories on preparations for the Olympics, so it was also exciting to see how pits in the ground became luxury hotels in the course of a year.
You mentioned in a previous interview that you felt "oddly at home" in China, despite not speaking the language. What do you mean by that?
It was the first time I had experienced walking around and being conscious of the fact that I was not in the minority. It was strangely empowering. Despite my rudimentary Chinese language skills, I felt completely comfortable getting around Beijing and Shanghai on my own.
You grew up watching Kaity Tong on WABC and you famously wrote her a letter as a kid. If you could write a letter today to young Melissa Lee, what words of advice would you give her?
Make sure that you are intellectually challenged in every job you have and that you are constantly learning. All the rest will follow.
---
You can follow Melissa Lee on Twitter at @MelissaLeeCNBC.