Interview: Author Anchee Min Revisits Immigrant's Struggle in New Memoir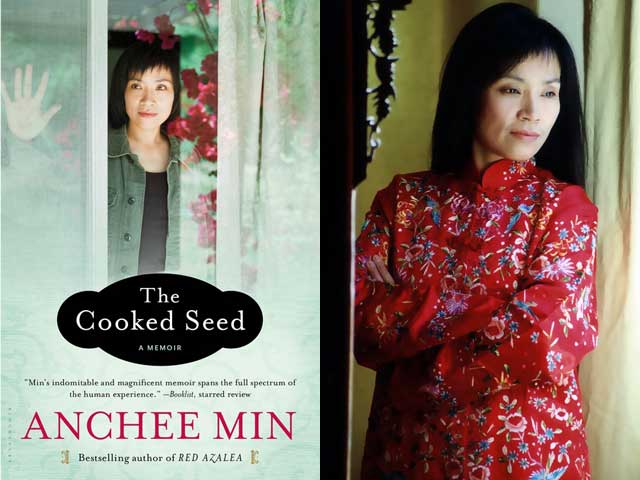 "The Cooked Seed" (Bloomsbury, 2013) by Anchee Min (R). (Naishi Min)
The date was August 3, 1984. It was China's midnight and America's morning. I was about to drop out of the sky and land in Chicago. What made me scared and nervous was that I didn't speak English and had no money. [...] I was considered a 'cooked seed' — no chance to sprout.
— The Cooked Seed, Anchee Min (Bloomsbury, 2013)
Bestselling author Anchee Min's newest book, The Cooked Seed, is a companion to her first memoir, Red Azalea, which focused on her experiences growing up during the Cultural Revolution in China. That book left off as Min fled her homeland, and 20 years later, her second memoir recalls her journey to America and the perils and heartaches that she faced in this new country. Min's travails — through rape, a bad marriage and subsequent divorce, and a stint holding down five jobs at once — become a universal symbol of the immigrant experience. Ultimately, however, the birth of her daughter Lauryann Jiang becomes a new source of inspiration and ties her to her adopted home.
In addition to these two memoirs, Min has written six historical novels: Katherine, Becoming Madame Mao, Wild Ginger, Empress Orchid, The Last Empress, and Pearl of China. Her books have been translated into 33 languages worldwide, and Elle magazine recently hailed her as "a a preeminent chronicler of women's lives in China's ­ill-starred Cultural Revolution." (Elle praised The Cooked Seed as "a moving sequel" to "a landmark memoir.")
In anticipation of her upcoming appearance at Asia Society Texas Center on Sunday, June 23, we spoke with Min about her experiences writing The Cooked Seed and the revelations it brought her.
It's been 20 years since you wrote Red Azalea. Was the experience of writing The Cooked Seed different in any way? What moved you to continue your story?
It took 29 years living in America for me to gain the confidence and trust my judgment about the United States. Compared to writing Red Azalea, I have gained more freedom in terms of expressing myself in English. I wrote this memoir, The Cooked Seed, for my daughter Lauryann because I could see that she'd never get a chance to learn the real truth about a Chinese immigrant's life otherwise — not the version I had experienced.
Can you describe some of the differences between writing a memoir and writing historical fiction (e.g., Empress Orchid)?
I didn't have to do the research I did for my historical novels, especially Empress Orchid, on which I labored to line up every account/record — investigative journalism, so to speak. The challenge about writing The Cooked Seed as a memoir was the issue of honesty, as how far and how deep was I willing to go to expose, examine, and dissect my life — that included doing autopsies on my flaws and personal failures.
What do you see in yourself now that you couldn't have imagined seeing 20 years ago?
I'd say "options." In 1985, when I landed in America and struggled to survive, I couldn't see any options. I was not raised to have any options in life back in Mao's China. It's natural for Americans to weigh their options in anything they do. Individuals get to make the decisions about their lives. I didn't have the sense of self to begin with as a newcomer. I was born in China but I discovered myself in America. I value options today more than anything, and I don't take having such options for granted. 


Of all the hardships you went through as an immigrant woman, which ones taught you the most valuable lessons?
1. The person in the mirror is my best friend.
2. My life is mine to create.
3. Heaven rewards the hard-working — a cooked seed like me who had no chance to sprout elsewhere not only sprouted but also grew into a big tree. America is a place where miracles continue to take place.