Hugs and Honors for Chinese Teen at White House Arts Education Ceremony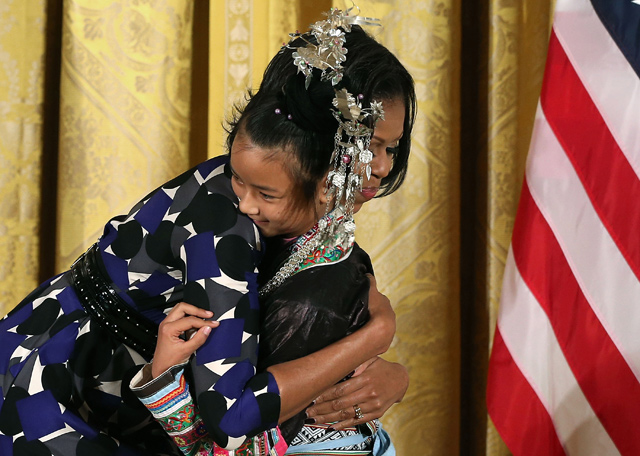 First Lady Michelle Obama hugs Lianyun Wu during an awards ceremony for the President's Committee on the Arts and the Humanities in the East Room at the White House in Washington, D.C. on November 19, 2012. (Mark Wilson/Getty Images)
Imagine you are 13 years old. You live in rural China — really rural China, as in a three-hour ride from the provincial capital and then a plane ride to Beijing. You've never been out of your country before. And then imagine that you find yourself — on a brisk but gorgeous fall afternoon in Washington, D.C. — honored at the White House, and embraced by the First Lady of the United States.
Hard to imagine — but that, more or less, is the story of the journey taken by Lianyun Wu, a young girl with a lovely voice who represented the Western China Cultural Ecology Workshop and its 100 Dong Songs program at the White House Monday. Thirteen-year-old Lianyun and project director Hexin Ren represented the group and collected the International Spotlight Award, part of the National Arts and Humanities Youth Program Awards which honor outstanding after-school and out-of-school programs. Only one international group was represented — among a dozen honorees.
The Dong are an indigenous people who live in and around the mountainous village of Dimen, in southwestern China. Traditionally the Dong had no written version of their own language — Kam — and passed their stories and traditions down through song. The 100 Dong Songs Program, as the White House citation put it, "is helping to preserve these treasures... preserving their cultural traditions with remarkable fidelity." The group was noticed in China and then nominated for the award by the Asia Society, and there they were Monday, beaming in the East Room at 1600 Pennsylvania Avenue.
Michelle Obama embraced Lianyun as the award was announced, and the girl grinned broadly out at the audience. A few minutes before, Ms. Obama had heralded the 100 Dong group and the other winners for demonstrating what she called "the transformative power of the arts and arts education." In addition to their prize and their trip to Washington, the honorees received $10,000 grants.
We of course are thrilled for Lianyun and Hexin, proud to have played a role in the global sharing of their music, and their beautiful traditions. For her part, Lianyun smiled for the cameras, answered reporters' questions, and seemed only slightly fazed by her dizzying journey. Meanwhile, I still feel a child-like excitement walking in to the place ("Welcome to the White House!" a guard boomed, as we headed for the ceremony), and that excitement was stirred a bit more, by the story of a certain teenager from southwest China.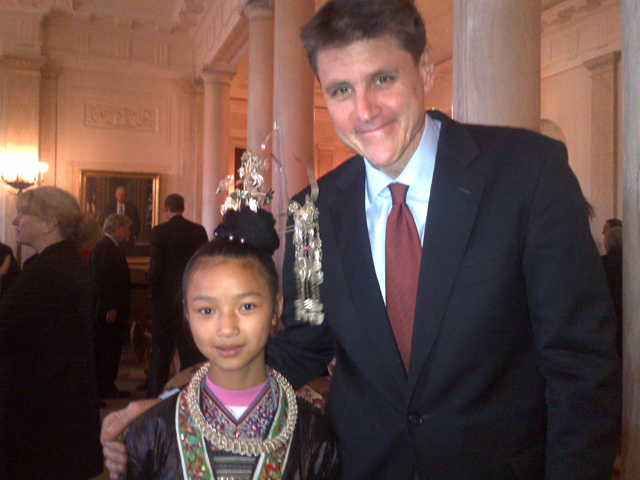 Asia Society Executive Vice President Tom Nagorski with Lianyun Yun during the awards ceremony for the President's Committee on the Arts and the Humanities at the White House in Washington, D.C. on November 19, 2012.