Follow Our Arts & Museum Summit in Hong Kong on Twitter #Museums21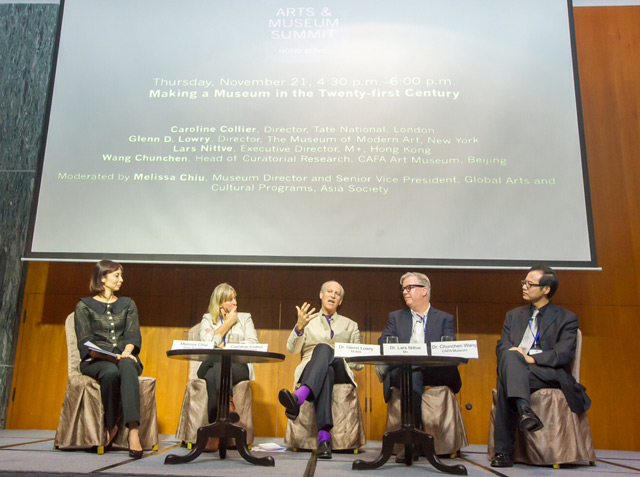 From left: Melissa Chiu, Caroline Collier, Glenn D. Lowry, Lars Nittve, and Wang Chunchen discuss "Making a Museum in the 21st Century" during the Arts & Museum Summit at Asia Society in Hong Kong on Thursday, November 21, 2013. (Nick Mak/Asia Society)
Asia Society's two-day Arts & Museum Summit kicked off earlier today in Hong Kong with a panel discussion featuring some of the biggest names in the museum world. Leading museum professionals — including Caroline Collier, director at Tate National in London; Glenn D. Lowry, director of The Museum of Modern Art in New York; Lars Nittve, executive director of M+ in Hong Kong; Wang Chunchen, head of curatorial research at CAFA Art Museum in Beijing; and our own Melissa Chiu, director of Asia Society Museum — envisioned the museum of the future in a lively discussion entitled "Making a Museum in the 21st Century."
The summit, which brings together museum leaders from across Asia, Europe, and North America, continues on Friday with a keynote address by Lowry, followed by talks and panels on the following topics: "Museums of the Future: An Artist's Perspective," "The Museum in the World," "The Museum in the City," and "Inside the Museum: Future Propositions." You can learn more about the summit here or download the summit program here. Expect more coverage, including photos and videos, in the coming days.
In the meantime, you can follow the action on Twitter, via the hashtag #Museums21. Feel free to join in on the conversation below!