Could Beijing's Air Today Really Be Worse Than Ground Zero's After 9/11?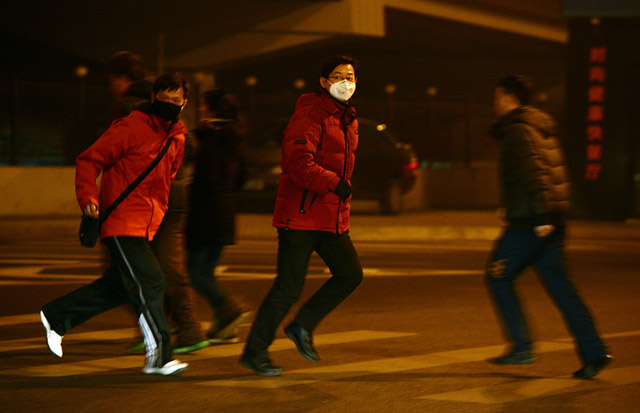 Commuters cross a Beijing street in heavy air pollution, January 30, 2013. On this day, when PM2.5 readings reached a high of 315, according to measurements taken by the U.S. Department of State, Beijing officials urged people to stay indoors. (Mark Ralston/AFP/Getty Images)
As we pause to reflect on this somber anniversary, Emily Brill over at ChinaFile poses a rather unusual question: "Beijing's Air in 2013 or Ground Zero's After 9/11: Which Was Worse?" Her findings may surprise you. Here's an excerpt:
Some of the experts I interviewed were reluctant to make what they said amounted to an apples-to-oranges comparison—the origins, chemical composition, and manner of exposure to the bad air in the two cases makes it difficult to draw parallels. And yet, other experts I spoke to said that if given the choice between breathing the air in Lower Manhattan around Ground Zero in the weeks after 9/11, when it was still sickening thousands, or the air in Beijing earlier this year, they would choose Ground Zero. ...

"I would personally rather breathe the air at the World Trade Center," said Thomas A. Cahill, Professor Emeritus of Physics and Atmospheric Science at the University of California, Davis, after reviewing the Beijing data I had tabulated. Cahill began monitoring PM2.5 levels a few blocks from Ground Zero starting in October 2001. He also conducted research on air pollution in Beijing in April of 2001. "It was bad then," he told me. "It's worse now."

"For the coarser particles," Cahill explained, "Beijing is far, far worse than the World Trade Center. Beijing is full of really nasty stuff: mercury, lead, cadmium. And, when the wind blows, it resuspends dirt over roadways." The fine particles Cahill monitored in New York included dangerous carcinogens he says are not necessarily present in Beijing's air—the Embassy monitors only the concentration of particles, not their chemical make-up—but the concentrations of particles in Beijing this winter were consistently far higher than even the worst days he and his colleagues saw in Lower Manhattan in October 2001. "I'd love to be able to see the chemistry for Beijing," he said of the Beijing data, "But at those levels anything is harmful. You can't process it." Moreover, he said, "The worst days at the World Trade Center lasted only a few weeks while Beijing continues to be massively polluted day after day, month after month, year after year."
You can read Emily's full report here. And for more on China air quality, visit our partner site ChinaAirDaily.com, a production of Asia Society's Center on U.S.-China Relations.