Children in Chains: Pakistan's Madrassa Scandal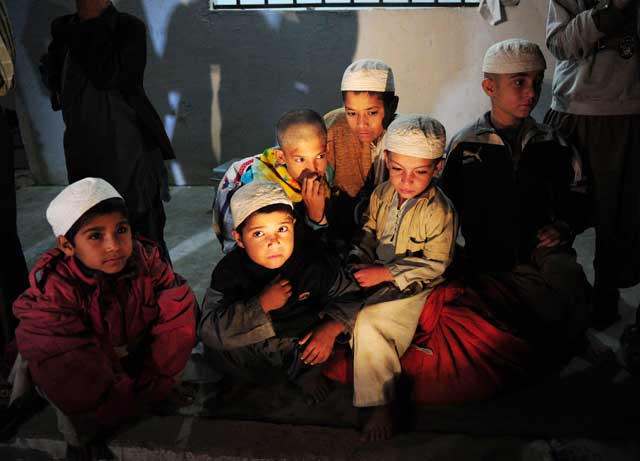 Young Pakistani students sit after being rescued following a police raid on Madrassa Zakarya in Karachi late on December 12, 2011. (Asif Hassan/AFP/Getty Images)
Police in Pakistan recovered at least 50 young men and boys from a religious seminary, Madrassa Zakarya, in Pakistan's largest city, Karachi, late on Monday night. Many of the students were of Pashtun ethnicity and had allegedly been brought willingly to the madrassa by their families to be locked up and beaten as punishment for drug addiction and petty crimes.
The students reported that they were held with chains in the basement of the seminary with little food, little sleep and restricted access to toilets and showers. The students claim to have been beaten with machine belts and pipes, and some of them may be suffering from severe psychological issues due to the continued torture.
Many madrassas in Pakistan are believed to be linked to jihadist training. However, there is no evidence so far that this religious seminary was linked to militant activity. Madrassa Zakarya served primarily as a "rehabilitation" center where young men and children were sent to be "reformed."
Nevertheless, this incident brings attention to the larger national debate that is needed for rethinking Pakistan's education system — as well as the impact of abuse on children and young adults at educational institutions, religious or otherwise.
Read some of the reactions from Twitter below:

Watch a news clip from CNN showing footage of the rescued students: