Book Excerpt: 'I Am China' by Xiaolu Guo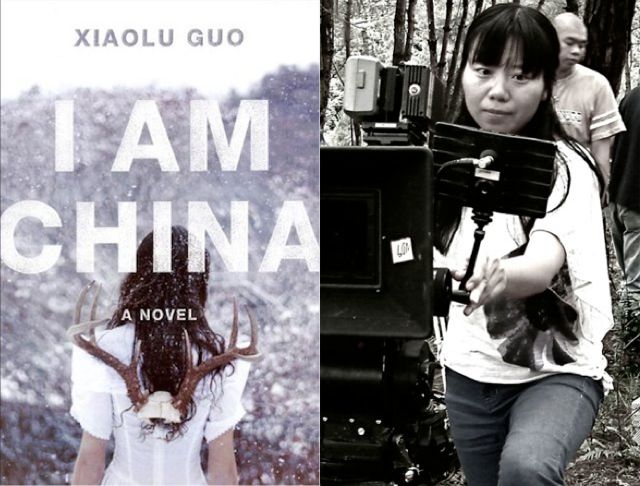 Xiaolu Guo (R), author of "I Am China" (Doubleday, 2014). (Author photo: http://www.guoxiaolu.com)
A love story for our time, Xiaolu Guo's new novel I Am China: A Novel (Doubleday, 2014) has been praised as "a multilayered exploration of politics and culture across three continents" by Isabel Hilton in The Guardian. Weaving between China and England, the novel also tunnels through the history of the emerging superpower via the letters and diaries of an exiled Chinese underground rock musician as they are being rendered into English by a London-based translator.
Named one of Granta's Best Young British Novelists in 2013, Guo published six books in her native China before relocating to London in 2003. An accomplished filmmaker in addition to being a novelist, she has had work screened at the Venice and Toronto film festivals.
In September, Guo will share I Am China with Asia Society audiences in two American cities. She visits Asia Society Texas on Wednesday, September 3, and on Wednesday, September 10 will present the book in New York City along with clips from her most recent documentary, Once Upon a Time Proletarian, as well as her feature film UFO in Her Eyes. Each program will be followed by a book sale and signing.
Following is an excerpt from I Am China — a letter from Jian, the exiled rock musician, to his lover Mu.
---
29th December 2011
Dearest Mu,
The sun is piercing, Old Bastard Sky. I am feeling empty and bare. Nothing is in my soul, apart from the image of you.
I am writing to you from a place I cannot tell you about yet. Perhaps when I am safe I will be able to tell you where I am. I don't know if this plan is going to work and what my future might hold. One thing is for sure: I will try to stay free and alive, for you. And whatever happens, these ideas I have stuck by all my life, the beliefs that landed me here in the first place — I cannot let them go. I must live for them. I know we'll see each other again, my love, but how long until that day I cannot tell. We will be together again one day.
When I look around at where I am now, it seems so obvious it should have come to this. Maybe this is where I was going the whole time, I just never saw it coming. Or never believed it. I've been headed here, I realize, ever since June 1989. I know we have talked about it so much, but tonight under this winter sky the images of that night are burning in my head. You were still in your southern home town. We hadn't even met. But I was there, and here I'll say it again: I wish I had been shot there that day. I should have died there. Shot and crushed under the tanks.
I remember the night after the massacre. Just twelve hours later, I went alone to Tian-an-men square again at midnight. The troops of the People's Liberation Army had washed the blood off the pavement. The hunger striker's tents had been pulled down and the square was deserted and empty, but rubbish was scattered everywhere — blood-soaked shirts and ripped student scarves. If you looked closely you could see the blood had soaked into the gaps between the stones, I stood there and thought: this is our most glorious square. For hundreds of years people have celebrated, fought and marched on it. Everyday hundreds of thousands of bicycles roll over it; hundreds of thousands of people walk on it. But now the people are defeated. I wished my blood was soaking into the earth between those stones: that would have been a worthy death. That would have been a worthy youth.
Dearest Mu, you know what I am saying. It repeats itself in my mind. It repeats itself because of this split in me, that's still there after all these eighteen years of us being together. I have loved you so long — you are my only family in this world. But you say you never really understand politics. You were not there in 1989. You could not understand.
I remember that May, a month before the massacre. It was the week when Chairman Hu Yaobang died, and I had just discovered the first Chinese translation of "Howl," that one we used to read together. All the students in Beijing's universities started to worry about the future. It's hard to believe it now, but we were almost depressed! He was the last good leader of China. We sat and argued in cafés, somehow studying seemed so unimportant. Is there any hope, we wondered? And that same week the socialist Polish government held its first democratic election. Everyone in the West was talking about democracy vs communism. But China was uninterested. Nothing would change. We knew that. I was only seventeen-years-old, but I felt like an old man already, sad and depressed. Where was my faith? And the balls and the belief to achieve something in politics? But then I thought, forget about the politics, there was only one good thing in all this. It was the band, of course. I had just formed my first band. That band you came to like so much. And you know how it felt for me then — I was going to start the new century with music — the first real Chinese rock n' roll band. And this is what it came down to: I would rather burst eardrums with my guitar than fight with it at the barricades.
So, in that June, when the student demonstration started in the Square, I was feverishly in love with rock and roll. I reckon I had already decided that a musical revolution was better than direct action, while all my classmates were out protesting and on hunger strike. On the 3rd of June, after spending two hours in the square and raising banners and flags, I have to confess, a weariness overcame me. Mu, did I ever talk about this weariness? I returned to the campus alone. I should have stayed. It should really have been my event. It's like my defining life moment happened without me.
On the night of that fateful day I stayed in the empty dormitory listening to The Sex Pistols and thinking about music, my music. The building was utterly deserted. There was this unruly wind going crazy, back and forth along the long empty corridors, and sending shivers up my back. I sat on my bed and began fiddling with my old guitar. It needed new strings. The tuning was fucked, and my amp had lost two valves. But still, with that crazy wind running up my back, I wrote the first lines of "Long March into the Night": "Hey little sister, let me take you down the street, the long march is waiting …"
Although I didn't finish that song then, and you know well how many years it took me to finish it, after years of writing other songs. That song was a seed. I know that starting to write it was the moment that I, Kublai Jian, the so-called "punk musician" was born. But what did I grow up to be, Mu? What did this life come to, this life of music, or art? You will say: it's important, art can live forever. But I can't agree with you. I should have died on those stones in 89. Maybe that would have been a way of living forever, or at last dying with truth.
I MUST GO NOW, my dearest woman. The plane is waiting to take me away. I believe we will be soon in each other's arms again.
Your love, Jian
---
Excerpted from I Am China by Xiaolu Guo. © 2014 by Xiaolu Guo. Excerpted by permission of Doubleday, a division of Random House.