Asia Society Online Looking For Fall 2013 Interns in New York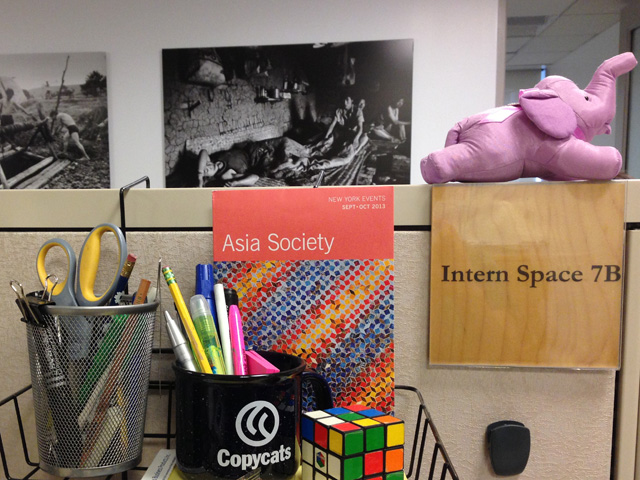 One of the many intern cubicles located around the Asia Society New York headquarters. (Tahiat Mahboob)
If you are passionate about digital media and Asia, an internship with the Asia Society online team may be just the opportunity for you.
Asia Society, a leading educational organization dedicated to promoting mutual understanding and strengthening partnerships between Asia and the United States, is looking for talented interns to assist its New York online team in the following categories: online reporting, social media, and web development.
To be eligible for this internship, applicants must be based in the New York City area. Please note that Asia Society internships are unpaid.
Asia Society Online Editorial Intern
Asia Society Online is looking for a talented Online Editorial Intern to copyedit and publish website content, edit and upload videos, report on events, draft blog posts and perform other administrative tasks for the award-winning AsiaSociety.org website. The ideal candidate would be a web-savvy journalism, policy, marketing or writing student with a strong interest in Asia, its people and issues. Recent interns with Asia Society Online have gone on to land jobs with The Atlantic, Jing Daily, and Breakthrough, a human rights organization.
Online Editorial Internship announcement (PDF)
Asia Society Online Technical Web Intern
Asia Society Online is looking for a talented Technical Web Intern to assist the Senior Technical Producer is maintaining and expanding the institutional website (AsiaSociety.org). The ideal candidate should be a student with a focus in computer science or web development. While previous experience with Drupal is not required, theming experience in another CMS, such as Wordpress, is important and candidates will be expected to learn and configure Drupal. The position could also call for front-end web development, competitive analysis, working with design files (using Photoshop or Illustrator) and quality assurance. Candidates should be prepared to learn and implement new libraries, software and APIs. Candidate should have a working knowledge of HTML and CSS. Knowledge of Javascript (jQuery) and PHP is a plus. We foster an open and collaborative environment where you will learn and contribute to approaches in digital strategy for our global, influential non-profit organization.
Technical Web Internship announcement (PDF)
Asia Society New York has numerous other internship opportunities in several departments. To find out more, please click here.