Asia Society Museum's 'Artful Recluse' Gets Full-Page Treatment From New York Times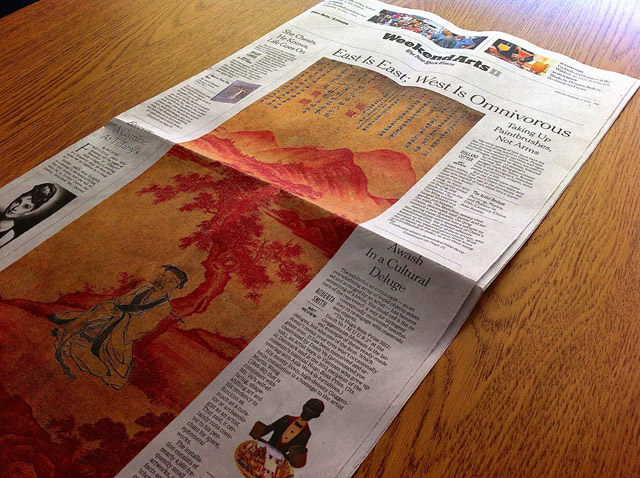 New York Times coverage of Asia Society Museum's 'Artful Recluse' exhibition in Friday, March 15, 2013's print edition.
A 369-year-old self-portrait by Xiang Shengmo dominates the front page of the Fine Arts section of the print edition of today's New York Times. Above the striking red and black scroll reads the headline "East Is East; West Is Omnivorous: Taking Up Paintbrushes, Not Arms," and what follows is an engaging — and highly favorable — Holland Cotter review of Asia Society Museum's ongoing exhibition, The Artful Recluse: Painting, Poetry, and Politics in 17th Century China.
Artful Recluse, organized by the Santa Barbara Museum of Art, is a major exhibition of Chinese paintings that reveal the private world of the scholar-painters who lived during one of the most tumultuous periods of Chinese history — the end of the Ming dynasty (c. 1600–1644) and the early years of foreign conquest by the Manchu-ruled Qing dynasty (1644–c.1700). Cotter calls it a "compelling show" and "a highlight of this year's Asia Week New York."
Cotter adds that the exhibition "applies a magnifying glass to a familiar theme and reveals a weave of moral assertion and private emotion that has pertinence for new art today."
He concludes with the following: "Nothing can argue away the emotional weight, the psychological depth, the intellectual complexity or the fraught, agonized history of the paintings in this show. If you believe that beauty, art and activist politics can't mix — and a lot people seem to believe that these days — three dozen great artists are here to tell you you're wrong."
Go read Cotter's review for yourself here. And start planning your visit to Asia Society Museum today.
The Artful Recluse: Painting, Poetry, and Politics in 17th Century China runs through June 2, 2013, at Asia Society Museum in New York. A related 320-page publication accompanies the exhibition. Purchase a copy through AsiaStore.