2011: Post Nuclear Tragedy, Three Inspiring Environmental Shifts in Japan
This is part of a series of year-end posts on Asia Blog written by Asia Society experts and Associate Fellows looking back on noteworthy events in 2011. You can read the entire series here.
On March 11, 2011, Japan's relationship with energy changed forever. A nation that endured the legacy of radiation exposure during World War II had to confront nuclear fallout once again. The explosion, radioactive leaks, and equipment failures at the Fukushima Daiichi Nuclear Power Plant — a nuclear disaster second only to the 1986 Chernobyl Nuclear Power Plant explosion in Ukraine — revealed the vulnerability of an energy source that had been touted as cleaner and greener than coal. The disaster also demonstrated the resiliency of the Japanese people to respond to the immediate crisis and reframe their relationship to energy consumption.
Three notable (and inspiring) shifts:
1.
Crowdsourced

Science

Immediately following the nuclear disaster, Uncorked Studios set about aggregating, analyzing and mapping (see image below) disparate data on Japan's radiation levels through what the studio dubbed the Radiation Detection Hardware Network (now known as Safecast.org. Their Kickstarter campaign raised funds to send more than 600 Geiger counter devices to Japan. The devices captured data and fed it into a website so that it was available on an open-source platform for global sensor data monitoring. The effort democratized technology and empowered people to actively participate in understanding the tragedy and informing local and global communities about the severity of its impacts.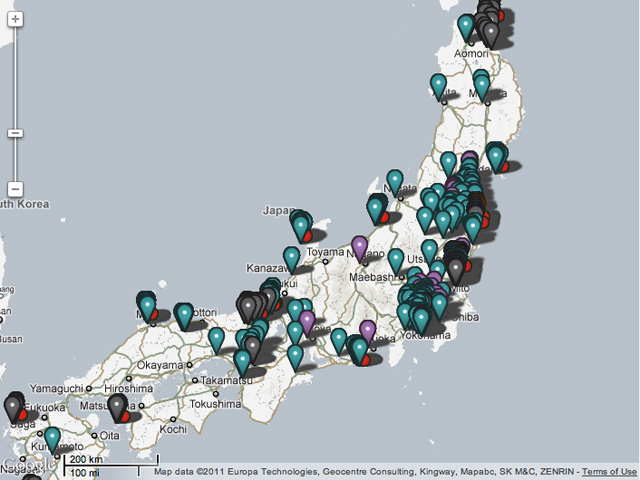 2. A Culture of
Setsuden
The Fukushima Daiichi disaster prompted the closing of the majority of Japan's nuclear reactors, a mandate that forced a nation heavily reliant on nuclear energy to reassess its energy needs and cultivate a culture of setsuden, or energy-saving. Large-scale users of electricity were required to cut usage by 15%, prompting efforts ranging from increased telecommuting to the reduction of neon signage. Through the collective efforts of utilities, businesses and citizens, the reduction targets were met within three months — the hottest, most energy-intensive months of the year. Recent surveys indicate this culture has sustained and expanded. Greater numbers of Japanese are seeking out energy-efficient features in housing and consumer goods, and feeling a stronger sense of connection with their environments and community members. 
3. A Continued Evolution of Goods into Services
Increased interest in electrical vehicles is a sign not only of growing support for cleaner technology, but also of greater public concern for stable energy storage. In response, Nissan launched a system whereby its electric LEAF car can provide home-use electricity during power shortages. The industry is also responding with "green servicizing," a business model that transforms the sale of physical products into the sale of the functions they provide. In 2012, housing developer Mitsui Fudosan will establish electric vehicle carshare programs and charging stations in all new condominiums, while Toyota will launch carshares in three existing condominiums in Tokyo and Nagoya.
These three approaches — crowdsourced data, reduction in energy consumption, and green servicizing — reflect the values and resiliency of the Japanese people and demonstrate how swiftly a culture can respond to crisis, adapt to new circumstances, and create solutions with permanent, positive effects.