Asia 21 Summit (Melbourne)
VIEW EVENT DETAILS
World Disrupted: Asia's future
Asia 21 is the Asia-Pacific's foremost young leaders network with more than 800 influential alumni from more than 30 countries.
They are social entrepreneurs, CEOs, academics, policy-makers, journalists and artists.
They are change-makers, visionaries, and leaders that have made significant contributions to society and to the future of the Asia-Pacific region.
Asia 21 alumni include: an Oscar-winning filmmaker Sharmeen Obaid, the youngest Senator of the 16th Congress of the Republic of Philippines Bam Aquino, Afghanistan's Ambassador to Australia Wahidullah Waissi, Mayor of Los Angeles Eric Garcetti, Olympian and Cirque du Soleil performer Raj Bhavsar, Emergency medicine pioneer Satchit Balsari and many more.
And from 29 November to 1 December 2017, Asia 21 is coming to Melbourne. 
It is the first time Asia 21 Summit will be held in Australia, and it coincides with the 20th Anniversary of Asia Society Australia.
Presented in partnership with the Victorian Government, the Summit will explore the theme of: World Disrupted. Asia's Future.
Workshops, action labs and leadership masterclasses will focus on the major shared challenges faced by Australia and our region — geopolitical realignment, urbanization, mobility and technological change. 
From a macro, global view on these interconnected challenges, through to the Asia-Pacific and Australian context, the Asia 21 Summit will draw upon combined expertise and leadership of the 2017 Class, Alumni and global and Australian experts to generate creative, multidisciplinary approaches to problem-solving and develop communities of leaders to drive positive change.
---
What is Asia 21?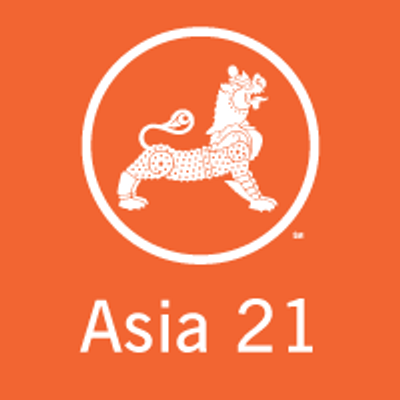 A decade ago, Asia Society had a dream: To build a network of young leaders (under the age of 40) across the Asia-Pacific as a way to promote mutual understanding and effective collaboration among the next generation's most important and influential leaders. A decade later, we have built a movement of more than 800 powerful alumni from more than 30 countries. Today, the Asia 21 Young Leaders Initiative stands as the Asia-Pacific's foremost young leaders network. Asia 21 crosses geographic and sectoral boundaries. It convenes young leaders for discussions and collaboration and unleashes them to continue working across boundaries to maximum impact. Explore the Asia 21 network>> 
---
Meet the Class of 2017
Cherrie Atilano (Philippines), founder, president, and CEO, Agrea Agricultural Systems International, Inc.
Jieun Baek (U.S.), PhD candidate studying early dissenters in authoritarian countries, Oxford University
Battushig Batbold (Mongolia), chairman of the board, Altai Holding LLC
Serey Chea (Cambodia), director general, National Bank of Cambodia
Robin Chiang (Taiwan/ Australia), venture partner, Welkin Capital Management
Kushal Gurung (Nepal), founder and CEO, WindPower Nepal
Asuka Hamakawa (Japan), executive director and co-founder, Earth Company
Sayed Zafar Hashemi (Afghanistan), political counselor, Embassy of Afghanistan, Washington, DC
Melissa Jardine (Australia), board director, Global Law Enforcement & Public Health Association
Shougat Khan (Bangladesh), founder and chairperson, H.A. Foundation
Raheel Khursheed (India), head of news partnerships for India and Southeast Asia, Twitter
Sasibai Kimis (Malaysia), managing partner, Earth Heir
Tenzing Lamsang (Bhutan), founder, CEO and editor-in-chief, The Bhutanese Newspaper
Chenhui Liu (China), co-founder and COO, Apricot Forest
Henry Makeham (Australia), associate, Linklaters LLP
Sana Mir (Pakistan), captain, Pakistan national women's cricket team
"Allen" Ali Mohammadi (Iran), CEO and co-founder, Hippogriff AB
June Park (South Korea), postdoctoral fellow specializing in U.S. foreign economic policymaking in Northeast Asia, National University of Singapore
Cheryl Perera (Canada), founder and president, OneChild
Eleanor Rosa Pinugu (Philippines), founder, Mano Amiga Academy
Ruangroj "Krating" Poonpol (Thailand), managing partner, 500 TukTuks
Shameer Rasooldeen (Sri Lanka), host, "Face the Nation"
Santitarn Sathirathai (Thailand), head of emerging Asia economics research, Credit Suisse
Jhuma Sen (India), assistant professor, Jindal Global Law School
Sim Chi Yin (Singapore), photographer and filmmaker
Mark Switkowski (Australia), executive director, Department of Economic Development, Jobs, Transport and Resources, Victorian State Government, Australia
Yeganeh Torbati (U.S.), journalist, Reuters
Guan Wang (China), news anchor and chief political reporter, CGTN
Eugene Yi (U.S.), co-founder, Cortico
Zhao Zhong (China), founder and board director, Green Camel Bell
---
Partner with us
We invite our members and supporters to partner with us in making the Summit a successful and truly impactful event. 
Asia 21 offers unique opportunities to tap into the Asia-Pacific's best minds, engage with the most inspiring emerging leaders to solve the challenges faced by their company and industry.
A partner of the Asia 21 Summit can expect to be positioned as:
The leader of its industry in the Asia-Pacific region,
An enabler of diversity, innovation and the new generation leadership
A good global corporate citizen
The Summit presents unique sponsorship, partnership, and thought-leadership opportunities. Contact us to find out more »
---
Asia 21 is a part of our Global Initiatives programs bring together the best of our 14 centres to Australia. Convened as both stand-alone events and ongoing collaborations, Asia Society Australia combines global reach with local networks to deliver an international portfolio of programs.
---
Asia 21 Presenting Sponsor                            Underwriter
---
---
University Partner                                            Summit Dinner Sponsor

---
Founding Action Lab Sponsor                       Challenge Partners
---
Supporting Partner                                          Adventure Partner
For more information on partnership opportunities please contact: programaustralia@asiasociety.org 
Event Details
Wed 29 Nov 2017 - Fri 01 Dec 2017
20171129T230000 20171201T230000 Australia/Sydney Asia Society: Asia 21 Summit (Melbourne) Asia-Pacific's foremost young leaders network will convene in Melbourne in 2017

For event details visit https://asiasociety.org/australia/events/asia-21-summit-melbourne Melbourne