Asia Society Announces Asia 21 Young Leaders Class of 2017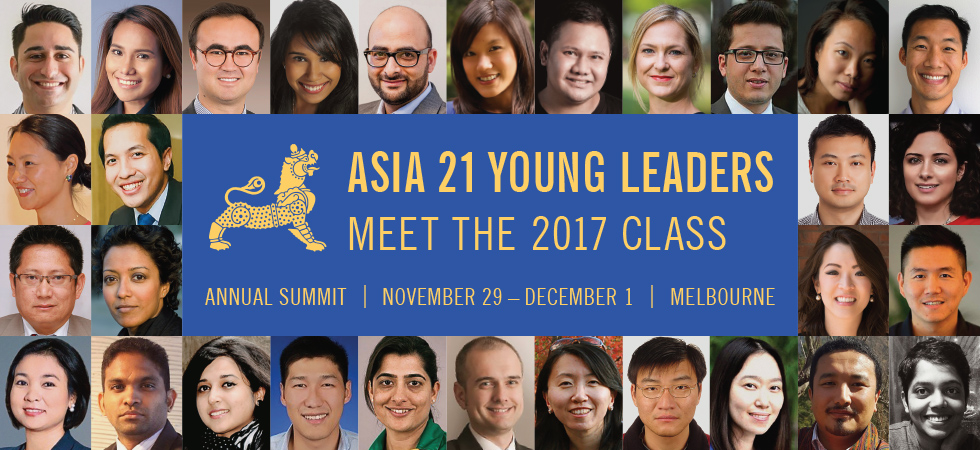 NEW YORK, August 23, 2017 — Asia Society announced today the members of the 2017 class of Asia 21, the Asia-Pacific's foremost network of young leaders. Thirty remarkable professionals from 21 countries were selected, representing the next generation of leaders in government, business, arts, media, and the nonprofit sector.
Asia 21, now in its 12th year, has grown into a network of more than 800 young leaders from 40 nations, working together to shape a brighter future for the Asia-Pacific region. Young leaders are selected through a highly competitive process based on outstanding achievement, commitment to public service, and a proven ability to make the world a better place.
Among this year's class are Melissa Jardine, a former Australian police officer examining how law enforcement in Asia responds to drug use, economic crimes, and terrorism; Chenhui Liu, co-founder of a mobile health startup transforming China's healthcare system; Sana Mir, a cricket star challenging attitudes about women's participation in Pakistan's male-dominated world of sport; "Krating" Poonpol, a venture fund manager ushering in a startup revolution in Thailand and across Southeast Asia; Shameer Rasooldeen, a news host giving voice to Sri Lanka's marginalized and silenced voices; and Sim Chi Yin, a Singaporean photographer and filmmaker capturing how industrialization and urbanization are reshaping the landscape, and the people of Asia.
"Asia 21 really brings to life Asia Society's mission to build bridges of understanding across the Asia-Pacific region, across different sectors and between Asia and the world," said Asia Society President and CEO Josette Sheeran. "Our goal is not just to recognize the amazing work these young leaders are doing, but to connect them to one another so that they can take on some of the biggest challenges facing the Asia-Pacific region today."
The members of the 2017 class are:
Cherrie Atilano (Philippines), founder, president, and CEO, Agrea Agricultural Systems International, Inc.
Jieun Baek (U.S.), PhD candidate studying early dissenters in authoritarian countries, Oxford University
Battushig Batbold (Mongolia), chairman of the board, Altai Holding LLC
Serey Chea (Cambodia), director general, National Bank of Cambodia
Robin Chiang (Taiwan/ Australia), venture partner, Welkin Capital Management
Kushal Gurung (Nepal), founder and CEO, WindPower Nepal
Asuka Hamakawa (Japan), executive director and co-founder, Earth Company
Sayed Zafar Hashemi (Afghanistan), political counselor, Embassy of Afghanistan, Washington, DC
Melissa Jardine (Australia), board director, Global Law Enforcement & Public Health Association
Shougat Khan (Bangladesh), founder and chairperson, H.A. Foundation
Raheel Khursheed (India), head of news partnerships for India and Southeast Asia, Twitter
Sasibai Kimis (Malaysia), managing partner, Earth Heir
Tenzing Lamsang (Bhutan), founder, CEO and editor-in-chief, The Bhutanese Newspaper
Chenhui Liu (China), co-founder and COO, Apricot Forest
Henry Makeham (Australia), associate, Linklaters LLP
Sana Mir (Pakistan), captain, Pakistan national women's cricket team
"Allen" Ali Mohammadi (Iran), CEO and co-founder, Hippogriff AB
June Park (South Korea), postdoctoral fellow specializing in U.S. foreign economic policymaking in Northeast Asia, National University of Singapore
Cheryl Perera (Canada), founder and president, OneChild
Eleanor Rosa Pinugu (Philippines), founder, Mano Amiga Academy
Ruangroj "Krating" Poonpol (Thailand), managing partner, 500 TukTuks
Shameer Rasooldeen (Sri Lanka), host, "Face the Nation"
Santitarn Sathirathai (Thailand), head of emerging Asia economics research, Credit Suisse
Jhuma Sen (India), assistant professor, Jindal Global Law School
Sim Chi Yin (Singapore), photographer and filmmaker
Mark Switkowski (Australia), executive director, Department of Economic Development, Jobs, Transport and Resources, Victorian State Government, Australia
Yeganeh Torbati (U.S.), journalist, Reuters
Guan Wang (China), news anchor and chief political reporter, CGTN
Eugene Yi (U.S.), co-founder, Cortico
Zhao Zhong (China), founder and board director, Green Camel Bell
This year's Asia 21 Young Leaders Summit, presented in partnership with the Victorian Government, will convene in Melbourne, Australia from November 29 – December 1. Under the theme World Disrupted: Asia's Future, members of the 2017 class and Asia 21 alumni will draw upon their combined expertise to generate creative, multidisciplinary approaches to shared challenges. They will share best practices in leadership and explore opportunities for collaboration to effect positive impact and change across the Asia-Pacific.
Asia 21 alumni are proven leaders representing a variety of professional backgrounds and serve as mentors and potential collaborators. They include CNN India Bureau Chief Ravi Agrawal; Siam Commercial Bank Executive Vice President Sutapa Amornvivat; former Philippines Senator Paolo Benigno "Bam" Aquino IV; Los Angeles Mayor Eric Garcetti; Herald Corporation Chairman Ryan Hong; Moby Group Chairman Saad Mohseni; Academy Award-winning filmmaker Sharmeen Obaid-Chinoy; Rockefeller Foundation President Rajiv Shah; Afghan Ambassador to Australia Wahidullah Waissi; YTL Singapore Executive Director Ruth Yeoh; and Bank of America Merrill Lynch Head of Global Equities Distribution Soofian Zuberi.
---
About Asia Society
Asia Society is the leading educational organization dedicated to promoting mutual understanding of Asia in a global context and strengthening partnerships among peoples, leaders and institutions across the fields of arts, business, culture, education, and policy. Founded in 1956 by John D. Rockefeller 3rd, Asia Society is a nonpartisan, nonprofit institution with offices in Hong Kong, Houston, Los Angeles, Manila, Mumbai, New York, San Francisco, Seoul, Shanghai, Sydney, Washington, DC, and Zurich.
Contact Information
Asia Society Press Office
pr@asiasociety.org