Fathers on Screen - Korean Movie Night New York
Co-presented with Korean Cultural Service NY
Co-presented by Korean Cultural Service NY and Asia Society
Korean Movie Night New York series: 
Fathers on Screen (Feb. 9 - Mar. 31, 2015)
The popular, ongoing Korean Movie Night New York kicks off 2015 with the series Fathers on Screen, which explores different types of Korean father figures, both positive and negative, as they have been shaped by the cultural and socio-economic conditions in contemporary Korea: a hard-working, devoted family man in ODE TO MY FATHER, an authoritarian and cold-blooded murderer in HWAYI, a vengeful vigilante in BROKEN, and a heroic ex-firefighter forced to commit non-heroic acts in GUARDIAN.
Korean Movie Night New York is an ongoing, twice-a-month film program that introduces the full spectrum of contemporary and classic Korean cinema to New York audiences, from popular blockbusters, independent films, and documentaries to animation and family movies. Click here to learn more. 
Screenings at:
Asia Society
725 Park Avenue (at 70 Street)
New York, NY 10021
Free admission. First-come, first-served.
---
Programs in Fathers on Screen series:
ODE TO MY FATHER
(국제시장 Guk-je-si-jang)
Directed by JK YOUN (YOUN Je-kyun)
Starring: HWANG Jung-min, KIM Yun-jin, OH Dal-su
2014. South Korea. 126 min. DCP. In Korean with English subtitles.
Monday, February 9, 2015, 6:30 pm
Mostly known for his disaster film HAEUNDAE, the blockbuster filmmaker JK YOUN brings us this new epic melodrama, ODE TO MY FATHER. Selected for the 2015 Berlin International Film Festival Panorama, the film guides viewers through South Korea's modern history by following Duk-soo (HWANG Jung-min)'s struggles to support his family, as he endures hardships during the Korean and Vietnam Wars, and in German coal mines. This universal tale of loyalty and love is a tribute to the generation of Korean fathers who have sacrificed everything for the sake of their families, and have in the process set the stage for Korea's rise as one of the world's leading economic and cultural powers.
U.S. premiere
HWAYI: A MONSTER BOY
화이: 괴물을 삼킨 아이 Hwa-i : Goe-mu-rerul-sam-kin-a-I
Directed by JANG Joon-hwan
Starring: YEO Jin-gu, KIM Yun-seok
2013. South Korea. 125 min. DCP. In Korean with English subtitles.
Tuesday, February 24, 2015, 6:30 pm
Ten years after his feature debut with the fantasy thriller SAVE THE GREEN PLANET!, director JANG Joon-hwan has returned with an offbeat crime drama — HWAYI: A MONSTER BOY. A gang of cold-blooded murderous criminals, led by YUN Seok-tae (KIM Yun-seok), has raised a boy Hwa-yi (YEO Jin-gu) they had kidnapped as their own, teaching him all of their know-how and treating him as their communal son. Only when the teenager learns about his past on his first mission does he turn against them and their kind, with increasingly violent, nihilistic, and extremely bloody results.
North American premiere
BROKEN
방황하는 칼날 Bang-hwang-ha-neun-kal-nal
Directed by LEE Jeong-ho
Starring: JUNG Jae-young, LEE sung-min
2014. South Korea. 122 min. DCP. In Korean with English subtitles.
Tuesday, March 17, 2015, 6:30 pm
An adaptation of the Japanese novel The Hovering Blade by Keigo Higashino, BROKEN is an emotional revenge thriller about a widowed father (JUNG Jae-young) who takes the law into his own hands, as he hunts down the fugitives who had raped and killed his daughter, while on the run from the cops. JUNG Jae-young (starring in CONFESSION OF MURDER, THE FATAL ENCOUNTER) gives a powerhouse performance as the father, making BROKEN unique among recent crop of Korean thrillers as "a gripping portrait of a father's grief." (Los Angeles Times)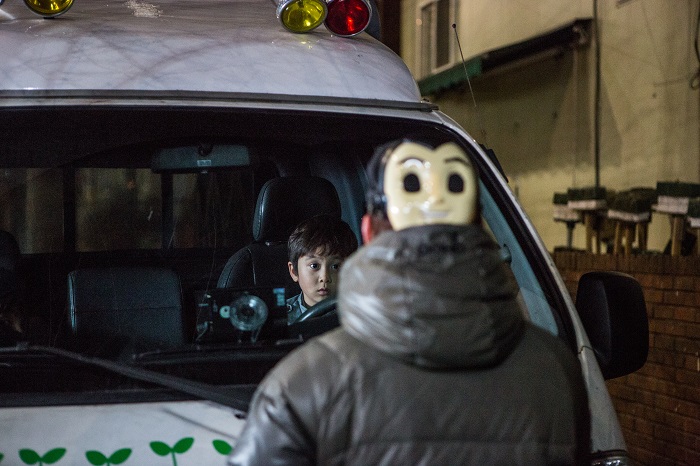 International premiere
GUARDIAN
보호자 Bo-ho-ja
Directed by YOO Won-sang
Starring: KiIM Su-hyeon, KO Seo-hee
2013. South Korea. 90 min. DCP. In Korean with English subtitles.
Tuesday, March 31, 2015, 6:30 pm
In his first feature film, and also graduation project at the Korean Academy of Film Arts, director YOO Won-sang delivers an interesting take on the thriller genre. A former firefighter, Jeon-mo (KIM Su-hyeon), runs a flower shop and lives happily with his wife and two children. His world is turned upside down after his young daughter gets kidnapped, and he starts receiving instructions to follow from the abductor. One of the instructions is for Jeon-mo to kidnap another child, and then trade him for his daughter. The moral ripple effects of resulting actions will drive the narrative to a dramatic, unexpected conclusion.