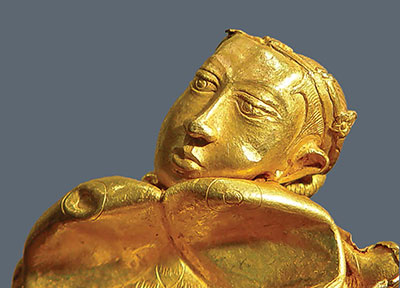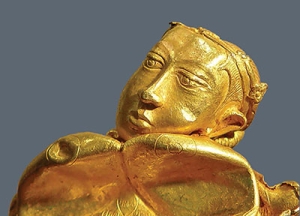 Kinnari, Ayala Museum
Ear ornaments, Ayala Museum
Ear ornament, Ayala Museum
Ear ornaments, Ayala Museum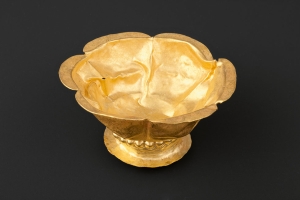 Goblet, Ayala Museum
Halter, Ayala Museum
"A gorgeous and historically intriguing exhibition"
— The New York Times
This exhibition presents spectacular works of gold primarily discovered over the past forty years on the Philippine islands of Luzon, the Visayas, and Mindanao. The regalia, jewelry, ceremonial weapons, and ritualistic and funerary objects attest to the recently uncovered evidence of prosperity and achievement of Philippine polities that flourished between the tenth and thirteenth centuries, long before the Spanish discovered and colonized the region. Although the forms and styles of the majority of these works developed locally, some indicate that Philippine craftsmen had been exposed to objects from beyond their borders through the robust cultural connections and maritime trade in Southeast Asia during what was an early Asian economic boom.
The Philippine archipelago of over 7,000 islands lies between the Pacific Ocean and the Indian Ocean in the region off the Asian mainland known as Island Southeast Asia. During the time when artists and craftsmen created the works in this exhibition, mariners, merchants, missionaries, and emissaries plied the waters connecting the tropical isles to distant lands including China and India. Monsoon winds dictated the comings and goings of merchant ships—the time of year they docked, how long they stayed, and when they set sail. Port settlements near protected coves such as ancient Butuan by the mouth of the Agusan River where it empties into Butuan Bay in northeastern Mindanao attracted ships and sailors seeking refuge from the strong southwest winds that blew from May to November. Some of these merchant ships traded for the natural resources of what early Indian texts refer to as Survarnadvipa, or "Islands of Gold," a geographic place name that scholars believe refers to the islands of Southeast Asia, including Sumatra in Indonesia and nearby Mindanao and Luzon in the Philippines.
The Philippines has the second largest gold deposit in the world. The works on view here—from tiny gold tweezers to fabulous pieces of jewelry—reveal that these natural resources were readily exploited by the local people between the tenth and thirteenth centuries. While the diverse objects offer clues about those who produced and used them, future finds will hopefully provide further information about the once flourishing but now lost cultures that created these sophisticated treasures.
Philippine Gold: Treasures of Forgotten Kingdoms is organized by Asia Society, New York, and Ayala Museum, Philippines.
Florina H. Capistrano-Baker, Consulting Curator, Ayala Museum
Adriana Proser, John H. Foster Senior Curator for Traditional Asian Art, Asia Society
Archaeology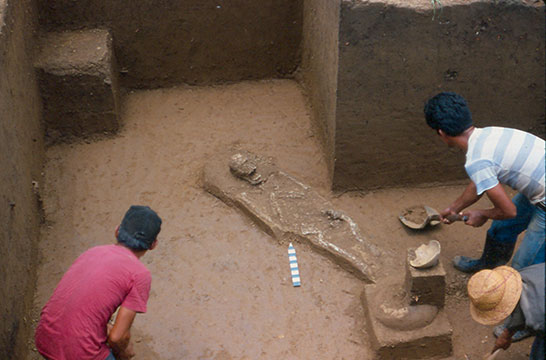 Burial No. 1, Northeast Mindanao Salvage Project, April 4–6, 1981. Archaeologist Warren Peterson and his team excavated six graves in the site called Masago near present-day Butuan City in 1981. The first burial contained the skeletal remains of a young individual of unknown gender lying on its back with arms crossed on the chest. The weight of a large earthenware jar on the lower legs had depressed the leg bones by several centimeters. This photograph shows the jar elevated on a block of soil for analysis. Near the burial, Chinese ceramic sherds of the Northern Song period from kilns in Fujian or Zhejiang suggest that the grave dates to the tenth to twelfth century. Image courtesy of the Locsin Collection.
Marinduque, an island near the center of the Philippines, was the site of the first documented discoveries of precolonial gold in the Philippines that were similar to the objects recovered in the 1960s through 1981. The ornaments were all recovered in ceramic burial jars and wooden coffins by the French explorer Alfred Marche in 1881. The gold discoveries of more recent decades reveal that these early finds are stylistically consistent with gold works found in association with tenth- and thirteenth-century Chinese export ceramics.
In addition to the array of gold objects from various sites throughout the archipelago, archaeologists have recovered hundreds of clay crucibles for smelting gold, gold-working tools, and raw and wrought gold during the excavations of precolonial wooden plank boats (balangay) in Butuan in 1976.
In 1981, a heavy machinery operator working on an irrigation project accidentally discovered a hoard of gold objects in the hamlet of Magroyong near present-day Butuan City on Mindanao island. In the same year, the Locsin Foundation sponsored an archaeological project led by archaeologist Warren Peterson. Under controlled conditions, Peterson recovered six burials in the excavation site called Masago between the barrios of Masao and Ambago near Butuan. The late archaeologist Cecilia Y. Locsin (1930–2013) and her husband, architect Leandro V. Locsin (1928–1994), played key roles in the collection and documentation of many of these precious objects, which are now preserved for posterity in the Ayala Museum in the Philippines.
The Butuan burials yielded Chinese export ceramics from the Song dynasty in association with gold objects and iron objects; radiocarbon dating of charcoal samples from the graves indicate approximate dates between the tenth and thirteenth centuries. These ceramic finds are primarily wares from kilns in the provinces of Guangdong, Fujian, Jiangxi, and Zhejiang in the south of China, and include white iron-spotted ware and Yue-type greenware. Similar ceramics recovered from other gravesites along with gold adornments have also provided archaeologists with a valuable baseline for dating the associated gold.
 
Trade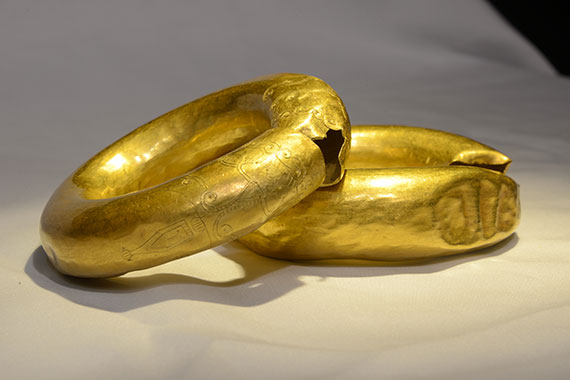 Set of two barter rings. Surigao Treasure, Surigao del Sur province. Ca. 10th–13th century. Gold. Bangko Sentral ng Pilipinas, G4P-1982-0001, G4P-1982-0002. Photography by Wig Tysmans, image courtesy of the lender.
The Philippines were part of a network of Asian maritime trade. During the period when the objects in this exhibition were produced, there was a boom in the trade linking Southeast Asia to both the Indian Ocean and the South China Sea. The gold piloncito coin and barter rings on view are evidence that currency was in circulation in the Philippines during this period. Similar piloncito also were in use in Java during this time. In addition, slit hoops used for trade or as personal ornaments similar to those from the Philippines on display in the gallery also were produced in the Mekong River delta region of Vietnam, Java, and eastern Indonesia. However, it remains unclear where in Southeast Asia the slit hoop form first originated. Intriguing clues might lie in recent excavations in the northernmost Philippine islands of Batanes that identify a manufacturing site of greenstone (nephrite) slit hoops, which archaeologists call "lingling-o." Dated to approximately 3,000 to 1,000 years ago, archaeological evidence from Batanes indicates that nephrite slit hoops of the type recovered in various sites in Southeast Asia, including Vietnam and Borneo, were produced in the Batanes islands using nephrite imported from Fengtien in Taiwan, located about sixty-two miles to the north. This discovery suggests a long tradition of interregional exchange of products, materials, and ideas pre-dating the timeframe of this exhibition.
The Chinese Song state encouraged maritime trade and even sent missions to Southeast Asia to drum up traders for China's southern ports. Early Chinese historical sources document various Asian trade missions to China, including visits from the polity of Butuan. It was the first Philippine state to establish diplomatic relations with China in the eleventh century and had direct contact with Champa (a Sino-Vietnamese kingdom) as early as the tenth century. Traders from Butuan are documented as bringing goods like camphor, cloves, mother-of-pearl, and tortoise shell to China, and returning with gold, silver, and ceremonial flags. Chinese texts also mention traders coming from Ma-i (probably Mindoro island, just south of Luzon) to Guangdong. In the thirteenth century the Chinese imported gold from Ma-i. Archaeological finds in the Philippines suggest that traders likely returned home with Chinese ceramics.
Among the examples of early gold from the Philippines are pieces with stylistic, iconographic, and technical similarities to distant and neighboring cultures. These shared features suggest both direct and indirect contacts with trading partners in the Asia-Pacific region and beyond. The impressive quality of recovered gold treasures from Butuan suggests that this flourishing port settlement played an important—and little studied—role in early Southeast Asia with possible links to the powerful trading empire of Srivijaya in what is now Indonesia.
 
The Kingdom of Butuan
Detail of a neck ornament. Ayala Museum, 81.5171. Photography by Neal Oshima; Image courtesy of Ayala Museum.
The polity known as Butuan in the southern Philippines rose to commercial prominence in the tenth century, but ultimately declined in the thirteenth century for unknown reasons. The cultural area associated with this land transcended the political boundaries of the present-day Philippine provinces of Agusan del Norte, Agusan del Sur, and Surigao del Sur.
Early Chinese sources offer clues to the power of Butuan at its peak. The Song Shi (History of the Song) documents that the Butuan king Ch'i-ling, or Kiling, sent emissaries to the Chinese imperial court in 1003 and 1007 and other texts make note of trade between China and Butuan. The astonishing quantities and impressive quality of gold treasures recovered in Butuan suggest that its flourishing port settlement played an until recently little-recognized role in early Southeast Asian trade. Surprisingly, the amount of gold discovered in Butuan far exceeds that found in Sumatra, where the much better known flourishing kingdom of Srivijaya is said to have been located.
Highlighted in this section of the exhibition are selections from a spectacular hoard of gold necklaces, chains, waistbands, bangles, ritual bowls, implements, and ceremonial weapons that was accidentally discovered in 1981 in the hamlet of Magroyong near Butuan. Objects from this cache, known as the Surigao Treasure, are among the most intriguing in the collection of early Philippine gold objects assembled from the 1960s to 1981 by archaeologist-collector Cecilia Y. Locsin (1930–2013) and her husband Leandro V. Locsin (1928–1994) that are now part of the collections of the Ayala Museum.
The personal adornments recovered from Butuan appear to be primarily elite regalia. These splendid adornments and ritual objects were probably part of a ruling family's bahandi, or collective heirloom wealth. The identity and fate of the royal family who presumably owned the treasures are unknown. Future excavations in Butuan may provide us with more information about everyday life in the ancient society that produced these technically astounding works.
 
Beyond Butuan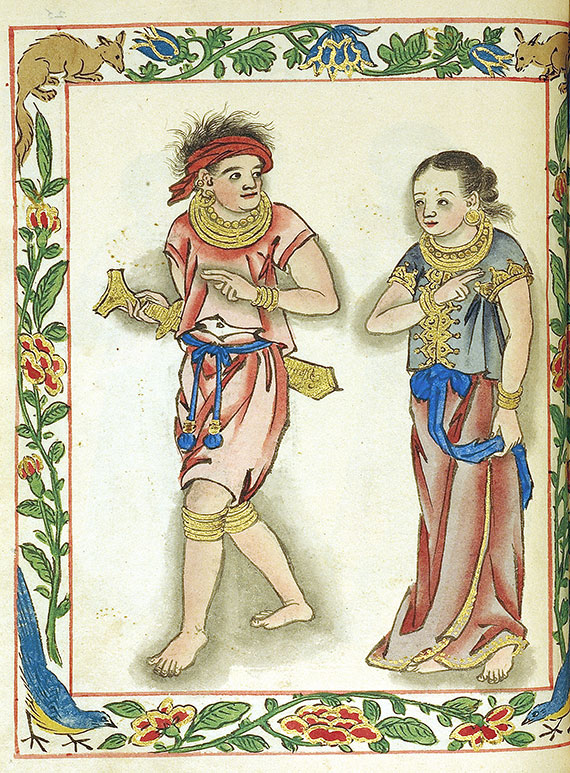 Detail from the Boxer Codex. Collection of the Lilly Library, Indiana University, Bloomington, Indiana. Image courtesy of the Lilly Library.
The early use of gold throughout the islands that comprise what we now call the Philippines was widespread. From the illustrations and descriptions in the Boxer Codex (ca. 1590), a unique document from the collection of the Lilly Library at Indiana University Bloomington, it is evident that both men and women wore gold rings on their ears, neck, arms, and legs.
Hammered diadems and fabulous golden waistbands were reserved for those in the highest ranks of society. Chiefs wore multiple layers of gold chains—often as many as twelve—wrapped around the neck, with others hanging down in impressive lengths. Both men and women wore multiple strands of gold chains and gold beads around the neck. Ear ornaments were inserted into distended earlobes or worn as ear cuffs. Elite women wore golden hair ornaments and multiple bangles. The men wore stunning gold cuffs and circular leg ornaments on their calves below the knee. Besides personal adornments, ornate gold hilts for weapons and implements attest to the power and prestige associated with the precious material.
 
Related Programs and Events
---
BENEFIT EVENT
Philippine Gold Opening Gala
Thursday, September 10 • 6:00 pm
This Gala Benefit Dinner will celebrate the exhibition opening of Philippine Gold: Treasures of Forgotten Kingdoms and the launch of a season of programming that highlights the richness and diversity of Philippine culture and current affairs, and explores its cuisine, performing arts, film, design, literature, and more.
---
BENEFIT EVENT
Philippine Gold Premiere Night Gala
Friday, September 11 • 6:00 pm
The Premiere Night Gala Dinner will mark the opening of Philippine Gold: Treasures of Forgotten Kingdoms and help launch a season of programming that highlights the richness and diversity of Philippine culture and current affairs, and explores its cuisine, performing arts, film, design, literature, and more.
---
BENEFIT EVENT
Filipino American Community Celebration
Saturday, September 12 • 6:00 pm
A celebratory evening with live music, pica pica (hor d'oeuvres) reception and tours of Philippine Gold: Treasures of Forgotten Kingdoms. The centerpiece of the evening will be a special performance of Langhapin, Lasapin, Namnamin … Pag-Ibig (Breathe, Taste, Savor … Love) at 7:00 pm. This special presentation explores love in its many aspects through Philippine songs of various genres performed by outstanding Filipino and American classical singers and musicians, offering a glimpse of Philippines musical identity and heritage.
---
PERFORMANCE
Tunog ng Ulap Rondalla
Sunday, September 13 • 2:00 pm
Revel in the stirring music and dances of Tunog ng Ulap Rondalla. This delightful plucked string ensemble affiliated with the Iskwelahang Pilipino of Boston performs original compositions and arrangements of traditional pieces celebrating the musical dynamism of the islands.
---
MEMBERS-ONLY LECTURE
Re-Collecting a Forgotten Past: Traces of Hindu-Buddhist Art in the Precolonial Philippines
Tuesday, September 15• 6:30 pm
Join co-curator of Philippine Gold: Treasures of Forgotten Kingdoms, Florina H. Capistrano-Baker for an insightful talk on the origins of these extraordinary objects, from the pre-colonial era of the Philippines, which are on view in the United States for the first time.
---
SYMPOSIUM
Encounters with Early Asian Gold
Saturday, October 3 • 11:00 am
Held in conjunction with the exhibition, Philippine Gold: Treasures of Forgotten Kingdoms, this symposium features new scholarship that reassesses our understanding of Asian peoples in the context of gold trade and movement.
---
PERFORMANCE
Alamat: Stories of Philippine Gold
Monday, October 26 • 8:00 pm
Using movement, songs, and a highly visual style, Ma-Yi Theater Company has created a compelling evening of theater that retraces the evolution of Philippine Gold as uniquely Filipino. Weaving together various indigenous myths about creation, nature, and tribal histories, Alamat: Stories of Philippine Gold tells the story of gold before colonization by the West.
---
PERFORMANCE
Voicing the Ancestral Sacred: Grace Nono and Ensemble
Saturday, October 30 • 8:00 pm
Grace Nono is one of the most renowned female vocalists in the Philippines. She hails from the area in the Southern Philippines where the Butuan kingdom was located. Nono is a champion of traditional Filipino music while at the same time finding ways to make it contemporary for a new generation.
---
FILM SERIES
New Philippine Cinema
November 14-22, 2015
With its unfettered energy, audacity, and wide-ranging creativity, Philippine cinema has injected a breath of fresh air into the international film scene. This series showcases exceptional recent works representing different genres and exploring different themes.
---
FAMILY PROGRAM
Kinding Sindaw Family Performance
Sunday, November 15 • 2:00 pm
Kinding Sindaw Melayu Heritage takes audiences on a journey into the ancestral heritage of the Philippines through legends, epics, and myths. Families will experience and participate in dance, kulintang music and silat martial arts. An optional family-friendly tour of Philippine Gold: Treasures of Forgotten Kingdoms will follow.
---
PERFORMANCE
A "Golden" Opportunity: Filipino New York Stories
Froday, December 4 • 8:00 pm
Filipino New Yorkers tell five-minute stories of their highest highs and lowest lows. In the race for the "golden ticket," they tell tales of that critical moment that spelled disaster or ultimate glory. Meet the people responsible for New York's Filipino Renaissance and hear their most intimate stories. This will be an exuberant celebration followed by a reception.
---
All programs are subject to change. For tickets and the most up-to-date schedule information, visit AsiaSociety.org/NYC or call the box office at 212-517-ASIA (2742) Monday through Friday, 1:00-5:00 pm.
Plan Your Visit