Temple, Scrolls, and Divine Messengers: Archaeology of the Land of Israel in Roman Times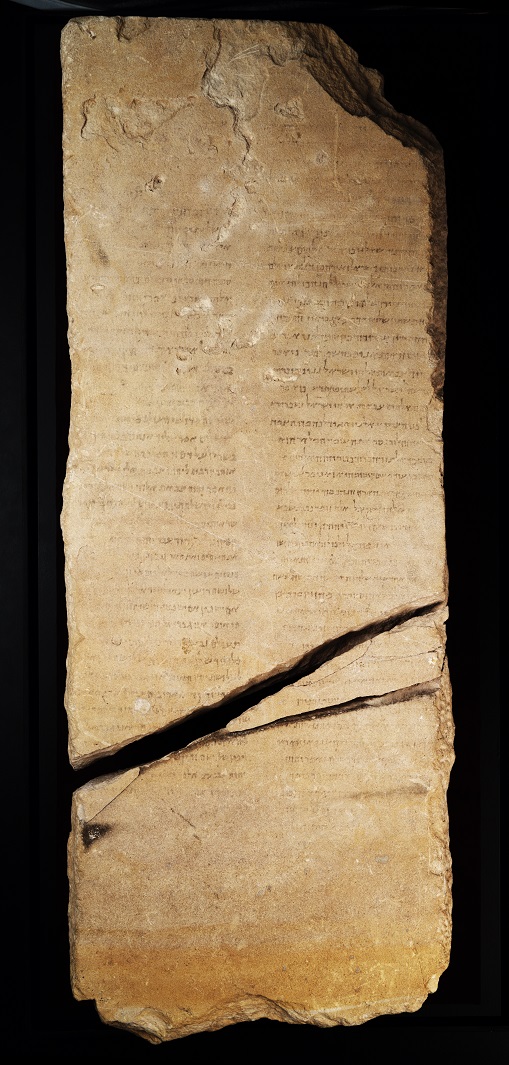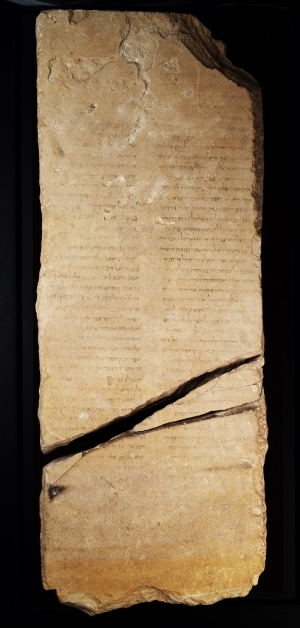 The Gabriel Revelation, Hebrew inscription, Dead Sea region, 1st century BCE - 1st century CE, Ink on limestone, Photo courtesy of Bruce Zuckerman
Ribbed Bowl, Eastern Mediterranean, 1st century CE, Mold-made glass, Photo courtesy of Israel Museum, Jerusalem

The Great Isaiah Scroll, col. 12-22, Qumran Cave I, 1st century BCE - early 1st century CE, Paper, Photo courtesy of Israel Museum, Jerusalem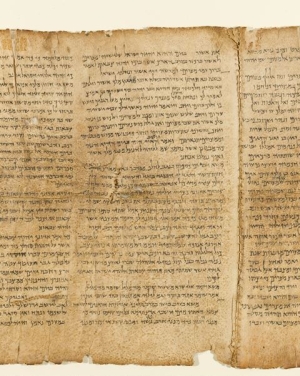 The Great Isaiah Scroll, col. 16, Qumran Cave I, 1st century BCE - early 1st century CE, Paper, Photo courtesy of Israel Museum, Jerusalem
Measuring Cup, Jerusalem, 1st century CE, Soft limestone, Photo courtesy of Israel Museum, Jerusalem
Two of the world's greatest archaeological finds – the Gabriel Revelation Stone, often called the "stone scroll" and a facsimile of the Isaiah Scroll, the oldest and most complete of the Dead Sea Scrolls, go on display in Hong Kong and China for the first time at the Asia Society Hong Kong Center, along with some 50 key artefacts from the Israel Museum, Jerusalem.
Temple, Scrolls, and Divine Messengers: Archaeology of the Land of Israel in Roman Times unravels the secrets and meanings behind the Gabriel Revelation Stone and the Isaiah Scroll, and through them, explores the significance of Jerusalem during the Second Temple period between the 1st century BCE and the 1st century CE. It not only examines the Gabriel Revelation Stone and the Isaiah Scroll within the historical, spiritual, material and social context of Judaism of the Second Temple era, but also looks at the life and times of the city's inhabitants and the importance of their rituals and customs. In addition, the exhibition contains other rare items such as carved stone fragments from the Temple Mount complex, ossuaries and tools, glass and pottery from Jerusalem's Herodian Quarter and Khirbet Qumran in the Dead Sea region.The exhibition will be on view for a strictly limited 11-week season between November 4, 2014 and January 25, 2015 at the Chantal Miller Gallery.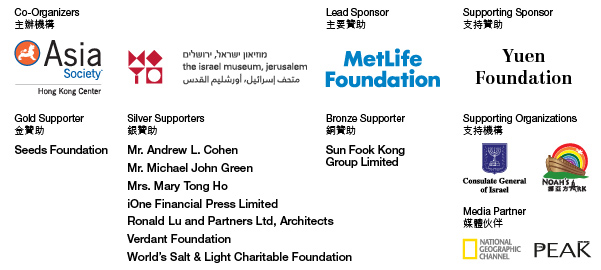 About the Exhibition
Date: November 4, 2014 - January 25, 2015
Hours:
Tuesday - Thursday 11 am - 6 pm
Friday - Sunday 11 am - 8 pm
Last Thursday of the month: 11 am - 8 pm
Closed on Mondays, Christmas Day & New Year's Day
Last Admission: 30 minutes before closing
Admission Fee:
Adult: HK$30 | Senior (aged 60 or above) and individuals with disabilities HK$15 | Asia Society Hong Kong Center members, full-time students, aged 18 or below, last Thursday of the month: Free
---
Gallery Tour Arrangement Guides
For those interested in applying gallery docent tours for our current exhibition, please note the following for your own arrangement. Due to overwhelming requests, we would like to list out a few guidelines for your and our convenience in tour arrangements.
Preferred schedules
Mondays (closed to public, open ONLY for tours)
Weekdays, before 12PM
Highest traffic hours
Weekends, 1PM - 5PM*
*Please try to avoid scheduling tours around these hours
We apologize beforehand for any inconvenience caused for your own tour arrangement and we sincerely thank you for your kind understanding. 
---
Docent Tour:
| | | |
| --- | --- | --- |
|   | English | Cantonese |
| Fridays | 2.30 pm | 3.30 pm |
| Saturdays | 2.30 pm | 3.30 pm / 5pm |
| Sundays | 2.30 pm | 3.30 pm / 5pm |
| Last Thursday of November | 7 pm |   |
*Each docent-led tour lasts for approximately 40 minutes. 
*No registration required.
*Tours gather at the main reception.
Free Family Tours
Held on selected weekends during the exhibition period, the family tours aim to engage families in activities that foster a deeper understanding of the exhibition. Designed for families with children, family tours provide creative, hands-on opportunities for children to explore the gallery with their parents or caregivers.
| | |
| --- | --- |
| English | Cantonese |
| November 8, 2014 (Saturday), 1pm - 2 pm | November 22, 2014 (Saturday), 1 pm - 2 pm |
| December 6, 2014 (Saturday), 1 pm - 2 pm | December 20, 2014 (Saturday), 1 pm - 2 pm |
| January 3, 2015 (Saturday), 1 pm - 2 pm | January 17, 2015 (Saturday), 1 pm - 2 pm |
* Admission to the exhibition is waived for participants of Family Tours.
* No registration needed for the tours listed above; please gather at Gallery Reception before the tours start.
---
Free Audio Guide:
Free Audio Guide of the exhibition is available in English, Cantonese and Mandarin in Asia Society Hong Kong Center Mobile App.
Ticket Promotions
FREE Entry of Exhibition
Noah's Ark ticket holders

Hong Kong Maritime Museum ticket holders

Hong Kong Medical Museum ticket holders
DISCOUNTED Ticket Price of Exhibition
Hong Kong Youth Hostels Association membership holder

For each holding a membership card, you can purchase 1 ticket for our current exhibition with 1 guest and both of you can enjoy 50% discount from the ticket price

*Discount will only be offered upon walk-in purchase and presentation of valid membership card
Education Programs for Families
Family Workshops
Dates: Sundays - November 23, 30; December 7, 14; January 11, 25
Time: 2pm–4pm
Venue: Asia Society Hong Kong Center, 9 Justice Drive, Admiralty, Hong Kong
Target Audience: families
Language: Cantonese and English (alternate per workshop)
Designed for families with children aged 3-5 and 6-12, family workshops provide creative, hands-on opportunities for children to explore specific themes related to the exhibition with their parents or caregivers. Crafted as an opportunity for quality family time, each workshop encompasses a gallery tour and related age-appropriate arts & crafts activities which encourage dialogues in families, nurturing creativity in children and adults alike.
Workshop themes:
November - "Let's learn about Hanukkah!" (for families with children aged 6-12)
Hanukkah, also known as the Festival of Lights, Feast of Dedication, is an eight-day Jewish holiday commemorating the rededication of the Holy Temple (the Second Temple) in Jerusalem at the time of the Maccabean Revolt against the Seleucid Empire of the 2nd century BCE. What do people do to celebrate Hanukkah? What is its origin? Aiming at cultivating cross cultural understanding, families can explore more about Hanukkah through creating Hanukah related arts & craft. 
December – "Christmas Family Tree & Ornament" (for families with children aged 6-12)
Scheduled around Christmas, the workshop will provide a chance for families to create their unique Christmas family tree. They will first be asked to draft and build their family trees, so kids can learn more about their family heritage. Drawing inspiration from The Gabriel Revelation, families will create their own version of angels, making unique Christmas ornaments for the season. After that, families will hang their ornaments on the DIY family trees to create their unique Christmas family tree. 
January – "Become a Coin Archaeologist!" (for families with children aged 3-5)
Coins are found at most archaeology excavations around the world. Coin rubbing one of the methods archeologists use to study details of ancient coins discovered at excavations, it often provides important details that help us gain understanding of social and economic development of ancient civilizations. Coins can also be used to create beautiful patterns with different colors and rubbing methods. By joining this workshop, kids can use their creativity to make their own unique bookmark/books or greeting cards (depending on age groups). They will also have a chance to appreciate coins from different places and times, and learn about the history of currency development in a fun and interactive way. 
---
Educator's Tour & Public Programs
Lecture Series
Timing: Throughout the exhibition period
Target Audience: General public (adults)
Held usually on weeknights, these programs will include conversations and presentations with the exhibition curators, religious scholars, and experts from the art world to provide a multi-faceted interpretation of subjects and themes featured in the exhibition, and provide opportunities for Hong Kong public to interact with leading experts in the field.
Significance of the Qumran Isaiah Scrolls for Biblical Studies (Tentative)
Date: January 7, 2015 (tentative)
Time: 6.30pm-8pm (tentative)
Venue: Asia Society Hong Kong Center, 9 Justice Drive, Admiralty, Hong Kong
Speaker:
Professor Archie Lee, Shandong University & Chinese University of Hong Kong 
---
Program in Association
Hong Kong Jewish Film Festival 2014
Timing: November 29 – December 7, 2014
Target Audience: General public & Jewish community (adults)
The 15th edition of the annual film festival will for the first time be held outside a commercial cinema setting and be co-presented with Asia Society Hong Kong Center. Twenty seven (27) Jewish-themed films, from all around the world sharing the theme of courage will be screened at Miller Theater. Many of the films will be making their Asian premiere exclusively at the festival with filmmakers making appearances at screenings. All films will be presented in English or with English subtitles. Seven will also have Chinese subtitles. Three films have been selected to be shown at local schools to spread the message of tolerance and understanding. 
PAST PROGRAMS
Educators' Tour
Dates: Saturday - November 15, 2014
Time: 10.15am–12pm
Duration: 2hours 45minutes
Target Audience: teachcers and educators
Language: English and Cantonese
Multi-disciplinary in nature, the exhibition is relevant to a wide range of curriculum: Visual Arts, Religious Studies, History, General Education, Languages, Science, etc, and is a great opportunity for learning outside the classroom for students of different age groups. To better equip teachers and educators in bringing young people to the exhibition, a bilingual Resource Guide has been designed centered around themes highlighted in the exhibition to assist educators in using the exhibits as a tool to deepen engagement and encourage critical thinking.
The Discovery, Preservation and Significance of the Dead Sea Scrolls
Date: October 23, 2014
Time: 7pm-8.30pm
Venue: Wei Hing Theatre, Floor 6, Amenities Building, City University of Hong Kong
Speakers:
Dr. Adolfo D. Roitman, Lizbeth and George Krupp Curator of the Dea Sea Scrolls and Head of the Shrine of the Book, The Israel Museum, Jerusalem)

Pnina Shor, Curator and Head of Dead Sea Scrolls Projects, Israel Antiquities Authority

Dr. Liu Yang, General Manager Hong Kong Truth Book Room (Moderator)
Supporting organizations: Truth Book Room, City University of Hong Kong (SOMA Project)
Archaeology in the Land of Israel
Date: October 25, 2014
Time: 6pm-8pm
Venue: Asia Society Hong Kong Center, 9 Justice Drive, Admiralty, Hong Kong
Speakers:
Dr. Yigal Israel, Southern Region Archaeologist, Israel Antiquities Authority

Emanuel Eisenberg, Former Senior Research Archaeologist, Israel Antiquities Authority

Dr. Scott Stripling, Director of Excavations at Khirbet el-Maqatir, Israel, Associates for Biblical Research

The Honorable Mr. Justice Jeremy Poon (Moderator)
Supporting organizations: Truth Book Room, City University of Hong Kong (SOMA Project)
The Belief in Divine Beings in the Bible and Ancient Judaism
Date: November 4, 2014
Time: 6.30pm-8pm
Venue: Asia Society Hong Kong Center, 9 Justice Drive, Admiralty, Hong Kong
Speaker:
Dr. Adolfo D. Roitman, Lizbeth and George Krupp Curator of the Dea Sea Scrolls and Head of the Shrine of the Book, The Israel Museum, Jerusalem