Kaiseki Journey: An Insight into Japanese Culture Through Food
VIEW EVENT DETAILS
Asia Society Culinary Culture Series
Reception 6:30pm
Dinner and Program 7:30pm
Close 10:00pm
---
*Table purchases include complimentary access to selected ASHK events, $3,500 value per table. 
Registration will be closed by September 13, act fast or you may miss out!
---
Asia Society Hong Kong Center welcomes the fall season with an exquisite culinary and cultural encounter starring Japanese Cuisine Goodwill Ambassador Chef Shinichiro Takagi. Featuring fresh fish from Japan's renowned Tsukiji fish market, Chef Takagi will present a multi-course Kaga cuisine meal paired with sake from Kanazawa breweries. Join us in celebrating the harvest season with an authentic multi-sensory journey into Kanazawa, the evening will also feature a conversation with Chef Takagi and moderator Angie Lau on Kaga cuisine, the chef's experiences in culinary arts and cultural exchange, as well as a Japanese traditional dance performance by Chika Wakayagi.  
---

Chef Shinichiro Takagi (高木 慎一朗)is a world-class Japanese chef based in his native city of Kanazawa and is an owner and executive chef of the Michelin two-star restaurant Zeniya. He specializes in the traditional gourmet kaiseki cuisine and the regional Kaga cuisine originated in Kanazawa. In 2017, Chef Takagi was appointed as the Japanese Cuisine Goodwill Ambassador from Japan's Ministry of Agriculture, Forestry and Fisheries. He has also been a guest chef and speaker at international organizations including UNESCO, World Food Symposium, and at institutions such as Harvard University.
---
Angie Lau is an anchor for Bloomberg Television based in Hong Kong. Angie has interviewed many business leaders and influencers including Hong Kong business mogul Li Ka Shing and Canadian prime minister Justin Trudeau. Angie is currently the President of AAJA Asia Chapter, with more than 250 members in the region and part of the Asian American Journalists Association (AAJA). She was also the co-director of AAJA J-Camp, which teaches journalism to scholarship students across the nation. Born in Hong Kong, Angie received her degree in journalism from Ryerson University in Toronto, Canada.
---

Born in Kochi, Japan, Chika Wakayagi started practicing Japanese traditional dance at the age of six. She received Natori Certificate of Wakayagi Ryu in 1979 and Shihan Certificate (accredited master teacher) of Wakayagi Ryu in 1991. She is a member of Japan Traditional Dance Association Inc. and has performed at the National Theatre in Tokyo and in Osaka. Based in Hong Kong since 1990, she teaches Japanese traditional dance as a guest lecturer at The Chinese University of Hong Kong, The City University of Hong Kong and The Hong Kong Polytechnic University. She is the founder and director of Konokai.
---
About Kanazawa, Kaga Cuisine, and Kaiseki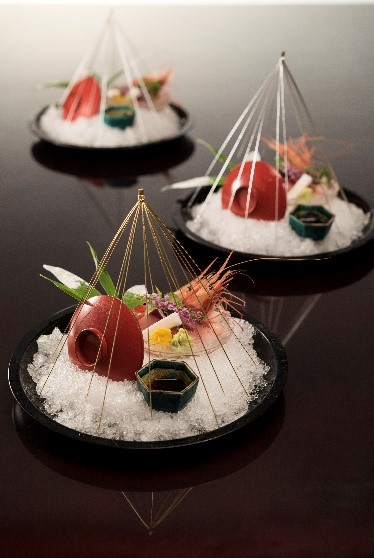 Kanazawa(金沢)is the capital city of Ishikawa Prefecture, Japan. It has managed to avoid the destructive effects of war. Thus, the cultural traditions of Kaga(加賀)have not been interrupted and continue to thrive since the Edo period.
Kanazawa is known for its Kaga cuisine. It is also blessed with various high-quality foodstuffs: Kaga vegetables are abundant in the Kaga Plain, rice and water from the Hakusan Mountains make for excellent sake.
Kaiseki(懐石)is a traditional multi-course Japanese dinner. Chef Takagi prepares dinners under the inspiration of traditional meals served before tea ceremonies. He selects the finest seasonal ingredients to match the mellow local sake and create a unique meal for each individual.
This specially tailored multi-sensory meal is not to be missed!
---
For this special event, regular Asia Society cancellation policy does not apply.
Reservation: All reservations can only be made using a valid credit card online at ticketing.asiasociety.org.hk , by filling in and returning the pdf registration form, or at the Asia Society Hong Kong Center box office. No seats will be guaranteed without advance payment. Checks should be made payable to "Asia Society Hong Kong Center" and mailed to Programs Department, 9 Justice Drive, Admiralty.
Cancellations: Please consider your reservation confirmed unless notified otherwise. For online reservations, please bring a copy of your e-ticket. For box office reservations, please bring your paper ticket.  
---
Want to learn more about Chef Takagi's culinary experience? Join us in The Art and Philosophy of Japanese Cuisine.
Click here for more upcoming events
  
Event Details
Asia Society Hong Kong Center, 9 Justice Drive, Admiralty, Hong Kong
Buy Tickets
Asia Society Members: $2,888 per person; $30,000 per table* of 10 Non-members: $3,888 per person; $40,000 per table* of 10

Add to Calendar
20170922T103000
20170922T140000
UTC
Asia Society: Kaiseki Journey: An Insight into Japanese Culture Through Food
Asia Society Hong Kong Center, 9 Justice Drive, Admiralty, Hong Kong
---