A Lifetime Between Teufen and Hong Kong
Katharina Zellweger on her curiosity in people, languages, and North Korean wrestling
In June 2018, only days before the U.S.-North Korea summit, Asia Society Switzerland invited Katharina Zellweger to talk about everyday life in North Korea. She has been visiting the country for decades now and lived there between 2006 and 2011. Katharina Zellweger gave illustrative account of how citizens live in one of the least known areas of the world. Right before the evening event we had the chance to talk to her about her lives between Appenzell and Asia, and how they are connected through seemingly universal culture practices like wrestling.
Gabriel Ruggli: Ms. Zellweger, you celebrate two anniversaries this year: Exactly 40 years ago you moved to Hong Kong and in a few weeks, you will travel for the 70th time to North Korea. How do you celebrate?
Katharina Zellweger: It gets even better! [laughs] Additionally, this collides with this year's 70th anniversary of the foundation of the North Korean republic. Already this morning I joked with the participants of my upcoming tour to Pyongyang that we will have to bring our own champagne to celebrate – because you can't buy any in North Korea. It is considered a luxury product and thus sanctioned!
From Teufen, Appenzell, to Hong Kong and Pyongyang. Did you ever have any problems balancing between two continents?
Not at all, I feel at home in many different places around the world. One just needs the ability to switch quickly, something I fortunately never struggled with. On the opposite, this is exactly what appeals to me. It started after a stay in the U.K. in my younger years that Switzerland quickly began to feel too small for me. At that time, I would have gone anywhere, and luck brought me to Hong Kong.  
How did you deal with the different languages?
In the international humanitarian aid field, I succeeded everywhere with English. Naturally, I started to learn Chinese, however, with my Hong Kong friends and colleagues, and travelling to remote rural areas in China, I had to realize that standard Chinese is not helping much. There are so many different languages in China. Fortunately, also in North Korea English is becoming more popular and has already replaced Russian as the first foreign language children learn. In my opinion this can also be read as a sign for the opening of the country.  
Local languages are not important in the humanitarian aid?
Sure, it is important that you are able to communicate with the people directly. For this purpose, I often hired consultants fluent in Chinese or Korean. However, I quickly realized though that much more important than speaking the language is the ability to work with the people, the so called intercultural competence.    
How do you blend into the local communities in Asia?
That was never a problem for me, but it takes time to make local friends. I agree that in Hong Kong it is much easier to just hang out with other foreigners, especially if people only stay for a short period of time. I have been in Hong Kong for four decades now, and I used to work for an organization with 4500 employees – and only a handful of foreigners. You have to adapt quickly.
What about North Korea? You described the mentality in an interview as «emotional, tough, nationalistic but cheerful». What did you like especially about its culture?
The culture is just very different. And that is what I like, to work with people of a different cultural background. Additionally, I am often struck by how people in the West think that it has to be horribly sad there. That's not true. Life is difficult, but North Koreans also like to sing, to dance and to laugh. Especially singing was and is still popular. 
How did you end up being a collector of North Korean propaganda posters? Could you show our readers one of your favorites?
I never decided «Oh, now I start to collect posters». I just bought a few and with time it became a real collection. Meanwhile I had the opportunity to exhibit some of my posters in the US and in Hong Kong. I like the special style of the posters, the strong colors and the content, which is not always political. One of my favorite posters depicts  «씨름» [Sirum] which could be translated as «Schwingen» in German [wrestling in English]. And guess what the first price for the winner is! [laughs] A young bull, a «Muni», together with a cow bell. I guess there is an uncovered connection between North Korea and Switzerland after all!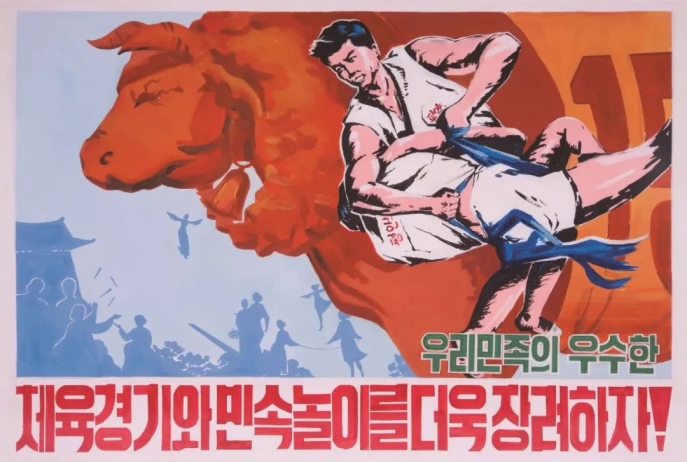 Katharina Zellweger was born in the Canton of Appenzell AR and has been living in Asia since 1978. She was working for Caritas in Hong Kong from then onwards and was responsible for establishing the aid program for North Korea. From 2006 to 2011, she was based in Pyongyang as the country director for the Swiss Agency for Development and Cooperation (SDC), an office of the Swiss Ministry of Foreign Affairs. Now she manages her own NGO «KorAid» in Hong Kong, focusing on serving children and people with disabilities in North Korea and in China. She is also a visiting fellow at the Center for International Security and Cooperation CISAC at Stanford University in California. 
In early June 2018 Katharina Zellweger joined us for a conversation on everyday life in North Korea. Read our key insights from the talk or watch the whole conversation here: Everyday Life in North Korea.
Gabriel Ruggli is a Project Manager at Asia Society Switzerland.
---
For all of our events we have the honor to welcome interesting and fascinating speakers. They are not just experts of a particular field, but often have access to corners of the world most of us don't. As part of our «Behind the Scenes» series we let them speak about their life stories and experiences.