Interview: Singapore Design Boom Goes Global
AsiaStore is excited to announce an exciting collaboration with the Singapore Tourism Board in an initiative called Singapore Design Now. The design showcase brings a select group of Singaporean designers to share the vibrancy and multiculturalism of Singapore at AsiaStore. The pieces selected reflect the country's unique position at the nexus of robust exchange among diverse cultures through history. Featured products reflect the designers' interpretation of Singapore's rich culture and heritage and are inspired by their experiences.
AsiaStore spoke to a handful of the designers that will be featured during the showcase including Carolyn Kan of Carrie K. Jewellery, Yilin Choo of Choo Yilin Jewellery, and Santhi and Sari Tunas, the twin sisters behind the unique scarf brand Binary Style. The designers discussed how Singapore's unique culture served as inspiration for their work.
Read the full interview below. Portions may have been edited for clarity: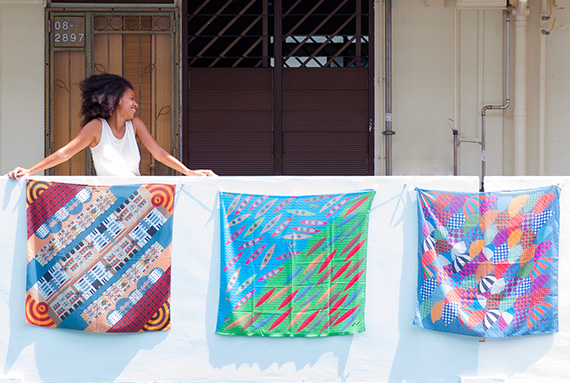 Binary Style scarves explore Singapore's culture through bold colors and patterns. (Image courtesy of Binary Style)
How would you describe Singapore's design scene today? How has it changed?
Carolyn Kan: There is far more interest in work by Singapore designers by locals and visitors to Singapore than when I started Carrie K. in 2009. People are actively seeking out independent designers who have a unique point of view, and offer strong quality and high perceived value. There's still a ways to go, but we're off to a good start given how young Singapore is.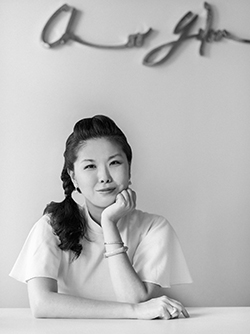 Choo Yilin founder Yilin Choo
Yilin Choo: The idea of being deeply proud and celebrating their Singaporean roots as part of their branding is something that we wouldn't have seen 10 to 20 years ago. The general belief, conscious or otherwise, was that a brand needed to be Western in order to be considered as valuable. There are anecdotes of local brands "disguising" their origins as Western to gain a better standing in the eyes of consumers. Today, there are many more Singaporean designers leveraging their culture and heritage as part of their brand DNA.
What do you hope to contribute to the local design community?
CK: Carrie K. is passionate about creating value and appreciation for the work of independent designers and craftsmen and to educate people to value quality over quantity. We do that by creating an experience when guests come into the Carrie K. Atelier. They will meet our designers and hear the stories behind each design. Our workshop where our customized pieces are made is open for all who are curious, to see.
And by watching the love and labor that goes into making each piece of jewelry, we have noticed that there is a greater appreciation for our work, and our jewelry gets promoted from a commodity to a meaningful story that customers will share. Singapore also has a reputation for being rather no-nonsense. Carrie K. strives to change that perception by sprinkling a good dose of playful provocation to inspire a different perspective.
Additionally, in 2011, Carrie K. started an initiative called Keepers that brings together and showcases fellow independent designers, artists, and artisans through specially curated pop-up events. We noticed that there was a demand for work by Singapore designers but people could not find us, as we were all scattered around the island. So from 2014 to 2016, Carrie K. co-organized with the Textile and Fashion Federation, and with the support of the Singapore Tourism Board and Spring Singapore, our longest pop-up lasted 16 months.
During that period, we retailed and showcased over 100 Singapore designers, artists, and artisans in the heart of Orchard Road. I think being in a prominent, accessible location helped put a spotlight on Singapore design. And that contributed to a greater awareness and respect for local design.
Santhi Tunas: We are hoping to contribute not only to the local design community but to the larger community. Our "Singapore Stories" collection is ultimately a tribute to Singapore. It is our gift to our beloved home. 
YC: We have always used jewelry as a platform to tell important Southeast Asian stories of heritage and conservation, stories that we hope will embrace as Southeast Asians because they are part of our identity and legacies. Because if, as Singaporeans, we aren't telling and celebrating these stories, who will?
What are some design trends that you are seeing locally that have caught your eye?
CK: There's a greater sense of confidence among designers to be different. We've finally accepted that there is not one homogeneous look but a melting pot of design styles that reflect our rich eclectic culture. I have noticed a lot more humor in our design vernacular across all disciplines from fashion to furniture to lifestyle, which is contrary to the external impression that Singapore and Singaporeans are so serious. Scratch beneath the surface and you'll find that there's a lot going on.
ST: In this globalized era where major shopping malls in Singapore or overseas are increasingly carrying homogenized offerings, the local design community is fighting back by infusing Singapore stories in their design in order to separate themselves from the flock. This goes hand in hand with encouraging support from customers. From the customers' point of view, being able to own a unique locally designed product feels like a privilege. It makes people feel that they belong to this community in one way or another. There is a pride in being able to and choosing to support local creatives and brands. It feels rewarding to know that your choice is helping local businesses grow.
What do you think makes Singaporean culture unique?
CK: Singapore is only just over 50 years old, so we are living possibly one of the most exciting times in Singapore's design timeline. We are making up Singaporean design culture as we move along. It is made up of all the different cultures and points of view from those who live and pass through this little island. Singapore is pretty cosmopolitan and Singaporeans are also very well-traveled, so we absorb what is current and relevant and mesh it with our heritage and beliefs.
I believe that being a multicultural society makes us more adept at collaborating to find a win-win end. And that is why we are seeing more collaborations between different disciplines like bookbinders and fashion designers, architects and homeware brands, and designers with international content players like Disney.
ST: Singaporean culture is unique because of its multiculturalism. It is unique because each culture brings its quirks and these quirks are accommodated to some certain extent. That is what makes Singapore charming. They have what we call multiculturalism on steroids — it is a highly distinctive aspect of Singapore — but these differences do not stop them from moving toward progress and coming as one to build the nation.
Singapore is also unique as progress is not only measured by economic success but also by other aspects. It is amazing how Singapore has maintained and nurtured their nature and bio-diversity hand in hand with its urban development. For example, it is heart-warming to see the return of the otters to Singaporean water after a successful state-of-the-art revitalization project that saw a boring concrete-clad canal turned into a picturesque waterway that looks not unlike a natural river.
Pieces from Choo Yilin's 'Peranakan Collection'
YC: The rich intersection of Chinese, Malay, Indian and Eurasian influences together with a deep understanding of Western culture, facilitated by English as the language taught in schools, is what makes Singapore unique. Someone once told me, in a non-academic sense, that he thought that we were "Anglo-Asians" — I think what he meant was that we are clearly Asian in every aspect, but there's also a part of us that has imbibed much of Western culture, perhaps in part due to the fact that we are very familiar with the English language, and language gives you access to that world.
How is Singapore's unique culture manifested in your designs and shared with global audiences?
CK: Carrie K. tells meaningful stories through our playful, provocative, artisan-crafted jewelry. The Reborn collection spotlights the unsung heroes of mundane everyday objects that are the bedrock that keeps our modern world going round. This collection hopes to remind people to see the extraordinary in the ordinary and not to take it for granted. Such as our multiculturalism, which is the foundation of our harmonious society. Among the designs is our ring inspired by the humble safety pin which was launched in 2011 and the newly updated design with bling. The safety pin has in recent times become the symbol for openness and diversity which in many ways is reflective of our Singapore culture.
ST: Our brand concept is to tell Singapore stories. Our scarves are essentially our canvas to tell Singapore narrative from multiculturalism to biodiversity. We capture the known and also the less known story of Singapore. The global audience will appreciate the recognizable Singapore icons in the design while the local audience will identify themselves with the lesser known stories.
YC: One of the biggest inspirations for our work is the Peranakan aesthetic. Peranakan culture originated in and is distinct to Southeast Asia. The intricate motifs and vivid colors characterize the aesthetic, and it features heavily in our work. This is something we hope to share with a global audience.
While Singaporeans cannot lay claim to jade as a material that is specifically valued by them as it is something that is cherished across the global Chinese diaspora, it is something that does speak to our heritage. We are (likely) the first designers in the world that uses jade the way we do, and this celebration of such an iconic heritage gemstone is something we are proud of. In Chinese, there is a saying, "gold is valuable, but jade is priceless" and this is something we want to share with the world.