Republic of the Philippines: Secretary of Foreign Affairs Alan Cayetano
VIEW EVENT DETAILS
presented in conjunction with the 72nd session of the United Nations General Assembly
NEW YORK, September 21, 2017 — Secretary of Foreign Affairs for the Philippines Alan Cayetano delivers a policy address followed by a discussion with Asia Society Policy Institute President Kevin Rudd. This event was presented in conjunction with the 72nd session of the United Nations General Assembly. (1 hr., 17min.)
---
***For security reasons, it is recommended guests arrive for check-in at least 30 minutes in advance of the program start time.***
The Asia Society is delighted to host Secretary of Foreign Affairs Alan Peter S. Cayetano for a major policy address on Philippines-U.S. relations. His address will be followed by a moderated discussion with the Hon. Kevin Rudd.
Secretary Cayetano is in the position to provide insight into the Duterte administration's foreign policy priorities — from the country's relations with the U.S. and China, to its approach on the South China Sea disputes, to its pursuit of a more independent foreign policy. As the current chair of ASEAN, the Philippines will be hosting the East Asia Summit in Manila this November. What should observers expect to be on the agenda at the summit? Will there be a formal meeting between President Duterte and President Trump?
Speakers
Secretary Alan Peter S. Cayetano is Secretary of Foreign Affairs of the Republic of the Philippines. He was serving as Chair of the Senate Foreign Affairs Committee from 2016 until appointed to his current position in May 2017. He was elected Senator in 2007 and served as committee chairman for the Committee on Accountability of Public Officers, and the Committee on Education, Arts and Culture. Secretary Cayetano began his 25-year career in public service as a Councilor in Taguig City, Metro Manila in 1992, and also served as Vice Mayor and Member of the House of Representatives.
---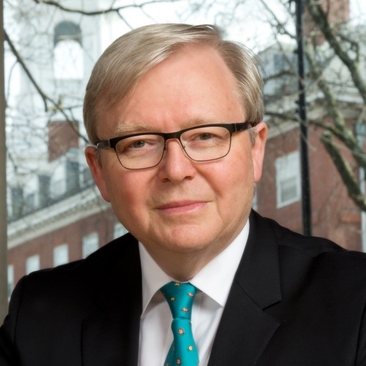 The Hon. Kevin Rudd is President of the Asia Society Policy Institute. He served as Australia's 26th Prime Minister and as Foreign Minister. He is a Distinguished Fellow at Chatham House in London, a Distinguished Statesman with the Center for Strategic and International Studies in Washington, and a Distinguished Fellow at the Paulson Institute in Chicago. He is proficient in Mandarin Chinese and co-chairs the China Global Affairs Council of the World Economic Forum.
---
This program made possible through the generous support of the Nicholas Platt Endowment for Public Policy and in coordination with:
Event Details
6:30 - 8 p.m.
Asia Society 725 Park Avenue New York, NY 10021
Buy Tickets
Members $50; Students/Seniors $60; Nonmembers $70

Add to Calendar
20170921T223000
20170922T000000
UTC
Asia Society: Republic of the Philippines: Secretary of Foreign Affairs Alan Cayetano
Asia Society 725 Park Avenue New York, NY 10021
---
If you bought tickets or plan to watch the webcast, tell your friends on Facebook!
Join the Facebook Event »