Japan's New Security Posture: Implications for Asia and the World
VIEW EVENT DETAILS
Breakfast available from 8:00AM
Discussion begins at 8:30AM
In September 2015, the Japanese Diet (parliament) passed a bill reinterpreting Article Nine of its constitution--for the first time since the end of World War II, the Japanese Self-Defense Forces would be able to participate in collective security missions abroad, opening new opportunities for Japan to play a growing role as a regional and global security provider. At the same time, the historic 2015 update of the U.S.-Japan Defense Guidelines has positioned the U.S.-Japan alliance to expand into new areas such as cyberspace. These changes in Japan's security and defense policy have important implications for security in Northeast Asia and beyond. As Tokyo expands its security role in the region, what are Japan's priorities for the year ahead? How are these changes influencing Japan's relationship with its neighbors across the region? And how will the U.S.-Japan alliance continue to expand its global role?
Join the Asia Society for a high-level discussion with Japan's Deputy Foreign Minister Shinsuke Sugiyama and Asia Society Policy Institute president Kevin Rudd to address the regional and global consequences of Japan's new security posture. Asia Society Executive Vice President Tom Nagorski will deliver introductory remarks.
Speakers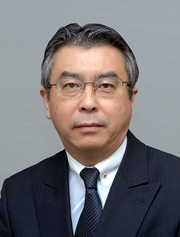 Shinsuke Sugiyama has served as Deputy Foreign Minister of Japan since June 2013. A career diplomat, he previously served as Director-General of the Asian and Oceanian Affairs Bureau, Ambassador for Global Issues, and Deputy Director-General for both the International Cooperation Bureau and the Middle East, Middle Eastern and African Affairs Bureau.
The Hon. Kevin Rudd is President of the Asia Society Policy Institute (ASPI). He served as Australia's 26th Prime Minister and as Foreign Minister. As Chair of the Independent Commission on Multilateralism, Mr. Rudd is leading a review of the seven-decade-old UN system. In 2014, he conducted a major research project on the future of U.S.-China relations at Harvard's Kennedy School, where he was a Senior Fellow. Mr. Rudd is a Distinguished Fellow at Chatham House in London, a Distinguished Statesman with the Center for Strategic and International Studies in Washington, and a Distinguished Fellow at the Paulson Institute in Chicago.
Can't make it to this program? Tune in to AsiaSociety.org/Live at 8:30am E.T. for a free live video webcast. Viewers are encouraged to submit questions to moderator@asiasociety.org or via Twitter by using the hashtag #AsiaSocietyLIVE.
Event Details
8 - 10 a.m.
Asia Society 725 Park Avenue New York, NY 10021
Buy Tickets
Members $20; Students/Seniors $25; Nonmembers $30
20160203T080000 20160203T100000 America/New_York Asia Society: Japan's New Security Posture: Implications for Asia and the World A special breakfast event with the Deputy Foreign Minister of Japan, Shinsuke Sugiyama, in conversation with ASPI president Kevin Rudd on Japan's security role in the region and the world.

For event details visit https://asiasociety.org/new-york/events/japans-new-security-posture-implications-asia-and-world Asia Society 725 Park Avenue New York, NY 10021
---