India and the United States: Partners in Progress [SOLD OUT]
VIEW EVENT DETAILS
FICCI-IIFA 2017 Global Business Forum
Watch all the panel discussions in the video playlist above.
---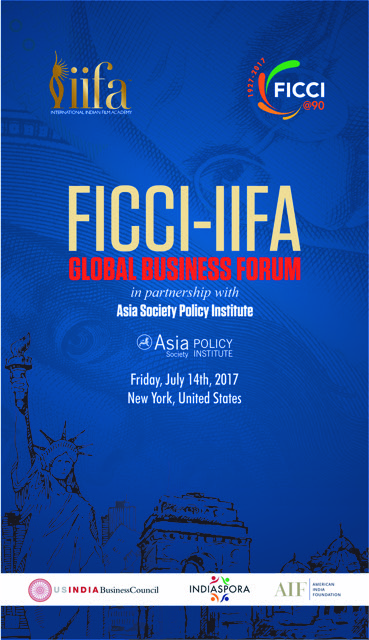 The Federation of Indian Chambers of Commerce and Industry (FICCI) and the International Indian Film Academy (IIFA), in partnership with the Asia Society Policy Institute (ASPI), are organizing the 2017 FICCI-IIFA Global Business Forum on the sidelines of the IIFA Weekend and Awards on July 14th, 2017 in New York. This annual forum has been convened in cities across the world since 2005 and is focused on strengthening business ties between India and its significant trade and investment partners.
The day-long 2017 Global Business Forum will be centered on the theme "India and United States: Partners in Progress," and will feature discussions on India-U.S. commercial relations, particularly cooperation in sectors such as defense, manufacturing, healthcare, media, and entertainment. The forum will draw participation from some of the most prominent personalities of Indian and American industry. It will bring together business leaders, policymakers, and dignitaries from India and United States on a common platform to discuss opportunities for collaboration.
Confirmed speakers include Congresswoman Tulsi Gabbard, India's Ambassador to the United States Navtej Sarna, FICCI Chairman Pankaj Patel, ASPI President and former Australian Prime Minister Kevin Rudd, Bollywood stars Anil Kapoor and Preity Zinta, and leaders from companies such as Axiscades Aerospace, Boeing, Cadila Healthcare, Cyient, HSBC, KPMG, Nicco, Viacom, YuppTV, and many more.
Tickets to the Global Business Forum are being sold by session. The agenda for the Global Business Forum is below and will be updated as additional speakers are confirmed.
UPDATE: THIS EVENT IS SOLD OUT! TUNE IN FOR THE LIVE STREAM.
---
I. India and the United States: Partners in Progress
(9:00 AM – 11:00 AM)
Inaugural Session:
Sabbas Joseph (Chair), Director, Wizcraft International Entertainment
Shiv Khemka, Vice Chairman, Sun Group
Kevin Rudd, President, Asia Society Policy Institute and former Prime Minister of Australia
Riva Ganguly Das, Consul General of India in United States
Thomas Vajda, Acting Deputy Assistant Secretary of State for South Asia
Anil Agarwal, Executive Chairman, Vedanta Resources
Launch of the FICCI-East West Center Report "India Matters for America / America Matters for India" & FICCI-KPMG White Paper
Panel Discussion on Future of India-U.S. Economic Partnership:
Mukesh Aghi (Moderator)
Nisha Biswal, Senior Advisor, Albright Stonebridge
Marshall M. Bouton, Senior Fellow for India, ASPI
Joel Hellman, Dean, Georgetown University School of Foreign Service
Amita Poole, Chief Executive Officer, IIPL USA LLC
Sunil Sanghai, Managing Director and Head of Investment Banking, HSBC India
---
II. India and the United States: Partners in Prosperity
(11:30 AM – 2:45 PM)
Panel Discussion on Defense Trade and Security Partnership:
Amber Dubey (Moderator), Partner and Head, Aerospace and Defense, KPMG India
Cara Abercrombie, Deputy Assistant Secretary of Defense for South and Southeast Asia
Srinivas Pulikam, CEO, Axiscades, Inc.
Mark Lippert, Vice President, International Government Affairs, Boeing International
Luncheon
Panel Discussion on Manufacturing:
Keith Updike (Moderator), Director, KPMG
Randhir Singh Kalsi, Executive Director, Maruti Suzuki India Ltd
Shiv Siddhant Kaul, Managing Director, Nicco Engineering Services Limited
Ashish Saraf, Joint Managing Director, Ferro Alloys Corporation Ltd
Madhu Vuppuluri, President and CEO, Essar Capital Limited
Panel Discussion on Innovation and Entrepreneurship:
M. R. Rangaswami (Moderator), Founder, Indiaspora
Anita Dongre, Chief Creative Officer, House of Anita Dongre 
Shiv Khemka, Vice Chairman, Sun Group 
Hari Ravichandran, Founder and CEO, Endurance International Group
Sheel Tyle, Venture Capitalist
Sunil Wadhwani, Founder Donor, WISH Foundation
---
III. India and the United States: Partners in Media & Entertainment
(3:15 PM – 5:15 PM)
Bollywood Fireside Chat:
Sudhanshu Vats (Moderator), Group CEO, Viacom 18
Preity Zinta, Actor and Global Women's Advocate
Panel Discussion on Media and Entertainment:
Mukul Srivastava (Moderator), Partner, Ernst & Young
Vishesh Bhatt, Director
Kai Falkenberg, First Deputy Commissioner, New York City Mayor's Office of Media and Entertainment
Hitesh Jain, Senior Partner, ALMT Legal Partners 
Kabir Khan, Filmmaker
Zulfiqar Khan, Business Head & CRO, Eros Group
Bollywood Fireside Chat:
Sudhanshu Vats (Moderator), Group CEO, Viacom 18
Anil Kapoor, Actor
Valedictory Session:
Ambassador Navtej Sarna, Ambassador of India to the United States
Congresswoman Tulsi Gabbard, Representative of Hawaii's 2nd Congressional District, Co-chair of House India Caucus 
Ambassador Antonio Tete, Permanent Observer of the African Union to the United Nations
Ambika Sharma, Director General, FICCI
Event Details
9 a.m. - 5:15 p.m.
Asia Society 725 Park Avenue New York, NY 10021
20170714T090000 20170714T171500 America/New_York Asia Society: India and the United States: Partners in Progress [SOLD OUT]

For event details visit https://asiasociety.org/new-york/events/india-and-united-states-partners-progress-sold-out Asia Society 725 Park Avenue New York, NY 10021