AsiaStore Spotlight: Inspired by Southeast Asia
Whether it's the sustainable silk found in Vietnam or the deeply rooted lacquering technique from Myanmar, AsiaStore's spotlighted items feature pieces that have all been inspired by Southeast Asia in some form. Want to see more? Browse the AsiaStore website or come visit in person at 725 Park Ave. The store is open daily from 11 am to 6 pm, and Friday until 9 pm.
This fall, Asia Society New York is showcasing a bold new exhibition featuring the works of seven contemporary artists and one artist group, hailing from Indonesia, Myanmar, and Vietnam. Asia Society's After Darkness: Southeast Asian Art in the Wake of History will be on view at Asia Society Museum from September 8, 2017, to January 21, 2018.
---
Dat Tran
Scarf, Watercolor Jade/Blue. $48
Inspired by the beauty of hand woven and hand dyed silk textiles on his journeys around Asia, designer Dat Tran has created a line of uniquely designed scarves and accessories that fuse handmade silk fabrics with high fashion. The natural, luxurious silk is meticulously cultivated in remote villages of Vietnam and Cambodia by small communities of highly skilled silk farmers and weavers. Shop AsiaStore.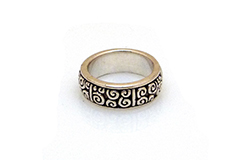 Zayd Makarim for Nohan
Ring, Buddhacurl Stack, $50
Zayd Makarim was initially struck by the beauty of a Buddha statue's curly hair, giving him inspiration for his signature Buddhacurl collection. While first Buddhacurl pieces were completely handmade, Makarim has since adopted the lost wax method — sketching a piece, carving out the wax model, and then casting it. The process typically takes three months, depending on the complexity of the design. Shop AsiaStore.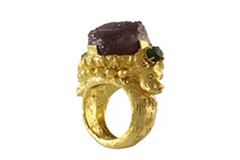 Wynn Wynn Ong
Ring, Ruby and Tourmaline, $1500
While raised in Manila, Wynn Wynn Ong was born in Burma, home of the best sapphire, ruby, and jade mines in the world. Her pieces favor stones in their organic, untouched states and incorporating materials not often associated with jewelry. Wynn Wynn does not hesitate to combine unexpected elements such as acrylic and glass with diamonds, rubies, and gold. Shop AsiaStore.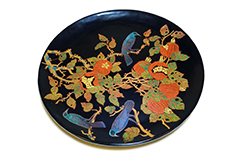 Veronica Gritsenko
Plate, Bamboo Cinnabar Pigment Blue Bird Gold, $450
Veronica Gritsenko, a Ukrainian scientist, artist, and scholar was introduced to Myanmar culture by a Buddhist monk. She traveled widely across Myanmar to find a niche to be able to apply her knowledge and devote herself to this country. After exploring its many arts and crafts forms, she set her sights on the lacquer arts tradition in Bagan.  Shop AsiaStore.
Hatsumi Yoshida
Necklace, Ka:Lung Kancing Purple, $120
Born in Yamagata prefecture, Japan, Hatsumi Yoshida relocated to Bali in 1999 where she established Studio Suna. Inspired by the rich natural setting of Bali, her designs utilize various materials she discovered throughout the island to create complex and interesting textures. Yoshida focuses on unique, organic textiles and are crafted with great attention to detail, design, and quality. Shop AsiaStore.