Words on Water: In Conversation with Shobha De
VIEW EVENT DETAILS
India by the Bay 2016 Program
Registration 7:15pm,
Conversation 7:30pm
(Post-event drinks reception for all ticket holders)
Shobha De is a prolific writer – author, blogger, widely-read columnist who has monitored and written extensively on India's socio-cultural-political contours for over four decades. As a prominent opinion shaper across social media, she is seen as a fearless commentator and an independent media voice.
Starting her career as a model she then went on to a career in journalism, during the course of which she founded and edited three magazines – Stardust, Society, and Celebrity.
Shobha De has participated in several literary festivals, including the Writers' Festival in Melbourne. She is a regular participant of Bangalore Literature Festival, having been part of it since its first edition.
---
February 24 – March 1, 2016
The Festival co-presented by Asia Society Hong Kong Center and Teamwork, is a collaboration and celebration, focusing on India's performing arts, cultural dynamism and contemporary offerings of literature, music and theater. After the success in 2015, the second edition of the Festival will offer a wider range of programming that brings India's cultural dynamism to Hong Kong that reflects India's artistic depth and diversity. The Festival is dedicated to promoting mutual understanding and strengthening partnerships between the two countries.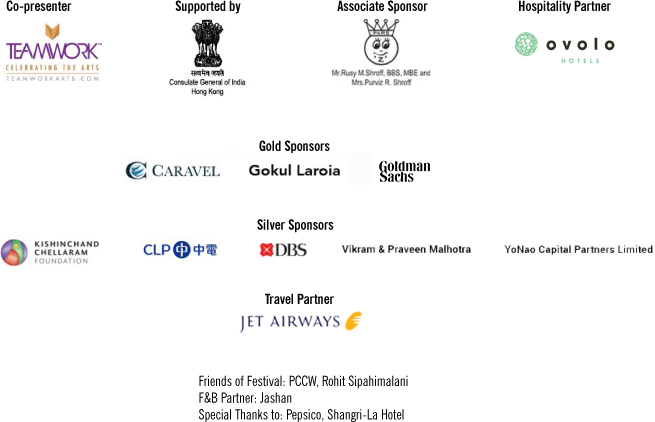 Event Details
7:15 - 9 p.m.

Asia Society Hong Kong Center, 9 Justice Drive, Admiralty
Buy Tickets
Asia Society members HK$250; Non-members HK$300
20160226T191500 20160226T210000 Asia/Hong_Kong Asia Society: Words on Water: In Conversation with Shobha De

For event details visit https://asiasociety.org/hong-kong/events/words-water-conversation-shobha-de Asia Society Hong Kong Center, 9 Justice Drive, Admiralty