Flavors of the 17,000 Islands
VIEW EVENT DETAILS
Asia Society Culinary Culture Series
Evening Conversation and Food Tasting
Drinks Reception 6:30pm
Conversation and Tasting 7:00pm
Close 8:30pm
"……thrilling, enjoyable and essential reading." — Anthony Bourdain on Flavors of Indonesia: William Wongso's Culinary Wonders
As the world's largest archipelago with over 17,000 islands and more than 300 distinct ethnic groups, Indonesia has been blessed with rich culinary diversity. With bountiful varieties of species and a wide range of fresh produce, it would take a lifetime for anyone to taste all of Indonesia's traditional dishes. While Rendang Padang may be an international favorite, it can hardly represent the vastness of Indonesia's culinary offerings — each region is home to distinctive cuisines and flavors, many of which can be traced back through an exciting history with influences from both East and West. Indonesia's most well-known culinary expert, William Wongso, will be joined by Dr. Daisy Tam of Baptist University in a multisensory conversation on the richness of Indonesia's culinary culture, unfolding Wongso's journey for decades to put Indonesian food on the world's culinary map. 
The evening will feature tastings of unique Indonesian spices, ceremonial specialties, specially designed canapés and drinks (by Wongso in collaboration with Drawing Room Concepts) as well as a spice-inspired art installation by artist Lie Fhung. 

William Wongso is Indonesia's most famous culinary expert, chef, restauranteur, food consultant, critic, and host of his own very popular TV series Cooking Adventures with William Wongso. His persistent hunger for knowledge and skills has taken him to the great culinary schools around the world, including the École des Arts Culinaires et de l'Hôtellerie in Lyon. He has held Presidencies of the Indonesian chapters of Chaîne des Rôtisseurs, and the International Wine and Food Society. He served as a culinary advisor to Garuda Indonesia and leads the Food Diplomacy Program endorsed by the Indonesian Ministry of Tourism and Creative Economy, Ministry of Foreign Affairs, and Ministry of Trade. His latest book, Flavors of Indonesia: William Wongso's Culinary Wonders (2016) is shortlisted for a Gourmand World Cookbook Award to be announced in May 2017. 

Dr. Daisy Tam received her Ph.D. in Cultural Studies from Goldsmiths, University of London. Her research interests include ethical food practices, food waste, food and urbanism, critical food studies, everyday life studies, migrant workers, ethnography, critical theory, cultural and media theory. Her current research on food waste and the city is a theoretical and technological project that explores the potential of collective food rescue practice. Dr. Tam is currently Assistant Professor at Hong Kong Baptist University's Department of Humanities and Creative Writing. (Moderator)

Born and raised in Jakarta, Lie Fhung studied fine art at the Bandung Institute Technology. Moving to Hong Kong in 2001, she extended her artistic practice to working with diverse materials, including porcelain, metal, fabric, and digital media. Fhung's work has been featured in both national and international art exhibitions, and she has received numerous awards. In 2007, her work was acquired for the permanent collection of the World Ceramic Foundation in Icheon, South Korea. She was the recipient of a Freeman Fellowship Award for an artist residency at Vermont Studio Center in 2008. Her ceramic installation, flight, is featured in Contemporary Ceramics by Emmanuel Cooper (Thames and Hudson, 2009). In 2015, she received Silver Prize from UOB Art Academy Awards Hong Kong.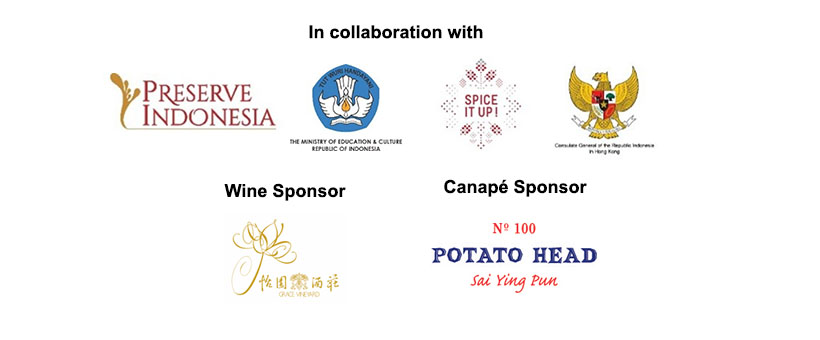 Event Details
6:30 - 8:30 p.m.
Asia Society Hong Kong Center, 9 Justice Drive, Admiralty
Buy Tickets
$200 Asia Society members; $350 Non-members
20170531T183000 20170531T203000 America/New_York Asia Society: Flavors of the 17,000 Islands

For event details visit https://asiasociety.org/hong-kong/events/flavors-17000-islands Asia Society Hong Kong Center, 9 Justice Drive, Admiralty