Architecture as the Embodiment of an Opera
VIEW EVENT DETAILS
Afternoon dialogue with TOYO ITO, Architect; and performance by BULAREYAUNG DANCE COMPANY
Registration 2:15pm
Introduction 2:30pm;
Dialogue 2:50pm;
Performance 5:20pm 
"The National Taichung Theater is not just a building that houses the opera. The entire architecture itself is an opera. One can feel the flow of air, sound and light not only in the foyer, but within the restaurant, sky garden and everywhere else in the building. One feels overwhelmed by the grandeur of a cosmic brilliance coming out of the architecture." --Toyo Ito
One of the global landmarks acclaimed by Reuters, the Taichung National Theater will officially open in the autumn of 2016. The building is designed by the 2013 Pritzker Architecture Prize laureate Toyo Ito, whose design features curved wall structures which he describes as a sound cave. Toyo Ito will have a dialogue with the artistic & executive director of National Taichung Theater, Victoria Wang, on the architecture, arts and people. The dialogue will be followed by a drinks reception and performance by Bulareyaung Dance Company. Bulareyaung is the first residential artist of Taichung National Theater as well as the artistic director of the Dance Company.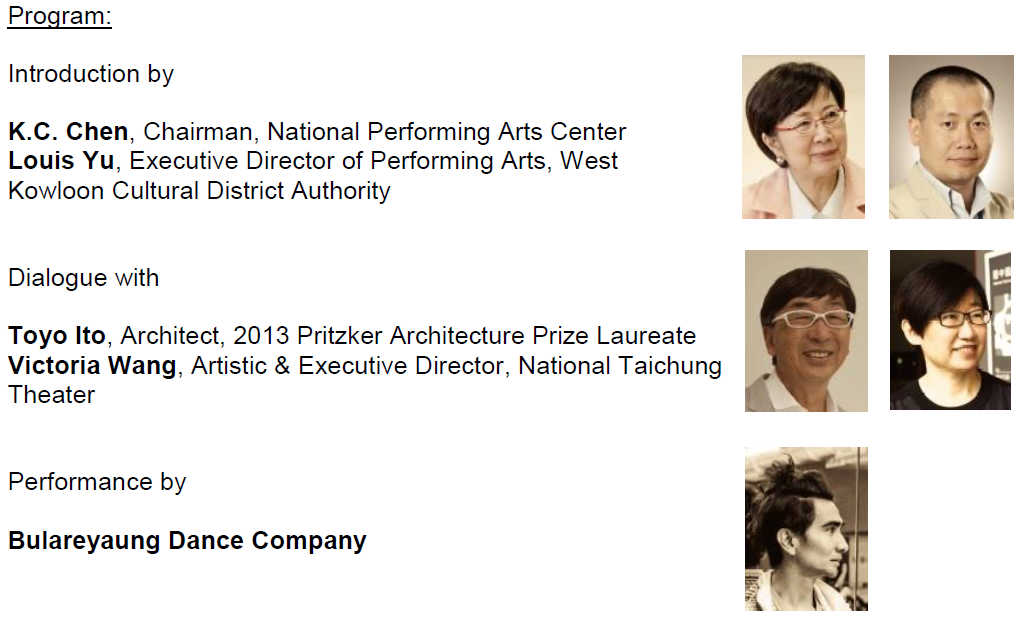 Co-presented with

Event Details
2:15 - 5:20 p.m.

Asia Society Hong Kong Center, 9 Justice Drive, Admiralty
Register Now
Free admission; Asia Society members only; Online registration required.
20160422T141500 20160422T172000 Asia/Hong_Kong Asia Society: Architecture as the Embodiment of an Opera Afternoon dialogue with TOYO ITO, Architect; and performance by BULAREYAUNG DANCE COMPANY

For event details visit https://asiasociety.org/hong-kong/events/architecture-embodiment-opera Asia Society Hong Kong Center, 9 Justice Drive, Admiralty
---