Global Competence and Equity
Highlights and Insights from 2016, and Looking Ahead in 2017
2016 was a banner year for the Center for Global Education at Asia Society, and, as we head into 2017, we want to take a moment to reflect on our activities and lessons learned since our official launch on September 22, 2016, and offer ways that we hope to work with partners in the year ahead. This is our inaugural report of our activities, and we plan to release these a few times per year to share what we're exploring and where we're going.
We hope you enjoy this update. Please contact us with any questions, comments, or ideas about how we can work together.
The Center for Global Education held three events after our official launch on September 22. At the Global Education Forum, held in partnership with the University of Pennsylvania in Philadelphia in mid October, hundreds of global educators and thought leaders convened in to discuss critical issues in the field of global education. Asia Society's Global Cities Education Network held its annual symposium in London on October 31–November 2, where they studied lessons learned from London's success at closing their opportunity and achievement gaps. And in early December, educators and leaders met at Asia Society New York to hear about the latest Programme for Education and Skills Assessment (PISA) results, which included an analysis of where countries around the world stand in terms of equity in education.
Across these events, two major themes rose to the forefront that will resonate with educators around the world: improving equity in education, and creating a shared vision for quality education. Education experts and leaders agree that educating for global competence has a critical role to play in meeting both challenges.
Improving Equity in Education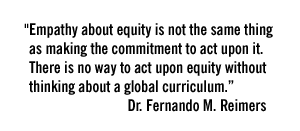 As social and economic inequality grows around the world, education systems are focused on how to improve equity through education. Equity in a global context is knowing that you have a role in the global conversation, regardless of where you started. Educators agree that understanding the world and demonstrating critical skills such as empathy, communication, collaboration and perspective-taking are foundational to an equitable education. The good news is that progress has been made toward creating more equitable and inclusive education systems, as demonstrated by the success of major urban education systems like London and the 2015 PISA results.
Equity in global education was the focus of a panel discussion at the Global Education Forum. Asia Society Vice President of Education and CGE Director Tony Jackson moderated the panel, which featured Harvard University's Fernando M. Reimers (and CGE council member), U.S. Department of State's Deputy Assistant Secretary in Education and Foreign Language Mohammed Abdel-Kader, and University of Pennsylvania's Sharon Ravitch. Reimers noted: "Empathy about equity is not the same thing as making the commitment to act upon it. There is no way to act upon equity without thinking about a global curriculum."
Jackson added, "Ultimately, equity in education is achieved one child at a time…. There isn't a country in the world that is not at least talking about, if not actively working to transform, their educational systems to develop global competence—complex thinking skills as well as the capacity for empathy, perspective taking, collaboration and other social and emotional competencies that are required for success in 21st century economic and civic life."
At the Global Cities Education Network symposium, participants from member cities learned about how one urban education system, London, was successful in improving performance particularly for low income students and creating a more equitable system. The London school system is massive—there are more than 2,600 schools in 32 boroughs—which makes combating inequity all the more challenging. This is where the London Challenge came in, with the well-known London Underground slogan of "mind the gap." London set about directly addressing its opportunity and achievement gaps and improving equity for all students, across the system. London's fundamental approach in closing these gaps was to have a clear "DNA" for their education system, including a shared moral purpose and strong shared values. A belief that all children can succeed and a relentless focus on improving teaching and leadership capacity, using data at the school and student level, and creating effective and highly collaborative networks and partnerships, drove success.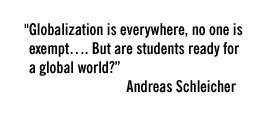 During his presentation on December 8, OECD Director for Education and Skills Andreas Schleicher discussed what the 2015 PISA data showed about equity: "The good news is inequality is diminishing—social inequality in education at least." He went on to say that assessing equity in education around the world proved that poverty "need not be destiny." While the United States' academic performance did not improve, Schleicher noted that its measures on equity did. "One of the most encouraging findings from the 2015 PISA has been the improvement in equity in the U.S."
Schleicher also noted the link between global inequality and global competence education in referencing OECD's pilot of global competence assessments in the 2018 PISA exam: "Globalization is everywhere, no one is exempt…. But are students ready for a global world?"
A Shared Vision for Quality Education
Throughout these three events educators continued to affirm their shared vision for high-quality education, and they agreed on some key aspects that make an education system high in quality and efficacy: teacher development, consistency of policy and supports over time and across political administrations, community voice and diverse partnerships, and flexibility for local leaders and educators in responding to the needs of students and their communities.
During the December 8 event, Andreas Schleicher led a panel discussion featuring former Japanese State Minister of Education Suzuki Kan, former Director of the National Institute of Education in Singapore Lee Sing Kong, and Chinese University of Hong Kong Professor Hau Kit-Tai. Tony Jackson moderated the discussion. Lee noted that Singapore, which received the highest country ranking in the PISA results, can attribute much of its success to its teacher quality and its commitment to students. Lee described comprehensive supports for all students, at the national, community, and school level. In addition, Lee said: "Every education system needs to be responsive in order to maintain relevance with the demands of the 21st-century landscape…. Teachers have to be empowered to deliver this education in the most impactful way. Education systems must take an ecosystem approach to incorporate such changes."
P

rofessor Hau acknowledged the common thread in education: "Educators around the world have more commonalities than differences in the things we treasure and value. We all hope to develop the competences, attitudes, and values in our students that enable them to become globally competent and to become global citizens."
During the Global Cities Education Network symposium, attendees discussed systems-level change and the critical need for leadership in the context of the London Challenge. Built into London's system is school-to-school support and the drive to work together and leverage best practices across the city. The London Challenge leveraged the city's diversity by building partnerships with community organizations, including mosques, for expanded early childhood programs, and for activities to expose disadvantaged students to the opportunities in London's cultural and economic strengths. The overarching ethos for London educators is that they are responsible for educating all of London's students—not just their own.
Publications and Thought Leadership
In addition to the events mentioned above, the Center for Global Education released several publications, articles, and thought pieces on recent events and pressing issues in global education. Below is a selection of our most recent pieces.
Innovation and Change: Lessons from the Global Cities Education Network
The Global Cities Education Network is an international learning community of urban systems in Asia and North America launched by Asia Society in 2012. Teams of high-ranking city officials commit to sharing ideas; learning from one another and from global best practice; and strategically identifying, designing, and implementing systemic reforms and innovations that support educational success for all students. In spring 2015, Asia Society commissioned an evaluation of the network.
System Supports for 21st Century Competencies
Asia Society's Center for Global Education convened a working group of leaders from six cities in Asia and in North America to discuss approaches to building education systems that support the development of 21st century competencies. The full reflections of the six systems on their current approaches and plans for next steps are summarized in this recently released paper, sponsored by the C.S. Mott Foundation.
New Ways of Seeing
A new publication by former China Learning Initiatives Senior Advisor Chris Livaccari, New Ways of Seeing makes an eloquent case for language learning as a means to enhance and deepen students' capacity for processing information and analyzing the shape of the world.
Keep Our Eyes Stayed on Freedom
CGE Director Tony Jackson reflects on the 2016 U.S. presidential election and the critical imperative that global educators have to prepare the next generation of leaders to understand the world.
In a globalizing world, we must teach global citizenship
UNESCO Director-General and CGE Council Honorary Chair Irina Bokova and Asia Society President and CEO Josette Sheeran co-authored an op-ed in Asia Times shortly after the U.S. presidential election calling for a commitment to global citizenship education and "new thinking about education in response to the needs of turbulent times."
The Antidote to Extremism
CGE Director Tony Jackson examines the four domains of global competence in practice at two International Studies Schools Network member schools and demonstrates how these competencies can not only develop global citizens, they can also deter violent and political extremism.
Global Competence as a Matter of Equity
Tony Jackson shares his own story of growing up during the busing era in Los Angeles, and how learning about the world acted to open up his own world and prepare him to be a leader in global education.
Trump's Tower of Babble
China Learning Initiatives Director Jeff Wang and Senior Advisor Chris Livaccari examine Donald Trump's presidential campaign from a linguistic lens and discuss how the Sapir-Whorf hypothesis explains his comfortable dismissal of the truth.
Key Takeaways in Center for Global Education Events, 2015–2016
The Center for Global Education held a series of high-level dialogues and briefings in the year prior to its official launch in September 2016. Here, the key takeaways from those events have been distilled into three major themes.
Looking Ahead
On the horizon in 2017 is a continued focus on how global competence education supports equity and excellence for all students. The Center for Global Education is hosting two events in the first half of the year and we will be joining our partners and colleagues at other events for what is shaping up to be a lively and engaging winter and spring.
An initiative of the Varkey Foundation, the Global Education & Skills Forum will take place March 18–19, 2017, in Dubai. The Center for Global Education is pleased to serve as an organizational partner for the forum. CGE Director Tony Jackson is confirmed to speak at the forum, as will CGE Council Members Wendy Kopp and Andreas Schleicher.
The 2017 National Chinese Language Conference (NCLC) will take place April 6–8, 2017, in Houston. The largest Chinese language conference in the United States, organized in partnership with the College Board, the NCLC brings together thousands of educators and administrators to discuss best practices in Chinese language education.
In addition, a number of publications are planned for 2017, including the release of the second edition of VP of Education Tony Jackson and Veronica Boix Mansilla's groundbreaking book, Educating for Global Competence.
You Might Also Like
The Center for Global Education at Asia Society hosted a panel of global education leaders on December 8, 2016. Read highlights and articles from the event, "Every Student Ready for the World."

View photos from the annual three-day symposium of the Global Cities Education Network (GCEN), an initiative of the Center for Global Education at Asia Society, which took place in London on October 31-November 2, 2016.

What the Center for Global Education learned from high-level dialogues and conversations with global education experts and leaders from around the world in the year prior to its launch.

The Center for Global Education at Asia Society officially launched on September 22, 2016. Read highlights and articles from the launch and related events.