Key Takeaways
From high-level dialogues and conversations with global education experts and leaders
The newly launched Center for Global Education at Asia Society (CGE) draws on a long history of education work at Asia Society. Uniquely positioned to convene thought leaders as well as practitioners in education, business, and policy, the Center has assumed an ambitious mandate to educate all students for work and citizenship in an interconnected world. In the year prior to its launch in September 2016, the Center engaged more than 250 participants in three international, cross-sector dialogues, setting the stage for an action agenda grounded in research and the experiences of the field.
Overall, there was a strong affirmation of the Center's mission to excellence in global education and its emphasis on the critical importance of equitable education systems. Three key themes emerged from these conversations: ensuring student success in a global future, improving equity and equality in education, and building partnerships for a common goal.
Ensuring Student Success in a Global Future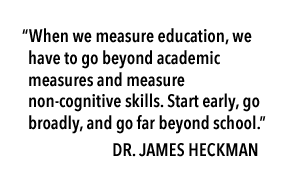 A common thread throughout our pre-launch events was deep discussions around the skills and knowledge that students will need to be successful in a global workplace and society. We found consensus across the events we convened on the importance of moving non-cognitive skills and competencies into central education policy and practice from the peripheries.
At our Fall 2015 event, "The Forum on the Future of Education in Asia," hosted at Asia Society Hong Kong, Nobel Laureate and University of Chicago Professor Dr. James Heckman noted: "We can avoid poverty by giving children the skills that give them the right avnd ability participate in the larger society…. We need a much more comprehensive notion of what education means today." He went on to say: "When we measure education, we have to go beyond academic measures and measure non-cognitive skills. Start early, go broadly, and go far beyond school."
Antony Leung, CEO of Nan Fung Group and CGE Council advisor, commented during the same Hong Kong event: "[As] an employer and a parent I see … the qualities that will make people successful in life are not examinations or grades, but are really non-cognitive skills like creativity … teamwork, leadership skills, the ability to [learn from] losing and winning—resilience, and character…. Unfortunately those non-cognitive skills can only come from experiential and collaborative learning and teachers are not given the [supports] to allow students the experience to develop these skills."
At "Educating for Citizenship in a Global World," held at Asia Society New York during the 2015 United Nations General Assembly, PwC Charitable Foundation President Shannon Schuyler said, "[70 percent of CEOs] now are saying that the skills that students have when they come to work are not the skills that they need to succeed, and that's up from 54 percent just about a year ago…. Those skills are around problem solving, innovation, leveraging technology in a different way, because that's not what they're taught in schools…. Education hasn't necessarily embraced all of those huge mega-trends that are out there."
Deputy Permanent Representative to the United Nations from the Republic of Korea Ambassador Choong-Hee Hahn spoke of the critical need for a "new orientation of education," particularly in light of global issues like climate change and violent extremism during a private strategy session and briefing on June 28, 2016: "Quality education does not guarantee peace and citizenship, which is the reason we must focus on global citizenship education."
Improving Equity and Equality in Global Education
The Center for Global Education's goal of bringing global competence to all students has been central to our work for years, including our International Studies Schools Network, which works with schools to build school environments supportive of the global skills articulated above. The importance of equity in global education was another theme that surfaced through our dialogues over the past year, reiterating the importance of bringing global competence to all students.
In his talk last November in Hong Kong, Professor Heckman addressed equity through the lens of education: that building the skills children need to participate in a modern workforce early on in their lives is one of the most effective ways to address systemic inequality. CGE Director and Asia Society Vice President of Education Tony Jackson noted, "The nature of equity has changed—skills are the new equity frontier. [We must focus on] how to create the level playing field and what is the nature of the field now that the world has changed so rapidly and fundamentally."
Vishakha Desai, senior advisor for global affairs at Columbia University and former president of Asia Society, remarked that global education is "no longer a luxury" during the event held last September—a sentiment echoed by Sarah Brown, executive chair of the Global Business Coalition for Education and CGE Council advisor, in her keynote remarks at the same event: a quality education should not be an afterthought for the most vulnerable children, but rather integrated into humanitarian efforts for refugee children alongside efforts to secure food and shelter.
Building Partnerships For a Common Goal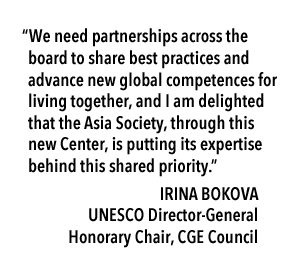 The importance of partnerships across different organizations and sectors to advance our mission and vision was reinforced across our pre-launch events. "The private sector are able to bring really profound thinking around the opportunity to scale things up," said Sarah Brown in September 2015. A few participants in our discussion in Hong Kong also pointed out the importance of pushing conversations about improving education systems beyond the education community, to garner and include support and engagement from an ecosystem of which education is one part—a sentiment echoed by Antony Leung and other speakers. This particular notion of fostering systems-level change in education is something the Center has been working on for years through our Global Cities Education Network.
Launching the Center for Global Education at Asia Society
On September 22, 2016, the Center for Global Education officially launched with a series of events, capping off a dynamic year of dialogue and learning from the field. Currently, there is an even more pressing need to galvanize around to ensuring students are prepared for successfully engaging the world in the years to come. The Center for Global Education aspires to continue these important discussions and to advancing global competence for all students. We hope to work with many of you along the way.
The Center for Global Education at Asia Society comprises four initiatives: China Learning Initiatives, the Global Cities Education Network, Global Learning Beyond School, and the International Studies Schools Network. Learn more about our work.
Read More About These Events