#iParticipate: Youth Engagement for Human Rights
VIEW EVENT DETAILS
Asia Society Philippines is hosting a public panel discussion series and Q&A session on #iParticipate: Youth Engagement for Human Rights. Asia 21 Philippines Young Leaders Jason Sibug and John Piermont Montilla will discuss how the youth can get involved in current human rights issues, particularly those that affect Filipinos and have a regional significance.
Indigenous peoples rights and welfare advocate, Jason Sibug, will provide an overview of the current situation of tribal peoples in the Philippines and discuss how the young people can participate to support marginalized groups. Mr. Montilla, a community engagement specialist, will demonstrate how the young people can utilize new media and technology in the fight against human trafficking.
The discussion series will be held in the Metro Pacific Room at the AIM Conference Center. Admission is free.
To RSVP, please contact Marge or Jenny at 550-2612 or info@asiasociety.org.ph.
---
Speaker Profiles
Jason Sibug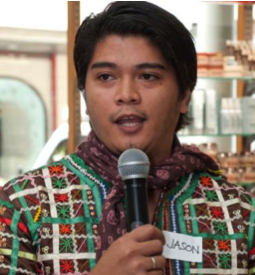 A member of the Manobo tribe, Jason heads the first ever national volunteer organization of tribal leaders in the Philippines. He has organized various conferences and summits addressing education, IP human rights, ancestral domain and environmental protection, discrimination and peace. He also facilitated the Balik Tribo program, which provides skills training and capacity building for IP community leaders, farmers, women, fisherfolks, teachers and youth. He also trains IP teachers in indigenizing the curriculum of day care centers and elementary schools and built IP schools nationwide. During his presidency, Tuklas Katutubo was named one of the Ten Accomplished Youth Organizations (TAYO Awards). Jason was featured in the ASEAN publication, Young Southeast Asia.
John Piermont Montilla

John Pierre founded the Kabataang Gabay sa Positibong Pamumuhay, a CBO of young men afflicted with drugs, prostitution, organized crime and gang violence. Under his leadership, the organization was recognized as one of the most outstanding youth organizations in the country, twice receiving the National TAYO Award in 2003 and 2008 by the National Youth Commission. In 2010, he expanded his work at the National level and had strengthened 77 grassroots groups of inadequately served populations of youth across Luzon, Visayas and Mindanao. Currently, he devotes his time working with young people involved in clandestine occupations and those who are victims of trafficking for the purpose of prostitution, the trade of illicit drugs and organized crime by promoting their human rights and welfare.
Event Details
Metro Pacific Room, AIM Conference Center Legaspi Village, Makati City 1260

Add to Calendar
20131202T100000
20131202T120000
UTC
Asia Society: #iParticipate: Youth Engagement for Human Rights
Metro Pacific Room, AIM Conference Center Legaspi Village, Makati City 1260
---