United States-Hong Kong Relations: Past, Present and Future
VIEW EVENT DETAILS
Luncheon Presentation with US Consul General Kurt W. Tong. Note: This event was originally scheduled for June 24.
Supported by the U.S. Consulate General in Hong Kong & Macau
Registration 12:15pm
Luncheon 12:30pm
Close 14:00pm
---
As "Asia's World City," Hong Kong is at the heart of American engagement in the Indo-Pacific region.  More than 175 years of relations between the United States and Hong Kong have forged long-lasting bonds of friendship and shared values.  Consul General Kurt W. Tong has been working on key economic and political issues in the Indo-Pacific for almost 30 years, including the past three years as U.S. Consul General to Hong Kong and Macau.  Consul General Tong will offer his perspectives on the state of U.S.-Hong Kong relations and their implications for U.S. policy in the future.  
---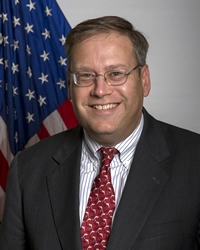 Consul General Kurt W. Tong assumed his duties as Consul General representing the United States to Hong Kong and Macau on August 27, 2016. As Chief of Mission, he leads a large interagency team that cooperates with the governments of Hong Kong and Macau in a variety of areas. Those areas include expansion of trade and bilateral investment; combatting transnational crime; protection of the environment; and educational and cultural exchanges. The Consulate General also supports U.S. resident citizens and visitors to Hong Kong and provides visa services to facilitate tourist and business travel to the United States. Prior to his service in Hong Kong, he was the Principal Deputy Assistant Secretary for the Bureau of Economic and Business Affairs at the Department of State, the most senior career diplomat handling economic affairs for the State Department. Before that, Mr. Tong served as the Deputy Chief of Mission and Chargé d'Affaires at the U.S. Embassy in Tokyo, Japan. Earlier, he was the U.S. Ambassador for Asia-Pacific Economic Cooperation (APEC), managing all aspects of U.S. participation in APEC, while concurrently serving as Economic Coordinator for the Department's Bureau of East Asian and Pacific Affairs. He has been a diplomat for the State Department since 1990, including service as Director for Asian Affairs at the National Security Council from 2006 to 2008 and as Economic Minister-Counselor in Seoul from 2003 to 2006. Prior to that, he served as Counselor for Environment, Science and Health at the U.S. Embassy in Beijing, Deputy Treasury Attaché in Tokyo, and economic officer in Manila. He was a Visiting Scholar at the Tokyo University Faculty of Economics from 1995 to 1996. Before joining the Foreign Service, he was an Associate with the Boston Consulting Group in Tokyo. He holds a B.A. from the Woodrow Wilson School of Public and International Affairs at Princeton University, and studied economics at the U.S. Foreign Service Institute. He has also studied at the Beijing Institute of Education, Inter-University Program for Chinese Language Studies in Taipei, Inter-University Center for Japanese Language Studies in Tokyo, and International Christian University in Tokyo. He speaks and reads Mandarin Chinese and Japanese. He was born in Ohio and raised in Massachusetts, and enjoys tennis, soccer and other sports. He is married to Dr. Mika Marumoto. They have three grown children.
---
Regular Menu 
San Daniele Ham with Figs, Burrata Cheese and Balsamic Pearls
Seared Seabass with Veloute, Petit Vichy Carrots and Risotto Cake
Tiramisu with Marsala and Kahlua
 
Vegetarian Menu 
Salt Baked Beet Root with Mint Yogurt and Herb Dressing
Roasted Vegetable Napoleon Stick of Portobello Mushroom, Eggplant and Herbs Oil
Tiramisu with Marsala and Kahlua
Event Details
12:30 - 2 p.m.
Asia Society Hong Kong Center, 9 Justice Drive, Admiralty
Buy Tickets
$500 Asia Society members/U.S. Consulate General in Hong Kong & Macau/Other Consulates/Chambers of Commerce/Invest HK/ICC HK/AmCham/Princeton Club/WEF Global Shapers/CUSEF/Hinrich Foundation/Hong Kong-America Center/CCTR; $650 Non-members

Add to Calendar
20190702T043000
20190702T060000
UTC
Asia Society: United States-Hong Kong Relations: Past, Present and Future
Asia Society Hong Kong Center, 9 Justice Drive, Admiralty
---