How to Mobilize the Trillions
VIEW EVENT DETAILS
Luncheon Discussion
Registration 12:15pm
Lunch 12:30pm
Close 2:00pm
---
The   Sustainable   Development   Goals   developed   by   the   United Nations are  the  blueprint  to  achieve  a  better  and  more  sustainable future  for  all. They address  the  global  challenges  we  face,  including  those  related  to  poverty, inequality,  climate,  environmental  degradation,  prosperity,  peace  and  justice. Yet, the financing requirements is estimated  to  be  at  least  USD1.4  trillion  per  year  in  the  coming  years, which cannot  be covered  by  state  budgets  alone. Only the investment market can mobilize funding on this scale. Impact and development investment challenge the long held views that social and environmental issues should be addressed only by philanthropy, and that market investments should focus exclusively on achieving financial returns. A panel of experts explores the mechanisms financing the Sustainable Development Goals, how investors are monitoring and evaluating them, and how Hong Kong positions itself in this growing landscape to capture the opportunities.
---

Ronie Mak is Managing Director of RS Group. She is an investment banker by training with over 15 years of banking and finance experience. Prior to joining RS Group, Ms.Mak spent eight years at HSBC across various roles, including the Chief Executive Officer's office, Strategy and in-house M&A, and also served in corporate finance positions within KPMG, UPS and HSBC.

Rochus Mommartz currently serves as Chief Executive Officer and Member of the  Executive  Management of responsAbility. He has over 25 years of experience in financial sector development, banking and emerging market private debt and equity investments. Mr. Mommartz is a member of supervisory boards of financial institutions and funds for 10 years.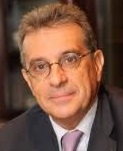 Michel Roy was appointed Senior Regional Officer for Crédit Agricole CIB Asia Pacific on March 1, 2016. He previously was Senior Country Officer for Crédit Agricole CIB  in Japan, India, Korea and Taiwan. Prior to joining Crédit Agricole CIB, Mr. Royserved as Head  of  the  Multinational  Group  in  Hong  Kong  and  Head of  Corporate  Banking  in Taiwan at Crédit Lyonnais.

Andrew Peaple is The Wall Street Journal's Deputy Finance Editor for Asia and Editor of the Heard on the Street column for the region, based in Hong Kong. He has been with the Journal since 2003, including in the paper's Beijing office from 2007 to 2010. Prior to his journalism career, Mr. Peaple was a UK-qualified chartered accountant, working in London and Tokyo. (Moderator)
Supported by

---
Regular Menu
Poached prawn salad with lemongrass
Roasted chicken breast with spinach risotto, baby vegetables and tarragon jus
Vanilla crème brulee tart with raspberries
Vegetarian Menu
Beetroot salad with baby mozzarella, walnuts and orange essence (V)
Roasted vegetable napoleon stick of Portobello mushroom, eggplant and herbs oil (V)
Vanilla crème brulee tart with raspberries
Event Details
12:15 - 2 p.m.
Asia Society Hong Kong Center, 9 Justice Drive, Admiralty
Buy Tickets
$500 Asia Society members / RS Group / responsAbility / Crédit Agricole/ WSJ; $650 Non-members; $5,000 Table of 10

Add to Calendar
20190307T041500
20190307T060000
UTC
Asia Society: How to Mobilize the Trillions
Asia Society Hong Kong Center, 9 Justice Drive, Admiralty
---