Asia Society Hong Kong Center Goes Mobile!
App accessible through web browser and will be available in numerous app stores shortly
Asia Society Hong Kong Center is launching a mobile app that provides information on site maps, calendar events, and the Center's architectural and historical significance. Given the favorable public response to the exhibition Transforming Minds: Buddhism in Art  and the interest in docent tours for the show, part of the app is dedicated as a gallery guide to the exhibition. This tailor-made trilingual (English, Cantonese and Mandarin) app for 3G smartphones will soon be available via the iTunes app store and Google Play.
Before the app is available on numerous app stores, simply visit http://guide.asiasociety.org.hk via your smartphone's Internet browser to access our app.
---
Here is a step-by-step guide on how to use the app: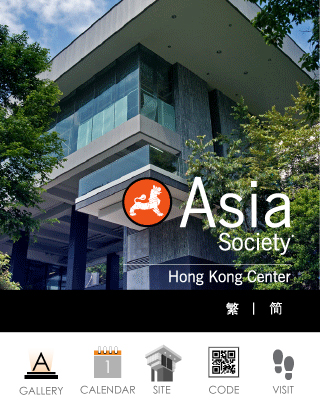 The front page allows users to choose their preferred language — English, Traditional Chinese (Cantonese), or Simplified Chinese (Mandarin). Please note that this choice of language also applies to the audio clips.
The best part about this app is that it doesn't only provide information, it also acts as a personal guide.
It provides and entertains visitors with historical background about many different site locations at the Asia Society Hong Kong Center. Visitors no longer have to wait for assigned site tours during the weekend for a personal and verbal description of the Center, they can simply do with our app now!
To access Site information, simply press "Site" and it will show you Asia Society Hong Kong Center's map.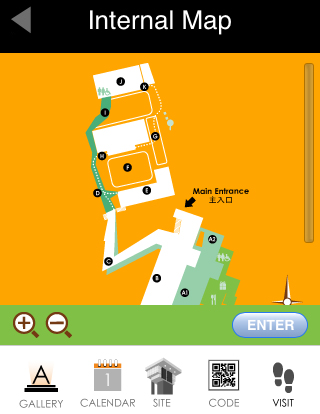 Press the black location points to view the specific location (Ex. A1, A2) or press "Enter" to see the entire list of the site locations.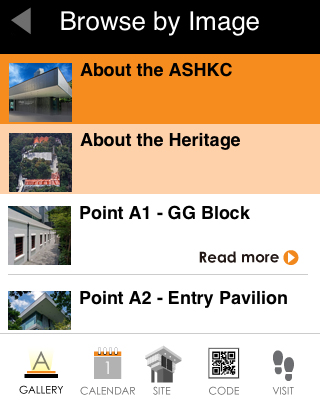 "Read More" will lead users to the description page:
---
The app also acts as an excellent Gallery Docent. It provides elaborate information about the Current Exhibition and all exhibit items.
To see these, choose "Gallery."
(Public Art refers to artworks outside of Asia Society Gallery but within the Center.)
"Browse by Exhibit Image" lists out all exhibits items and allows users to choose by image, while the "Browse by Audio Code" allows user to listen to the audio clip directly with the audio code printed on each exhibit's caption (Ex. 101).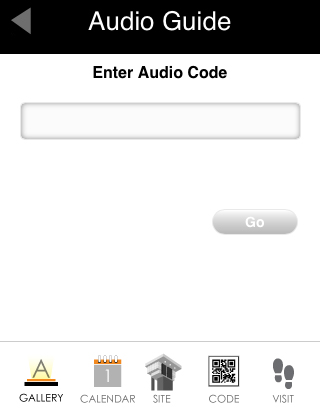 Each exhibit page includes an image, caption, and an audio clip that describes the artwork.
---
The app also provides basic information about The Asia Society Hong Kong Center ("Visit") and programs' information ("Calendar"):