Diversity in Leadership: Christine Sheehy – Managing Director, Regional Head of Human Resources, Americas at Standard Chartered
Christine Sheehy is the new Co-Chair of Asia Society's Global Talent and Diversity Council. She is responsible for overseeing the bank's Human Resources function for the Americas region, which includes HR Generalists, Employee Relations, Heath & Welfare Benefits Management & Administration, Talent Acquisition, Mergers & Acquisitions as well as divestitures, Talent & Succession Management and Learning Delivery. Based in New York City, she is a member of Standard Chartered Bank Americas' senior management team and reports to the Chief Executive officer of the Americas and the Group Head, HR.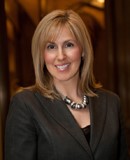 My alarm goes off exactly at 3:20 am. I wake up, put on a pot of fresh coffee and dial into the conference call to join my colleagues from all over the world. Having worked in a global banking industry my entire career, this is a normal phenomenon I have come to embrace (even though I now can't live without coffee – nor would my colleagues want me to).
Working at Standard Chartered, which operates in multiple geographies with a diverse employee population (we have almost 86,000 employees representing 125 nationalities working in over 70 countries), diversity in workplace is perhaps something that comes to me quite naturally. However, I do not take diversity for granted as it is still something we need to constantly and actively work on to create a truly inclusive working environment where diversity is rewarded and not ignored or punished in worse cases. As a Regional Head of HR for Americas and having recently been appointed as the Diversity & Inclusion Officer for the US, and I am fortunate to be in a position where I feel I can make a real difference, and this is one of the many reasons why I get excited to come to work every day.
"Are you sure HR is what you want to do? I've known so many people wanting to move out of HR but not the other way around!"
One of my colleagues said when I expressed my newly found passion and was exploring opportunities in HR about 10 years ago. Having started my career as a Systems Analyst in International Banking almost 26 years ago, I spent most of my early years acquiring my banking knowledge through the Technology and Operations world. This may seem like a surprising career change for most, but for me, it was a career choice that made absolute sense.
As I was thriving for more opportunities and taking on additional roles & responsibilities both inside and outside of "Tech and Ops" world, my teams were getting larger, more diverse, and more international. I had to switch my focus to the leadership /people aspect of my role rather than the technical nature of banking. I was a client of HR at that time and believed in the HR products we were using as leaders. I found myself continuously learning and enjoying the challenges that came with every interaction. It came to the point that I believed that I could add more value as a HR professional - leveraging my business knowledge, organizational skills, process-driven methodology, and simplistic communication skills, to help drive our HR function to another level. I also still feel that the learning and growing within this profession is continuous, and frankly, I have never felt closer to the business. I have not looked back ever since.
Strong work ethic and a natural inclination to want to make a difference is what I credit my current success to.
My father and grandfather instilled that in me. Growing up, I was constantly reminded that what you put in is what you'll get out of it and to this day, I'll never shy away from change or challenges thanks to the nagging little voice in the back of my head, it actually excites me. But, I'm the first to admit – there were definitely tough times balancing a heavy workload, early calls, late nights, and raising two boys - where I felt like hard work & long hours may not be all it is cracked up to be. And to this day, I still have a strong support system in place around me that helps me through those long days – and also learned to compromise on the things that are just not that important at the end of the day (for example it is ok to have crumbs on the floor when company comes, or sports equipment lined up the stairway!).
I have always believed people are all different, and should be treated with fairness and equality. That everyone has a core talent with different strengths. That each has something to contribute, and most importantly deserves an opportunity to do so. My grandfather was born in Italy, came to the US, not speaking English, and through hard work created a successful business by creating his own opportunities & leveraging his talent – baking bread! My core values, some of which evolved through working in that bread bakery from a very young age, have immensely helped me in my HR career - to work hard, and never underestimate that diverse talent pool - to build the best teams or bake the best bread.
Diversity and inclusion is not a luxury.
It's not something organizations need to focus on because it's a nice thing to do. It's a "must" thing to do in order improve business performance; it is a key to success in the war on talent. If you overlook diversity & inclusion aspect in your talent search, you could be missing out on an entire talent pool that could contribute through hard work or perspective, to changing the course of your business for the better.
While it would be natural for me to talk about gender diversity and equality – and my experience in banking, instead I want to focus on the LGBT community for the sake of this blog because it's often a less obvious strand of Diversity. It's less obvious than gender or ethnicity because one can say that it's something you can hide if you wish to do so. However, in my view, this invisible stigma could potentially inhibit the major contributions the LGBT community can make in the workplace. Once again, it is less obvious so it's easy for people to overlook, and we cannot allow that any longer. Let's say there's a work function in where it's encouraged to bring spouses along, or a group of employees talking about their weekend and what they did with their families. A member in LGBT community can immediately feel less included if he/she does not feel comfortable in this workplace to be who they truly are. In some cases, they may avoid such situations, and ultimately due to this, they may not be fulfilling the requirements of their job. The stress it must take in hiding their true selves must be excruciating. This alone can lead to lower engagement levels which will eventually lead to less productive work, attrition, and potentially health issues. So focusing on a diverse workplace cannot be done in isolation, without creating an inclusive culture and work environment. We need to have a place where everyone comes to work and can perform at their best – this is the real prize.
At Standard Chartered, we have a strong D&I committee we engage to promote a diverse & inclusive work environment. One of our key focus' this year and one that I am personally passionate about, is being more active in LGBT community, and engaging with our LGBT talent. This year, we have rebranded and re-launched LGBT and Allies Network in the Americas with strong support and involvement from the Management Team. We're strengthening our partnerships with external LGBT community and networks and through this, we leverage & learn from our partners some best practice and ideas to create a more LGBT inclusive environment. Another practice we're currently working on is to make the invisible visible. By introducing Ally token, we can visibly create awareness of this diversity and embrace it with acceptance of all. We also hope to focus on LGBT a bit more in our Asia Society Diversity Council – which I am really excited about! In the end, this is really about continually embracing our similarities and differences, and in the meanwhile working hard to create a workplace where everybody can perform at their best, by bringing their best self to work, and performing at their best.