The Value of Human Resources in Health
Former DOH Secretary Dr. Jaime Galvez-Tan shares his insights on Health Human Resources.
MANILA, Philippines - 2013 is said to be a "Golden Year" for the Health Sector of the Philippines with the record-breaking allocation of P50.443 B to the Department of Health from the National Budget, the highest it has received ever. This is evidence to the priority being given by the current administration to healthcare, specifically Universal Health Care defined as "EVERY Filipino shall receive quality and affordable health benefits". 
Another great news for the sector is the passage of the Sin Tax Bill which is expected to generate an additional P31.35B which can then be used to fund ground-breaking reforms in the health sector. [But tax collection, allocation and actual implementation is of a different subject]. 
With the new source of funds, one of the important things that we can use it on is the improvement of Health Human Resources which is primarily how we can grant the public "access" to health care. Without the professionals who will deliver the QUALITY and AFFORDABLE benefits, no healthcare can be provided. And this is what Former DOH Secretary Dr. Jaime Galvez-Tan focused on. The government should be looking into the resources that we have now in the country and direct it to address the needs of the 94M Filipinos that we have to provide access to healthcare to.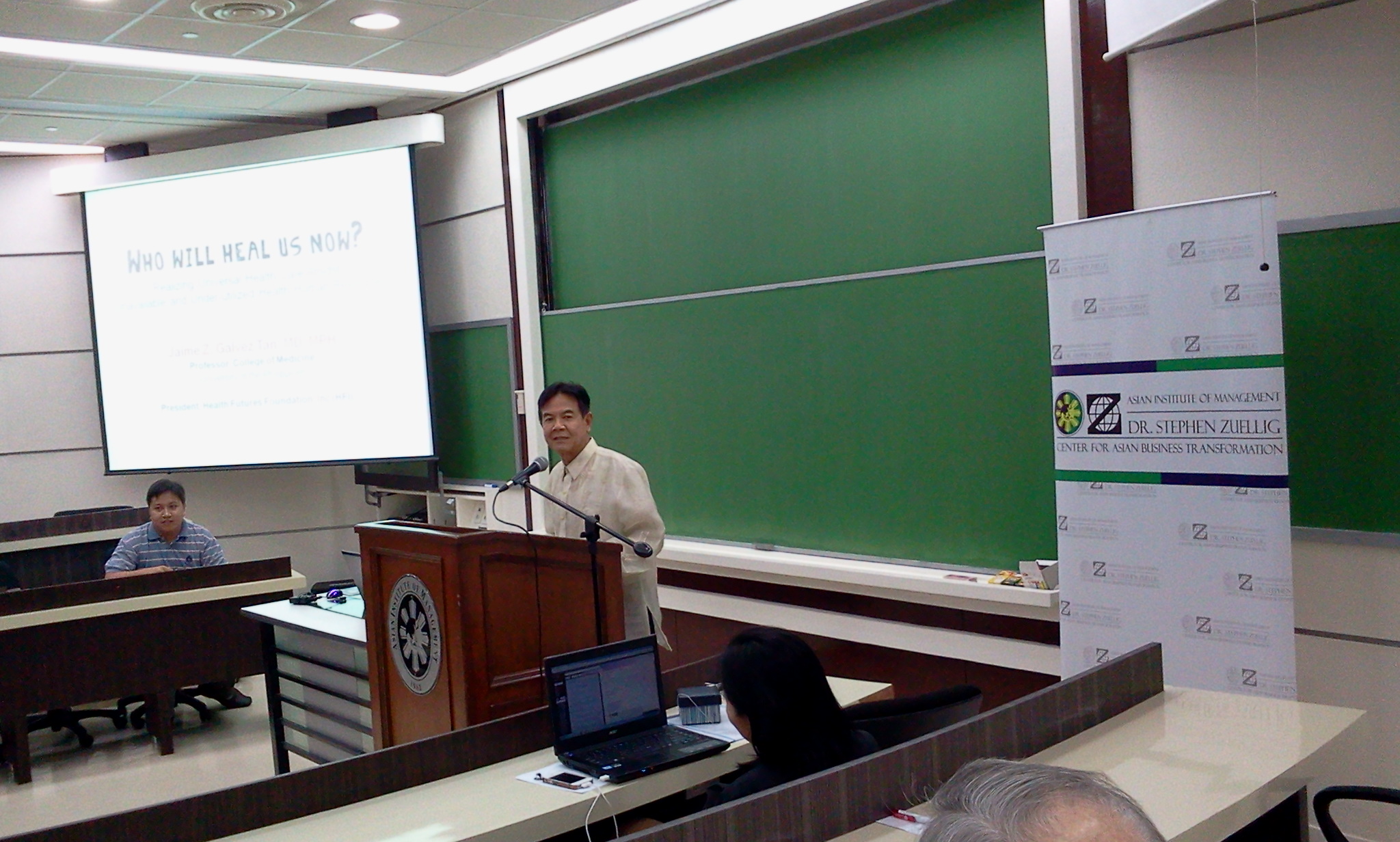 Former DOH Secretary Dr. Jaime Galvez-Tan
He then proposes seven-point urgent recommendations to address problems of doctorless provinces, underutilization of the surplus of nurses we have in the country, etc: 
1. Create a National Commission on Health Human Resources Development
2. Social Justice & Ethical Recruitment
3. Creation of a national registry for health professionals
4. Rationalizing HHR Reduction & Utilization 
5. Health Sciences Education Reform
6. Unity of Health Professionals
7. Update the Human Health Resource Masterplan 2005-2030
Suggestions that were also surfaced during the talk included the "Return Service" program, Public-Private Partnerships in Health, representation of Health Officials in bilateral agreements, and forging a joint or multi-country research agenda. 
Aptly entitled "Who Will Heal Us Now?", the talk given by Dr. Jaime Galvez-Tan not only discussed the reforms that must be done to the allocation and improvement of health professionals who have the knowledge and talent to heal. It also shed light on the challenges that the health sector is facing and how even the sector that is expected to provide the healing needs "healing". Hopefully, with activities that further promote awareness on these issues, more institutions and individuals will be involved in the reforms that will help the country reach its goals especially in this priority sector.