Start the Spark: Principles and Challenges of Social Innovation with Jane Leu
MANILA, Philippines – When it comes to addressing problems within society, we often look to our government and to people with political power to solve them, and in an ideal world, they would have the ability to address these issues to create substantial change based on the needs of the people. However, in reality, this is not always the case. Societies are faced with numerous challenges and obstacles that are far greater than the government's capacity to effectively create solutions for all of them. Due to the scope and variety of problems, it is understandable that the government has its limitations.
This is where social innovation comes in.
Rather than waiting for change to come about, social innovators and entrepreneurs are emerging to step up and to create the change that we need. In the Philippines, where more than a quarter of the population lives below the poverty line, it is unsurprising that there has been a shift in thinking with regards to starting your own business. In the past, entrepreneurs focused on creating businesses solely for profit, but today, Filipinos are beginning to recognize the importance of helping themselves by helping others. They have begun to turn towards social innovation, not only as a source of income, but also as a way to create positive development.
On Wednesday, August 14, 2013, the Asia Society Philippine Foundation, Inc., in collaboration with Smarter Good, presented Start the Spark: Principles and Challenges of Social Innovation with Jane Leu at the Yulo Caseroom in the AIM Conference Center, Makati. Start the Spark featured three successful entrepreneurs who shared their experiences in starting-up their enterprises and provided the audience with concrete tips and advice in order to inspire them to pursue their own social entrepreneur careers.
Start the Spark talk
Your Path Towards Becoming A Social Entrepreneur
The resource speaker of the night was Ms. Jane Leu, an internationally acclaimed social entrepreneur who is recognized for her expertise in global migration, skilled immigrant workers and the role of and immigrant workforce within society. She is an award-winning social innovator and is well known as the Founder and CEO of Smarter Good and Upwardly Global. As the first speaker, Ms. Leu presented the audience with three integral guidelines that are essential to becoming a social innovator.
"Dive In"
First and foremost, Ms. Leu states that the path towards becoming a social entrepreneur begins with you and giving yourself permission to "dive in". Social entrepreneurship is a demanding career path that will require financial and human resources, copious amounts of time, and unwavering passion. Thus, as an aspiring social innovator, it is important for you to allow yourself to fully pursue the solutions and ideas that you believe in.
Apprentice
Secondly, "diving in" does not necessarily mean jumping right into establishing your own start-up. Rather, Ms. Leu believes that there is much to gain from becoming an apprentice of an experienced social entrepreneur. "There is a lot of pressure on kids these days to start their own company right after graduating from university but I say why not wait a while?" asks Ms. Leu. As her own career as a social innovator began in her thirties, she believes that it is important to gain a mentor and to learn from the experiences of others in order to ensure that your own start-ups are successful and guided.
BOLO Rockstars
Ms. Leu's third and final piece of advice is to "be on the look out" for rockstars in the world of social entrepreneurship. "Don't wait for the perfect time to surround yourself with people who you want to work with because it will never come. The perfect time is when you go out and find the right people," says Ms. Leu. As you work towards your path of becoming a social entrepreneur, your success with largely depend on the people that you have included in your network. Surround yourself with people who inspire and motivate you.
Paul Rivera, CEO of Kalibrr
The Questions You Should Be Asking Yourself
Like Ms. Leu, Mr. Paul Rivera also had much to share from his experiences with social entrepreneurship. Mr. Rivera is an online education entrepreneur with a vision to provide free, high-quality education, designed with the ultimate goal to help attain jobs for people all over the world. As the Founder and CEO of Kalibrr, Mr. Rivera's familiarity with the ups and downs of social innovation was valuable, especially when it came to prompting the audience to ask themselves these five guiding questions:
1) Do you truly want to become a social entrepreneur? Mr. Rivera states that not everyone is cut out to become a social entrepreneur. It is a career choice that requires a lot of sacrifice and hard work. It is also filled with uncertainty and it is one big rollercoaster ride wherein it can be fun going up when you do succeed but terrifying going down when you hit the bottom. You must be someone who is willing to "tough it out" through the good and the bad because it is definitely not the easiest profession to have.
2) Is your life ready for you to become a social entrepreneur? Are the relationships that you have ready to sustain the rollercoaster that you are going to go through as a social innovator? Are your loved ones willing to support you? Becoming a social entrepreneur will require sacrifice that will involve your personal life and your relationship with your family, which is why it is important that you prepare yourself and your loved ones for the obstacles that you will face.
3) Do you have the right people around you to make it a successful endeavor? In order to create your Minimum Viable Product (MVP), you need the right people and the right connections. Mr. Rivera states that you cannot do it all alone and that without a dependable network, you will not be able to achieve your goals.
4) Are you ready for failure? Mr. Rivera emphasizes the fact that, as an entrepreneur, you will fail and when you do, you have to be ready for it. "The sooner you fail, the better," states Mr. Rivera. He draws attention to the fact that it is better to fail and learn early on in your endeavors rather than later, when you have already invested so much in a product that does not sell.
5) Do you have the passion? Finally, Mr. Rivera states that the only motivation that you will have to keep you going is your personal passion to create the solution that you want so desperately to change. For Mr. Rivera, it took countless job interviews with unemployed Filipinos he could not hire, due to their lack of skills, to realize that there was a need for a social enterprise like Kalibrr that would provide people with the necessary skills to get the jobs available in job market. For him, it was about bridging the gap between education and employment.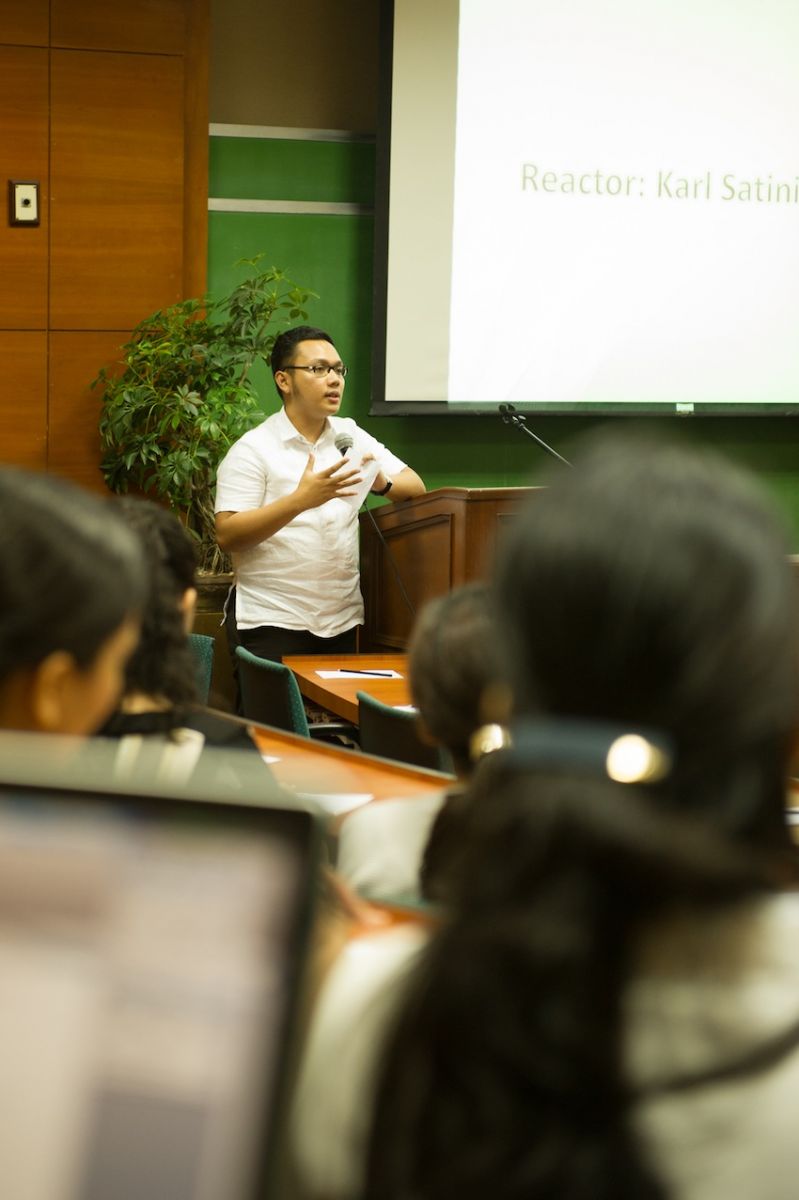 Karl Satinitigan sharing his personal tips
Changing The Nation's Mind-Set
Mr. Karl Satinitigan was welcomed to Start the Spark with Mr. Rivera as reactors to Ms. Leu's talk. Mr. Satinitigan is a social entrepreneur whose focus is on deepening the knowledge on social entrepreneurship, civic engagement and voters' education among young Filipinos. Similar to Ms. Leu, Mr. Satinitigan's is an advocate of becoming an apprentice of a well-established social entrepreneur in order to learn more about the business and to gain a mentor. Currently, Mr. Satinitigan works as the Policy Advisor and Executive Assistant of social entrepreneur, Senator Bam Aquino.
Additionally, Mr. Satinitigan talked of the importance of having a "can do" attitude when it comes to social innovation. It is all about the idea of inclusive growth, the idea that building a sustainable enterprise that will create an improvement in the lives of people around you, thus, while the social enterprises develop, so do the lives of Filipinos.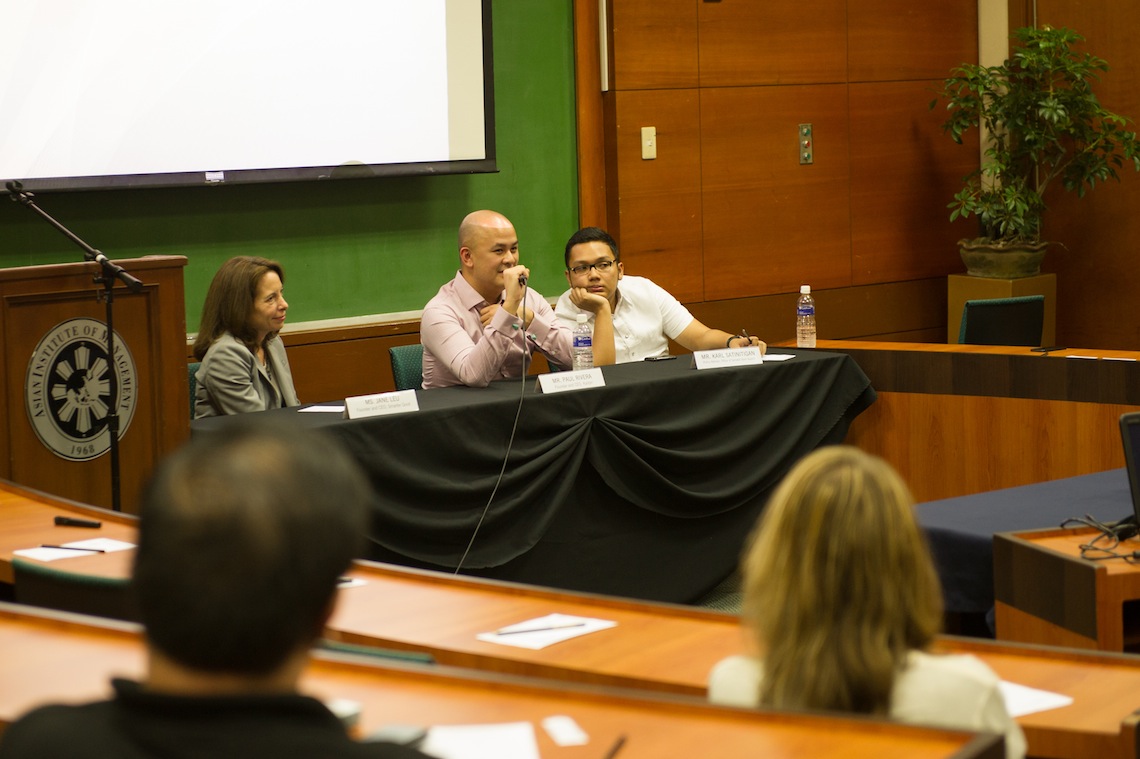 Speakers during the Open Forum
One thing was clear: Social innovation and social entrepreneurship have the potential to fix social problems that often go unnoticed and the benefits are tremendous in the lives that they directly touch, as well as for the country as a whole. All speakers agreed that this change is the product of perseverance and hard work. "Passion is necessary but often overrated," says Ms. Leu, "But you know what is underrated? Hard Work."
Social entrepreneurs are community leaders. If you think you have what it takes, aspire to help yourself by helping those around you. All it takes is one person to organize a larger body of people to work towards a solution to a specific problem just like it takes a single spark to start a fire.
 
Fore more information, please email info@asiasociety.org.ph or call 550-2612.