Ambassador's Forum
Chinese Ambassador H.E. Ma Keqing talks on Chinese and Asian development
MANILA, November 21 – The Ambassador of China, Her Excellency Ma Keqing, was the guest speaker at the Ambassador's Forum organized by the AIM Center for Development Management and held at the Asian Institute of Management yesterday. Speaking to a room of more than 80 diplomats, students and guests, she provided insight to the trends of international development in both China and Asia. The ambassadors of Japan, India and Spain were also present at the forum.
"Asia has the most number of emerging economies," H.E. Keqing stated while discoursing on Asia's economic development. Asia has a unique advantage – it is the most populous continent in the world. Keqing stressed on the importance of promoting internal drivers of growth – we must tap into the improvement of labor skills, technological development and education.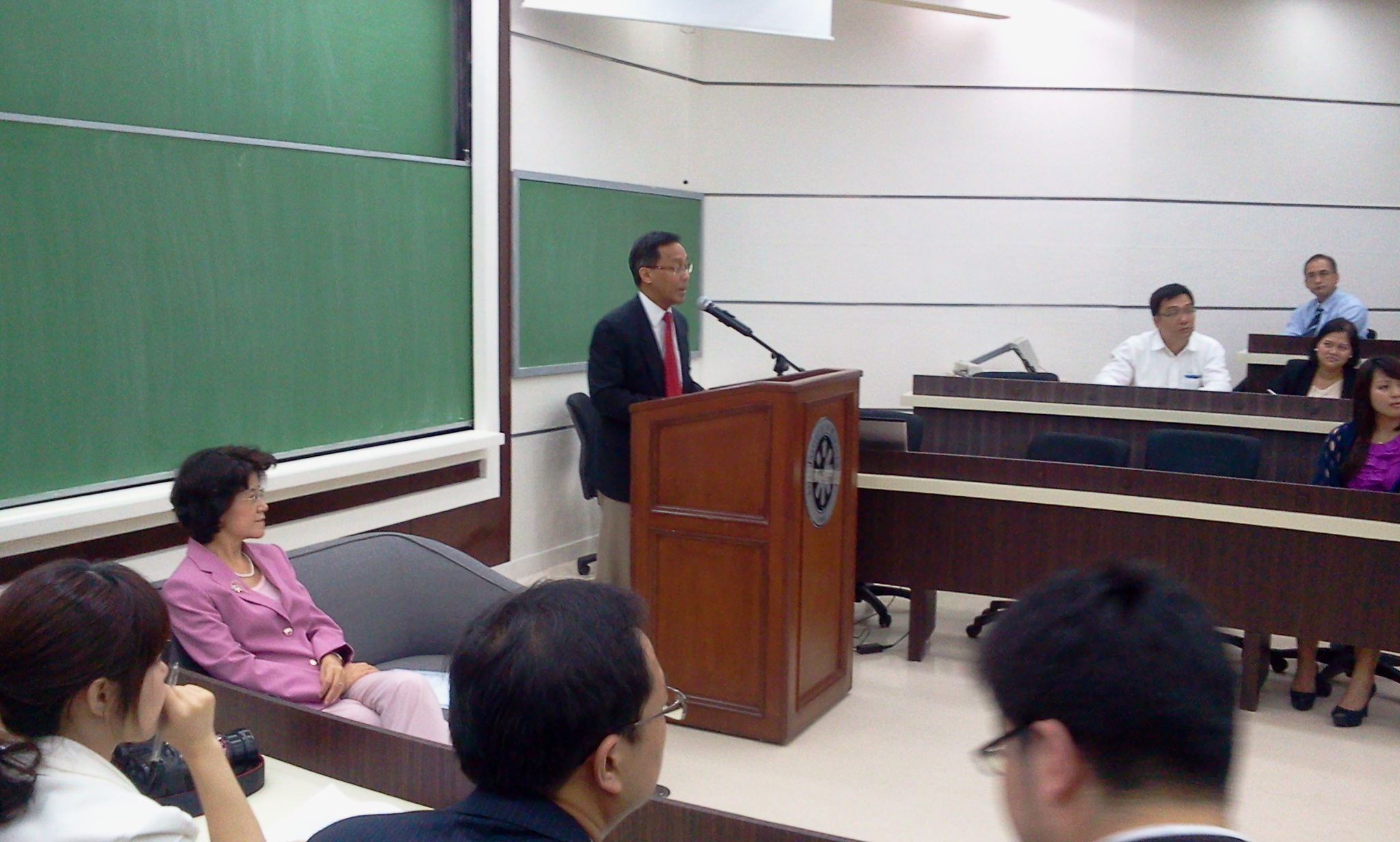 Dean Miguel Luz and H.E. Ma Keqing
With their population reaching 1.3 billion as of 2012, China's main focus is the growth of their economy to make sure their people have quality standards of living. There has been a large drop in the poverty rate from 1981 (85%) to 2011 (15.5%), however, 1/10 of China's population still lives on less than one dollar a day. Thus, economic growth is a high priority for China in order to further national development.
Keqing recognized that the development of other Asian countries provides enabling conditions for the development of China as well thus it espouses a "win-win strategy" of opening up to other countries. They are all for inclusive growth which seek common security, common development and prosperity. As one of its foreign policy priorities, China remains committed to neighbourliness and friendship, encouraging people-to-people and cultural exchanges with the different ASEAN countries.
A question was raised on how China could possibly avoid the middle income trap. Keqing answered that with the democratic changes in China, a solution could be a long term and more balanced population policy. China is export-driven and also relies heavily on investments. China should also focus on improving domestic consumption and urbanization.
Chinese Philippine Relations
On Chinese-Philippine relations, Keqing elaborated that our relationship spans back to thousands of years of amicable relationships. China is Philippines' biggest export partner, attaining nearly a fifth of the Philippines' total exports. On confidence building measures that should be taken regarding the issue of the South China Sea, Keqing stated that one of the things that can be done is to create more avenues for the two countries to know each other and grab opportunities where both countries can start establishing mutual trust. AIM Dean Mike Luz added that in 2013, the Philippines will be the country of honor for the Guangzhou Expo and China and the Philippines will be the host country for APEC in 2014 and 2015 respectively thus providing several opportunities for the two countries to work together and strengthen their relationship.
The AIM Policy Center also has another South China Sea related forum on December 5, 2012. The forum aims to build public awareness and identify possible policy strategies for bilateral and regional cooperation on South China Sea Issues. Speakers include former Sen. Leticia Ramos Shahani, former DILG Sec. Rafael Alunan, DFA Undersecretary Erlinda Basilio, Mr. Chito Sta Romana.
For more information, kindly email info@asiasociety.org.ph or call 550-2612.