North Korea Coverage
In light of increased North Korean provocations and the 60th anniversary of the signing of the Korean War Armsitice on July 27th, this has been a significant year for North Korean coverage. Compiled here are links to the Asia Society Korea Center's relevant videos and coverage on this issue.
Brian Myers on the Kim Jong Un 'Cult'
Brian Myers, Professor of International Studies at Dongseo University, and one of the world's foremost North Korea scholars, spoke about the latest regime change in North Korea and what he characterizes as the Kim Jong Un "cult" at Asia Society Korea Center's monthly luncheon in October 2012. Click here for more.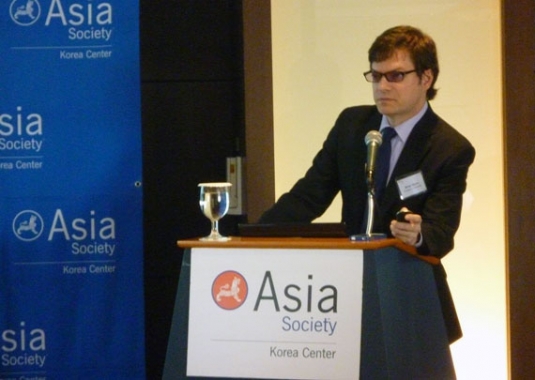 Looking Back, Irish Korean War Veterans Revisit Battleground 60 Years Later
In a visit arranged by the South Korean government in April 2013, 12 Irish veterans of the Korean War, many in their 80s, as well as family members of Irish soldiers who died in the conflict, participated in commemorative activities. Watch this original video by Asia Society Korea Center to find out more about the Irish veterans' experience during the Korea War, and to hear their reflections on the country today. Click here for more.
Former Top South Korean General on Responding to North Korean 'Provocation'
In May 2013, General Min-Koo Han, the 36th Chairman of the Joint Chiefs of Staff of the Republic of Korea, addressed the North Korean threat at Asia Society Korea Center's monthly luncheon. No stranger to the ongoing North Korean threat, General Han drew back the curtain on Pyongyang's military capabilities, Seoul's countermeasures, and the necessity of a more permanent solution for peace on the Korean peninsula. Watch an excerpt from General Han's lecture to gain more insight into the evolving political and military situation on the Korean Peninsula. Click here for more.