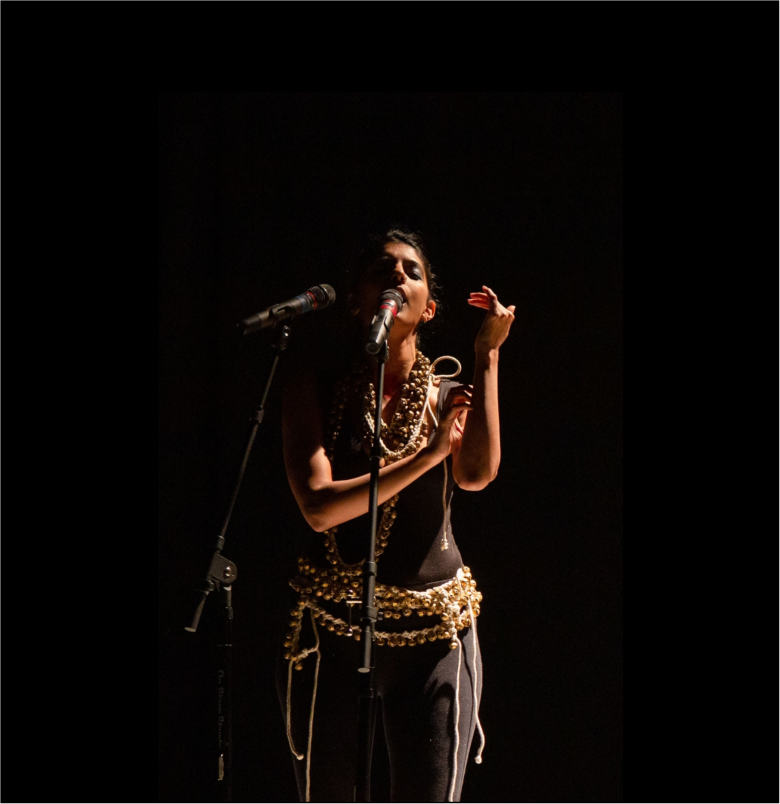 Samita Sinha, Kaalo Jol, 2019. Live solo and duo work with Sunny Jain and Grey Mcmurray. With recreated sound by Peter Born. Spatial advising by Sunil Bald. Courtesy of the artist. Photograph by: Julia Discenza
Tear
On June 3, 2021, vocalist, performer, composer, and educator Samita Sinha premiered Tear, an investigation of potentiality and emergence through voice. A tear is the aftermath of ruin: what is left when all that is broken, and has been broken, is exposed. It is also an opening, a space of transformation and potential for all that is not yet born. How do we stay with this tear? How can a single body in pandemic isolation work in the tear, through the material of voice and body, to recover a thread? Tear unravels from a single utterance of a Hindustani classical vocal composition, delicately weaving breath, body, and tone with the sound of the ektaara (one-stringed instrument).
Following the performance, Sinha participated in a Q&A session moderated by Sarah McCaffery, manager, interdisciplinary arts. 
Performance duration: 20 minutes
Created by Samita Sinha
With collaboration by Sunil Bald
Audio mixing and mastering by Brian Chase
Vocalist, performer, composer, and educator Samita Sinha creates multidisciplinary works of sound and performance that investigate the origins of voice. She synthesizes Indian vocal traditions and embodied energetic practices to create a contemporary, decolonized, multivalent language of vibration and transformation. The artist received an MFA in music/sound from Bard College, Annandale-on-Hudson, New York, in 2010 and a BA in literature from Yale University, New Haven, in 2000.

Sunil Bald is an architect and educator. His work, which ranges from small-scale installations to institutional buildings and urban design, explores the intersection of architecture and context as a multi-layered condition of material, site, and culture. In 2015 he was awarded the Annual Prize in Architecture from the American Academy of Arts and Letters. Sunil is also Professor of Architecture Associate Dean at the Yale School of Architecture where he teaches design, visualization, and architectural theory.

Brian Chase is the drummer for Grammy-nominated rock band Yeah Yeah Yeahs and a long-term member of NYC's experimental music scene. Recordings include many with Yeah Yeah Yeahs and also with collaborators Zeena Parkins, Catherine Sikora, and Anthony Coleman. As a solo artist, his longtime project Drums and Drones applies concepts of harmonic tuning and meditative listening to drums and percussion. The 2018 release of Drums and Drones: Decade was described in the Wire as "an indispensable statement on how drummers hear sound." 
This work was commissioned by Asia Society Museum, New York, for the inaugural Asia Society Triennial: We Do Not Dream Alone.
Supported by the Andrew W. Mellon Foundation.
Related Updates
Event Recap
Fragility Etudes
Event Recap
An Artist Talk