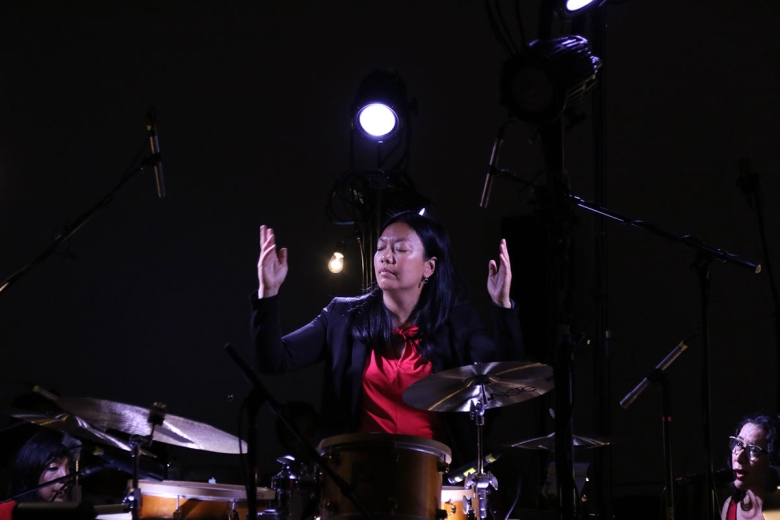 Susie Ibarra, Fragility: An Exploration of Polyrhythms, 2018. Performed at Asia Society, 2018. Courtesy of the artist. Photograph by Ellen Wallop
Fragility Etudes
On June 17, 2021, composer and percussionist Susie Ibarra presented Fragility Etudes. The pieces are studies into a world of sound that reflect humanity's interdependence and mutual existence alongside the natural environment. Ibarra's dynamic score explores this interconnectedness through polyrhythms and concepts from the physics of glass.
Fragility Etudes is performed by an ensemble of renowned musicians conducted by Ibarra. The filming of the performance at MASS MoCA is directed by multimedia artist Yuka C. Honda. Ibarra's research in physics and music was conducted in collaboration with physicist Bernard Grossman.
Following the performance, Ibarra participated in a Q&A moderated by Sarah McCaffery, manager, interdisciplinary arts.
Performance duration: 40 minutes
Created by Susie Ibarra

Ensemble performance and soloists
Jennifer Choi: violin
Daniel Louis Doña: viola
Yuka C. Honda: electronics
Susie Ibarra: drum set and percussion
Jake Landau: pianos and pianet
Robert Aiki Aubrey Lowe: voice and modular synthesizers

Recorded by sound engineer Eli Crews
Film directed by Yuka C. Honda
Director of photography Joseph Conroy

Susie Ibarra is a Filipinx composer, drummer/percussionist, and sound artist who creates live and immersive music that invites people to connect to their natural and built environments. Ibarra is passionate about working to preserve and support Indigenous music and culture (musika katatubo in the Philippines) and advocating for preserving freshwater towers through sound recording and research around glaciers and fresh water. New works include album releases Rhythm Cycles, a drum solo performance commissioned by the Bagri Foundation and released with OTO Projects UK (2020); and the composer portrait album, Talking Gong, featuring her trio with Claire Chase and Alex Peh on New Focus Recordings (2021). Ibarra is a 2020 National Geographic Explorer in Storytelling, 2019 United States Artist Fellow in Music, and a 2018 Asian Cultural Council Scholar supported by the Rockefeller Foundation. She is a Senior TED Fellow and a Yamaha, Zildjian, and Vic Firth drum artist.

This work was commissioned by Asia Society Museum, New York, for the inaugural Asia Society Triennial: We Do Not Dream Alone.

Supported by The Andrew W. Mellon Foundation. The filming and recording of Fragility Etudes were created with the generous support of an artist residency at MASS MoCA (North Adams, Massachusetts).
Special thanks to
Director of Performing Arts + Film at MASS MoCA, North Adams, MA, Sue Killam
Production Manager of Performing Arts and Film at MASS MoCA, North Adams, MA, Tim Envoy
Director of Artist Services at MASS MoCA, North Adams, MA, Meghan Labbee
Related Updates
Event Recap
An Artist Talk