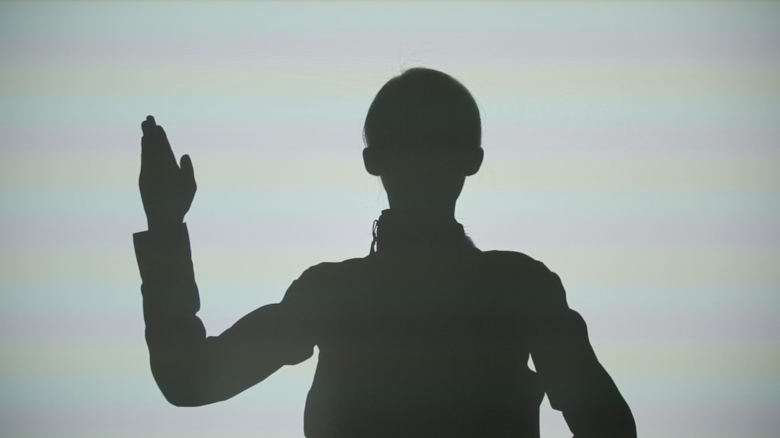 Photograph courtesy of the artist
An Artist Talk
An Artist Talk was a live virtual performance by interdisciplinary artist Joyce Ho that appropriates the structure of a lecture to reimagine daily rituals. Ho believes that our perceptions of the mundane provide the foundation to comprehend other occurrences in life, such as relationships, habits, and dialogues. The performance manipulates our awareness of time to expose tiny fissures within our daily routines. By magnifying easily overlooked details, the work sparks reflection on everyday life.
Following the performance, the artist participated in a Q&A moderated by Michelle Yun Mapplethorpe, vice president for global artistic programs and director of Asia Society Museum.
Performance duration: 15 minutes
Created by Joyce Ho
Performed by Vera Sung and Pei Jen Yu
Creative technical direction by Chang Chi Huang
Joyce Ho is an interdisciplinary artist with a focus on installation, sculpture, and performance. Ho has also worked as a scriptwriter and theater director. The artist endeavors, whether in painting, installation, or video, to convey an intimate, yet alienated tension between human beings and reality.
Ho has exhibited internationally, including at the Yokohama Triennale: Afterglow, Yokohama Museum of Art, Yokohama, Japan (2020); Meditations in an Emergency, UCCA Center for Contemporary Art, Beijing, China (2020); Sunset on a Dead End: The Notorious and Their Inexplicable Modes of Existence, Power Station of Art, Shanghai, China (2019); 9th Asia Pacific Triennial of Contemporary Art, Queensland Art Gallery and Gallery of Modern Art, Brisbane, Australia (2018); Busan Biennale 2014: Inhabiting the World, Busan Museum of Art, Korea (2014); and Everyday Life: 2013 Asian Art Biennial, National Taiwan Museum of Fine Arts, Taichung (2013). Ho lives and works in Taipei, Taiwan.
Vera Sung is an actor and performer from Taiwan. She explores the middle ground between performance art and acting by focusing on daily activities and movement. Sung has worked with Guts Improv Theatre as improv director and an improviser since 2012. 
Pei Jen Yu is an actor and songwriter. She graduated from the Department of Theatre Arts at the National Taipei University of the Arts. Yu lives and works in Taipei, Taiwan.
This work was commissioned by Asia Society Museum, New York, for the inaugural Asia Society Triennial: We Do Not Dream Alone.
Supported by Taipei Cultural Center in New York, Ministry of Culture, Republic of China (Taiwan).
Related Updates
Event Recap
Fragility Etudes