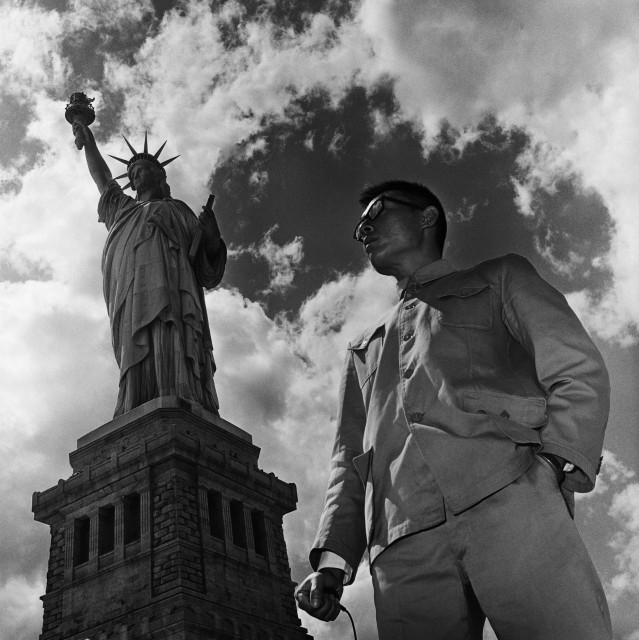 Tseng Kwong Chi, New York, New York 1979 (Statue Of Liberty) From The East Meets West Self-Portrait Series 1979–1989, 1979. Selenium-toned gelatin silver print. H. 20 x W. 16 in. (50.8 x 40.6 cm). Asia Society, New York: Gift of Mitch and Joleen Julis, 2015.15. Photograph by Tseng Kwong Chi © 1979 Muna Tseng Dance Projects, Inc., New York
Dreaming in the Streets: The Legacy of Asian American Identity in the Wake of the Civil Rights Movement
Leading up to and during Asia Society Triennial, Harmony and Dissonance: Deconstructing Ethnicity and Agency in America is a series of panel discussions that examines the synergies and dysfunctions minorities and people of color in the United States have encountered in relation to their respective pursuits of equity and agency. The first panel, "Dreaming in the Streets: The Legacy of Asian American Identity in the Wake of the Civil Rights Movement," explored the power of interethnic coalitions that brought together Asian American, African American, Latinx, and Native American cohorts to mobilize during galvanizing moments in U.S. history exemplified by the civil rights movements of the 1960s. Panelists also discussed the formal acknowledgment of an Asian American identity, which developed and coalesced in tandem with these movements.
The discussion included a multidisciplinary approach to tracing the history of ethnic studies and activism at the grassroots and academic level and inside the museum. Other topics covered included the progress towards museums focused on the role of non-eurocentric history and culture in America, such as the incorporation of the National Museum of the American Indian into the Smithsonian Museums, the campaigns that led to the existence of the National Museum of African American History and Culture, and the movements to establish museums focused on Asian American and Hispanic American history and culture. 
Featured panelists included Alexandra Chang, associate professor of practice with the art history program at the Department of Arts, Culture and Media and affiliated with the Clement A. Price Institute on Ethnicity, Culture, and the Modern Experience at Rutgers University-Newark; Heidi McKinnon, executive director of Curators Without Borders; and Helen Zia, activist, journalist, and author of books including Asian American Dreams: The Emergence of an American People. The panel was moderated by Michelle Yun, senior curator of Asian Contemporary Art and associate director, Asia Society Triennial.
Related Updates
Event Recap
Fragility Etudes
Event Recap
An Artist Talk