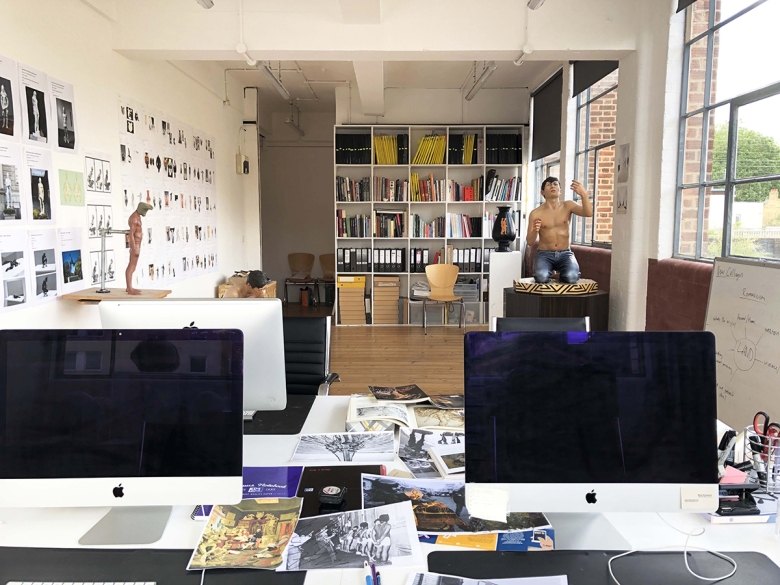 Photograph courtesy of the artist
Dreaming With: Reza Aramesh
In the lead up to the Triennial opening, our Dreaming With Q&A series provides an exclusive glimpse into the artists' lives and studios.
Where have you been during the lockdown?
I have been in London.
Is there anything you have found yourself cooking a lot of, and if so, would you be open to sharing the recipe with our readers?
I purchased an Asian cookbook with lots of vegetarian and vegan recipes and invested in a very good wok from Amazon. I have been trying one recipe from the book almost every couple of days.
What are you reading?
I started reading and researching; [looking] more in-depth [at] the work of Nancy Spero during the lockdown.
What music are you listening to?
In the mornings, I often listen to R&B music and in the evenings, classical music, which is mostly Iranian, Chinese, and European (lots of Erik Satie).
Photograph courtesy of the artist
Have you seen any particularly good digital exhibitions in the past few months?
I haven't seen any good digital exhibitions online. I started looking at [a] few, but I soon became disengaged with them. Or maybe it was [an] online fatigue, which made everything similar to me.
What do you find yourself working on most during quarantine?
I started learning Chinese and researching more into my practice.
How has your studio practice changed in recent months?
My studio practice didn't change that much, as my work involves extensive historical research, which I could carry out online at home.
Have you created any art in response to the pandemic?
No, I have not created anything in response to the pandemic.
Photograph courtesy of the artist
What artists most inspire you?
Many, including Caravaggio, Francisco Goya, and Nancy Spero. I get more inspired by writers.
What are you most looking forward to about participating in the upcoming inaugural Asia Society Triennial?
I am mostly looking forward to starting a dialogue again, working with those involved in producing the artworks closely and in-person rather than online. Seeing all the members of the Triennial team again and meeting the artists [who are] taking part from different countries.
What do you most want viewers to take away from experiencing your work in the Triennial?
I would like the viewers, when experiencing my work, to take with them more questions than answers.
Has your perspective as an artist changed in the midst of the pandemic?
Not much, but one thing that I had never thought about before the pandemic: a slower pace is so necessary and urgent in order to hear myself and others better. 
Are there any fun facts about your practice you would like to share with readers?
During the lockdown, I realized how fun it is to work with other people. The fun part of my work is when I am sharing and discussing my ideas about a new body of work.
Related Updates
Artist Q&A
Dreaming With: Ahmet Öğüt
Artist Q&A
Dreaming With: Susie Ibarra
Artist Q&A
Dreaming With: Samita Sinha