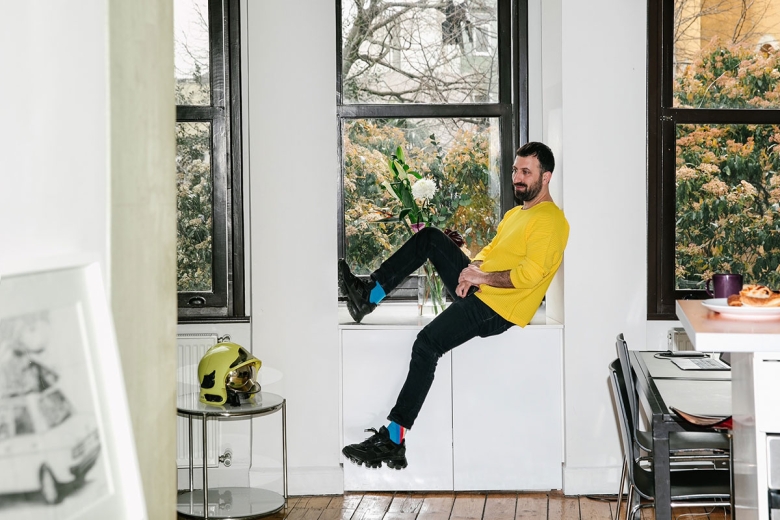 Photograph by Nazli Erdemirel
Dreaming With: Ahmet Öğüt
Our Dreaming With Q&A series provides an exclusive glimpse into the artists' lives and studios.
Where have you spent your time during the pandemic?
I have been mostly between Berlin, Istanbul, and Amsterdam. I have been based in all three cities and trying to manage that in this unusual time.
What books, music, movies, or podcasts have inspired you recently?
Woman at Point Zero by Nawal El Saadawi (Zed Books, 2015), Double Lives in Art and Pop Music by Jörg Heiser (Sternberg Press, 2020), Radikale Zärtlichkeit - Warum Liebe politisch ist by Şeyda Kurt (HarperCollins, 2021), Documenteur by Agnes Varda (1981), Chungking Express by Wong Kar-Wai with Faye Wong (1994), "Ostavi Sve" by Max & Intro, Program tvog kompjutera by Denis & Denis, the list can be way too long. . .
What are you working on right now?
I'm working on a major solo show in Istanbul opening in September as well as preparing works for several group shows and biennials.
Photograph by Nazli Erdemirel
What artist or work of art has most recently had an impact on you?
Recently, I saw Emre Hüner's solo exhibition Elektroizolasyon at Arter in Istanbul.
What are you most looking forward to in 2021?
To be able to travel again for my shows.
What do you want viewers to take away from experiencing your work in the Triennial?
This new essay documentary Artists Making Music will give a partly expected, partly unexpected overview to the audience about the recent history of music made by visual artists.
Are there any fun facts about your practice or your work in the Triennial that you would like to share with readers?
This work is the second in an ongoing series of essay documentaries, which was developed as my response to on-and-off quarantine and lockdowns, starting with me archiving all my inspirations over the years. It absolutely transformed the isolated time I had into something joyful.
My love of music started [at the] same time as art, but manifested itself only recently with my collaboration with Fino Blendax at ICA, London, in 2014.
Related Updates
Artist Q&A
Dreaming With: Susie Ibarra
Artist Q&A
Dreaming With: Samita Sinha
Artist Q&A
Dreaming With: Jason Wee