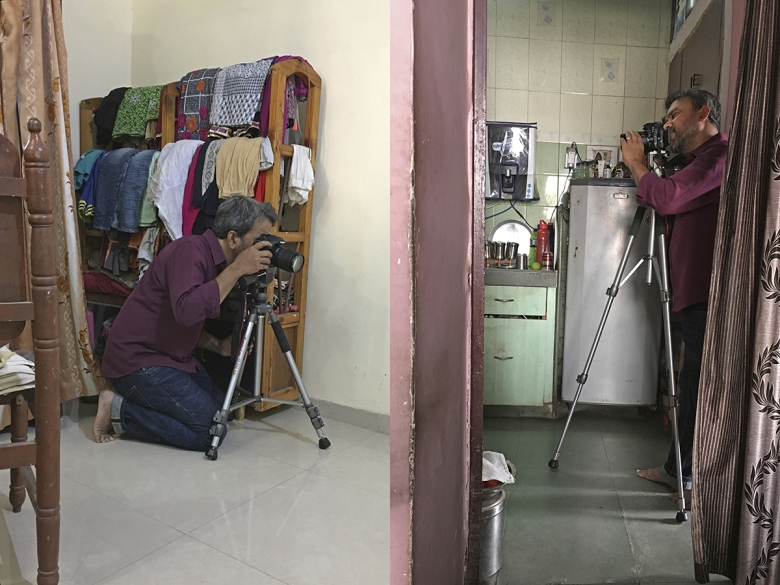 Photograph courtesy of Charu Sompura
Dreaming With: Abir Karmakar
In the lead up to the Triennial opening, our Dreaming With Q&A series provides an exclusive glimpse into the artists' lives and studios.
Where have you been during the lockdown?
At home, with family.
Is there anything you have found yourself cooking a lot of, and if so, would you be open to sharing the recipe with our readers?
I don't cook. My wife does, and she is a good cook. I assist her and do the cleaning.
Photograph courtesy of the artist
What are you reading?
Besides news, different articles about how plagues have changed the world in [the] past.
What music are you listening to?
Indian classical (Bhimsen Joshi, Kumar Gandharva, Ustad Sultan Khan), Queen, Pink Floyd, Kaleo, Jacob Banks, Leon Bridges, Michael Kiwanuka, Black Pumas, to name a few.
Have you seen any particularly good digital exhibitions in the past few months?
I don't like digital exhibitions. These are more like information rather than experience.
What do you find yourself working on most during quarantine?
Small paintings. For the last few years, I was doing large scale paintings/installations. So really enjoying these small, intimate works.
How has your studio practice changed in recent months?
Not much. My studio and home are [the] same.
Photograph courtesy of the artist
Have you created any art in response to the pandemic?
I have recently started a body of small-format oil on canvas [works] called "History Paintings." It is an attempt to gaze into a reality which seems to be beyond our comprehension.
What artists most inspire you?
Mostly artworks inspire me, but nowadays I am just looking at Goya.
What are you most looking forward to about participating in the upcoming inaugural Asia Society Triennial?
I am glad and thankful that Asia Society has invited me to participate in its inaugural Triennial and hopeful [that] people there will accept my work and my intention.
What do you most want viewers to take away from experiencing your work in the Triennial?
Over the past few years, rising nationalism in different forms is being seen in different parts of the world, including [the] USA. In this context, I want to see how people are going to react to my work.
Photograph courtesy of the artist
Has your perspective as an artist changed in the midst of the pandemic?
When the lockdown is lifted and I see people's behavior patterns haven't changed a bit knowing that the threat of virus is still imminent, I realize then they don't even value their own life.
Are there any fun facts about your practice you would like to share with readers?
If walking into [a] stranger's house and documenting every corner of their home is fun, then it is.
Related Updates
Artist Q&A
Dreaming With: Ahmet Öğüt
Artist Q&A
Dreaming With: Susie Ibarra
Artist Q&A
Dreaming With: Samita Sinha