Panel: India's Economy Under Modi, One Year In
Highlights
During ASPI's June 16, 2015, panel discussion on India's economy under Prime Minister Narendra Modi, former Indian Express Editor-in-Chief Shekhar Gupta argues that the new government's major policy programs had actually been planned by the previous government. The major difference, Gupta says, is that the Modi government has functioned well enough to implement these policies. (4 min.)
More from the discussion
Rakesh Mohan, Executive Director at the International Monetary Fund
One point is in terms of optimism and how the world looks at [India]. I did a survey of all the growth forecasts for 2015-2016 — both domestic and foreign. The range has been 7.5 to 8.5 percent, and guess who's the most optimistic: Citibank. They're more optimistic than the Reserve Bank of India, more optimistic than the government of India. The point is that this is how the perception has changed and people's confidence has changed. Also, the credit rating agencies — Moody's has gone from "stable" to "positive," S&P from "negative" to "stable." Again, that's verification of what the mood and people's expectations are. Clearly optimism is in the air. And those who put money in the stock market a year ago have made out like bandits.
Despite all of this, despite confidence going up, private investment has yet to pick up, and that's what we are waiting for. There is a very tough external market; exporters are having great difficulty right now. A good number of corporate balance sheets are stressed, which is why it's important to pick up public investments to get things going while corporate balance sheets improve, and therefore improve bank balance sheets.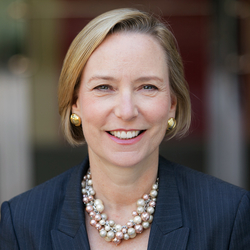 Sandra Peterson, Group Worldwide Chairman and Member of the Executive Committee at Johnson & Johnson
I think first and foremost the business community in general has been thrilled by the change in administration, but I think you have to put it in a broader context. I think most business leaders, when they're thinking about making investments in various countries, couldn't rattle off all the wonderful things we've heard [recently]. I think their knowledge, their understanding, and their experiences of operating in India over the last 20 or 30 years, you can't change that image in 12 months. Some of the things we've begun to see in terms of stability around reform, like a little bit more predictability, has been helpful. But I think in general what we all need to recognize is that we can't change the image overnight.
I think we're also at a very interesting point because if you look at the alternatives of where large companies can be investing in Asia, there are lots of options. But if you think about what has happened recently in the change of administration in China at the same time that we've seen a change in administration in India, I think it gives a large opportunity for India to develop a much more attractive place for foreign investment. China for most business leaders has become less predictable than it used to be. … So I think it is a big opportunity for India at the moment to develop more predictability and find the right way to talk about its messy democracy in a positive way.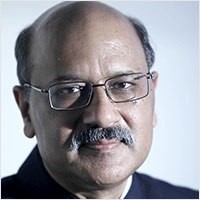 Shekhar Gupta, Columnist and Former Editor-in-Chief of the Indian Express
I could count the ideas [of the previous United Progressive Alliance-led government]: direct benefit transfer of subsidies, rolling back of fuel subsidies, power sector reform at all levels, public-private partnerships in many areas of infrastructure, a unique identity program to give every Indian a biometric identity, the land boundary agreement with Bangladesh… all these things were ready to be done. But the previous government was not able to do them because its politics were not right and because its political masters did not give the prime minister, the prime minister's office, and the government the kind of control and respect they must have in a system like India's. They were not able to move.
So the big change in India now is not that India has had a big change of heart or a big change of mind and all of a sudden we have a very evolved form of government. We just have a government. We have a government whose train runs. So in the past one year, 80 or 90 percent of the good news on the economy and foreign policy that you've seen coming out of this government is basically them cooking up all these vegetables and masalas that the previous government had already cut and kept ready. It was all half done. So the difference between 2014 and 2014 onwards is having a government whose writ runs. 
 
Complete Video
As part of ASPI's June 16, 2015, event on India's first year under Prime Minister Narendra Modi, International Monetary Fund Executive Director Rakesh Mohan, Johnson & Johnson Group Worldwide Chairman Sandra Peterson, and former Indian Express Editor-in-Chief Shekhar Gupta discuss how India's economy has fared under Prime Minister Modi. ASPI President Kevin Rudd introduces and moderates the conversation. (1 hr., 1 min.)