Interview: Shekhar Gupta on Modi's 'Reasonably Good Year' as Prime Minister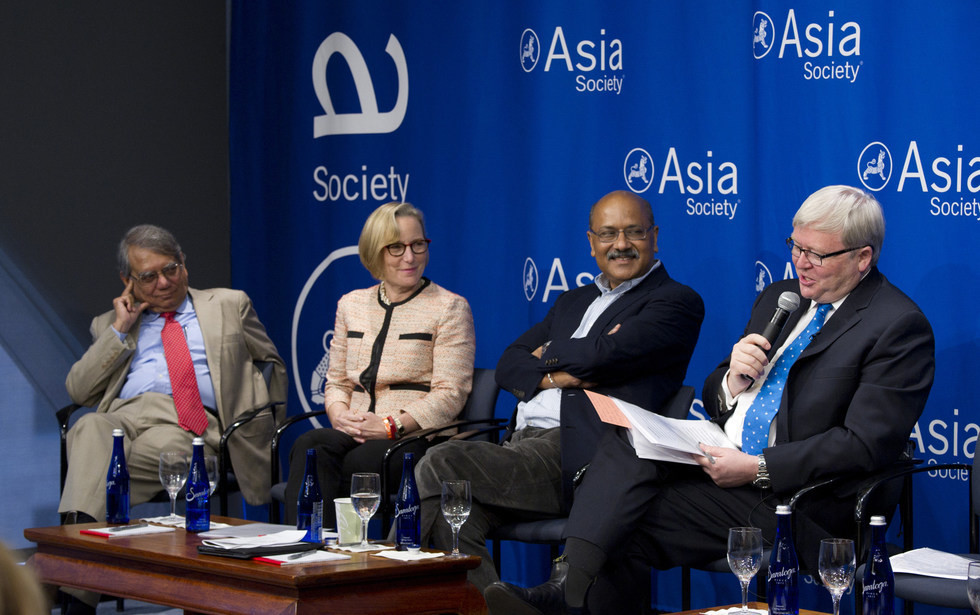 (L to R) Rakesh Mohan, Sandra Peterson, Shekhar Gupta, and Kevin Rudd discuss India's first year under Prime Minister Narendra Modi at Asia Society New York on June 16, 2015. (Elena Olivo/Asia Society)
Veteran journalist Shekhar Gupta visited Asia Society New York on June 16, 2015, to join a panel discussion on India's economy, as part of an Asia Society Policy Institute event looking at India's first year under Prime Minister Narendra Modi. In an email interview, Gupta comments on the U.S.-India relationship, Modi's legislative agenda and the surrounding political atmosphere, and India's evolving posture toward Pakistan.
Prime Minister Modi and President Barack Obama have revived U.S.-India ties in the past year. What would you have India and the U.S. focus on to strengthen the bilateral relationship before 2017, when President Obama leaves office?
There's been a lot of talk of strategic alliance and partnership, but no real delivery except some foreign military sales of non-lethal equipment, the nuclear deal, and some joint exercises. We need to see more evidence that this is not empty talk. Both leaders also have to operationalize the nuclear deal, as doubts still continue.
There seems to be some consensus that India's economy is on a surer footing than it was a year ago. What have been the biggest policy changes for catalyzing growth over the long term?
There is certainly greater confidence in India's economy. It is mostly because the U.S. government, whose writ runs, finds a prime minister who nobody sees as a figurehead. Besides, many of the scandals that clouded economic decision-making are finding closure, although popular confidence in corporate India isn't yet restored.
Some of Prime Minister Modi's principal economic reform measures, such as the land reform bill and the goods and services tax, have hit a wall in the Rajya Sabha (India's upper house of parliament). How might these two pieces of legislation be revived? Do you expect the Rajya Sabha to remain an impediment to the prime minister's economic agenda?
I believe the goods and services tax amendment will pass with some give-and-take. In any case, the latest draft is flawed and can do with improvements. The Land Acquisition Bill is polarizing and contentious. It is difficult to see Mr. Modi getting it passed without convening a joint session, which is rarely done, and the opposition will exploit it as a desperate land-grab by the rich and the powerful.
You wrote in a column in April that Prime Minister Modi must realize that the "majority of Indians do not approve of a majoritarian agenda" and that many Indians have increasingly started to see him as a "Hindutva" leader. What impact do you think this will have in the coming state level elections in the state of Bihar and beyond?
BJP is the new Congress, so it is natural that all other parties have a political justification to align against it. Majoritarian agendas give them the moral and philosophical justification, too. Mr. Modi has not yet done enough to counter this. A united opposition will be a handful in Bihar, but such alliances will be tougher in Uttar Pradesh.
In a column earlier this year, you argued that the Indian government's muscular policy toward Pakistan "is imprudent, unsustainable, and will need revisiting eventually," while pointing out that Prime Minister Modi has eschewed a similar posture toward China, despite some provocations. What do you think he hopes to achieve with these different stances?
I could say that while Manmohan Singh tried to break out of India's deadly triangulation by reaching out to Pakistan, Mr. Modi has chosen the China route. It is prudent, but soon enough, he will need to open up to Pakistan as well. That will be another U-turn, and a virtuous one.
How would you describe the prime minister's first year in one sentence?
It's been a reasonably good year: India's confidence is restored and the domestic mood is more optimistic, but he could have done a much better job of drawing more talent into his government.
---
From the panel discussion: In this video clip from the Asia Society Policy Institute's June 16 event, Shekhar Gupta talks about how Modi is "cooking up" policies prepared by the previous Indian government. (4 min.)